Top News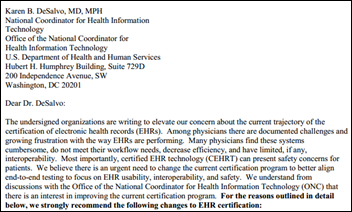 A group of 35 industry associations including CHIME, the AMA, AAFP, and MGMA urge ONC National Coordinator Karen DeSalvo, MD to make the following changes to EHR certification in a bid for improved patient safety:
Decouple EHR certification from the Meaningful Use program;
Re-consider alternative software testing methods;
Establish greater transparency and uniformity on UCD testing and process results;
Incorporate exception handling into EHR certification;
Develop C-CDA guidance and tests to support exchange;
Seek further stakeholder feedback; and
Increase education on EHR implementation
The authors explain that, "We believe the Meaningful Use certification requirements are contributing to EHR system problems, and we are worried about the downstream effects on patient safety. Physician informaticists and vendors have reported to us that MU certification has become the priority in health information technology design at the expense of meeting physician customers' needs, patient safety, and product innovation."
---
Announcements and Implementations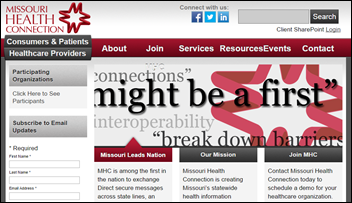 Missouri Health Connection receives a $375,000 grant from the Healthcare Foundation of Greater Kansas City to connect EHRs at Swope Health Services, Samuel U. Rodgers Health Center, and KC Care Clinic to the Missouri HIE. Additional funding from St. Luke's Health System (MO and KS) will be used for EHR upgrades, which will affect 68,000 patients at 17 clinics.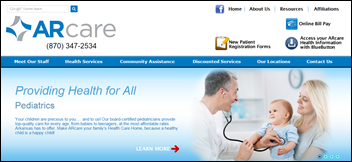 Non-profit community healthcare provider ARcare installs i2iTracks, a population health management and analytics product from i2i systems, at 37 facilities. ARcare received the HIMSS Analytics Stage 7 Ambulatory Award last summer. I had the opportunity to interview ARcare CIO Greg Wolverton shortly thereafter.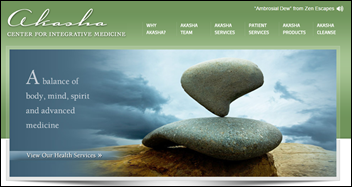 Akasha Center for Integrative Medicine (CA) selects Open Source Health Inc., which provides digital patient engagement solutions for women, to advise it on the development of a cloud-based EHR for integrative health and personalized medicine. (If you need to take a break from the hustle and bustle of healthcare IT for a few minutes, check out the Akasha website, which plays extremely soothing sounds of nature upon opening.) 

ExamMed launches a healthcare technology platform that includes video, EHR, patient portal, "smart" coding, and physician network and referrals. The new tool also includes MedCoins, which act as forms of credit patients can put towards services or gift to family members.
Custom PC Programming's DoseTracer inventory and payment tracking software for pharmaceuticals joins the Greenway Health Marketplace.
Zotec Partners introduces ZARi, a new analytical reporting interface for radiologists.
GE Healthcare and NextGen earn EHNAC's first practice management system accreditation.
---
Acquisitions, Funding, Business, and Stock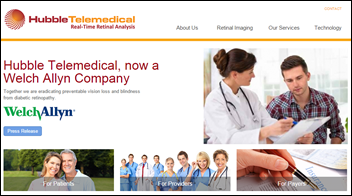 Medical diagnostic device company Welch Allyn acquires Hubble Telemedical, which specializes in remote diabetic retinopathy screening and analysis in primary care settings. The deal is the second acquisition in six weeks for Welch Allyn, which acquired remote vital-signs monitoring company HealthInterlink late last year.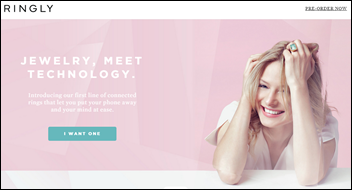 Smart jewelry startup Ringly raises $5.1 million in Series A funding led by Adreessen Horowitz, bringing its total funding to $6.1 million. While the investment probably won't affect product development in time for this Valentine's Day (it's still working to fill pre-orders from Christmas), the company does plan to use it to add new features to its collection, build partnerships with fashion brands and designers, and hire additional staff for its New York City office.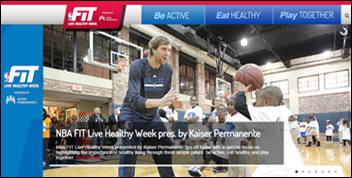 Kaiser Permanente becomes the "Official Health Care Partner" of the NBA, WNBA, NBA D-League, and USA Basketball. It is the provider's first national partnership with a professional sports league. Through the partnership, Kaiser and the NBA will conduct 14 community health and wellness events in NBA markets, as well as an annual Health and Wellness Forum.
---
Government and Politics

Media reports suggest that ONC National Coordinator Karen DeSalvo, MD has appointed board certified Ob/Gyn Michael James McCoy, MD as its first chief health information officer, effective January 26. As CHIO, McCoy will develop clinical policy and serve as the department's leading expert on interoperability. He will report directly to DeSalvo. His ties to Atlanta, Georgia (recently voted by HIStalk readers as the nation's capital of healthcare IT) run deep. He received his degrees from Georgia State University and the Medical College of Georgia, and worked in various physician leadership roles at healthcare facilities in Gwinnett County. His vendor experience includes executive positions at Allscripts, Xerox, Physician Technology Services, and digiChart.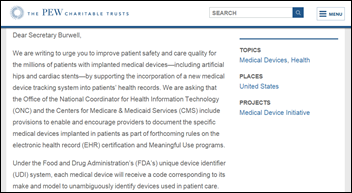 The Pew Charitable Trusts, Geisinger Health System (PA), Intermountain Healthcare (UT), The Leapfrog Group, and seven other industry organizations write to HHS Secretary Sylvia Burwell strongly urging the government to mandate a field for unique identification numbers of medical devices in EHRs so that they can be better tracked and recalled. They believe this objective will support Meaningful Use Stage 3 priorities including better clinical decision support, care coordination, and patient engagement.
The local paper covers the Texas Department of Criminal Justice's use of telemedicine within its prison system to curb healthcare costs, which have climbed steeply in the last several years due to the state's aging inmate population. While telemedicine has saved the department $780 million from 1994 to 2008, it does have its detractors. "I see the potential for danger where, for example, psychiatric care is not given in person and a doctor doesn't see the cuts on the person's arm and the next day they commit suicide," says Wayne Yang with the Texas Civil Rights Project. "Telehealth could save money, but it could hurt health care."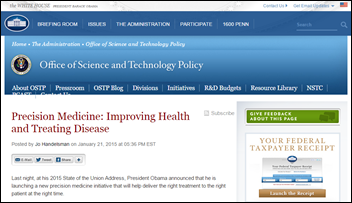 The White House releases details on the new precision medicine program President Obama announced during his State of the Union Address. The program will work to individualize treatment plans through advances in genetic research, medical imaging, and health information technology.
---
Research and Innovation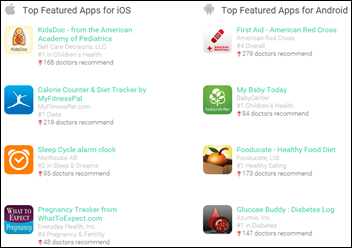 Mobile health service HealthTap releases its first report ranking apps by physician recommendations. The report includes apps in 30 health categories such as pregnancy, heart health, and weight loss. Top apps include Fooducate (I can vouch for this as being great if you are just starting to pay attention to nutrition labels.), Glucose Buddy, First Aid – American Red Cross, Sleep Cycle Alarm Clock, and Stroke Riskometer.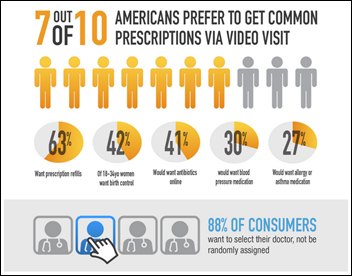 An American Well survey conducted by Harris Corp. finds that 64 percent of respondents are willing to have virtual visits via telemedicine, with slightly fewer indicating virtual visits should cost less than in-office visits. The majority of the 2,019 consumers surveyed chose video as their preferred method of telemedicine. While these sorts of surveys tend to be fairly self-serving, it's worth noting that 70 percent would rather have an online video visit than an in-office visit to obtain primary care prescriptions – yet another indication that the primary care business model will have to change to meet consumer demands for convenience, access, and affordability.
---
Other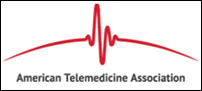 The American Telemedicine Association seeks nominations for its annual President's Awards for the Advancement of Telemedicine. Nominations are due February 15. Winners in three categories – Health Delivery Quality and Innovation, Leadership, and Remote Health Care – will be presented at ATA's annual meeting in May.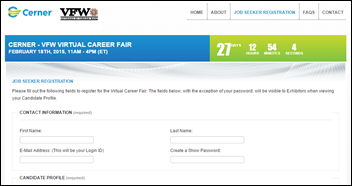 Cerner will co-host a virtual career fair with the VFW February 18 from 10 a.m. to 3 p.m. CT. to connect service members and their family members with job openings at the company. Veterans can qualify for such positions as system engineer, technical support analyst, implementation consultant, nurse, and a variety of operational roles. They can even use the online military decoder tool at Cerner's website to match their enlisted position with suggested roles within the company. Cerner is also working to help modernize the VFW's IT infrastructure, and evaluate the creation of a patient portal for VFW members.
A North Carolina OB-GYN says physicians should use computers and not vice-versa, urging his peers to look at the patient instead of the screen. "The folks who sold us these systems talked about all the wonderful things EMR can do … One might assume the EMR would excise the tumor, lower the blood glucose and stop the hallucinations. The problem is that the EMR really should not 'do' anything. Patients tell us their concerns. Practitioners do their best to listen and perform the appropriate evaluation, with or without technology … everything we need to know about our patients is in their face, in their voice, and in their eyes."
---
Sponsor Updates
ADP AdvancedMD offers tips on leveraging practice data to view key performance indicators in a new blog.
ABCNews.com lists Clockwise.md amongst other companies making a name for themselves developing online booking software.
---
Contacts
Jennifer,  Mr. H, Lorre, Dr. Jayne, Dr. Gregg, Lt. Dan, Dr. Travis
More news: HIStalk, HIStalk Connect.
Get HIStalk Practice  updates.
Contact us online.
Become a sponsor.