Top News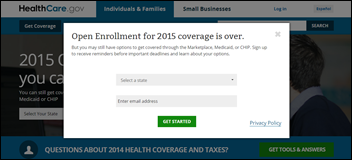 CMS announces a special health insurance enrollment period for tax season on the same day the White House confirms that 800,000 people who signed up for coverage via Healthcare.gov received the wrong tax information. While no blame has officially been placed for the mistake, plenty of fingers are already pointing. "Whether it's providing taxpayers with incorrect subsidy information or having to create special enrollment periods so that taxpayers can avoid costly penalties, Obamacare continues to frustrate and confuse Americans," said Senator Orrin Hatch (R-Utah).
---
HIStalk Practice Announcements and Requests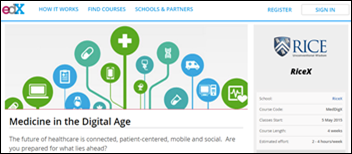 Mr. H kindly let readers know last week that Rice University and the Baylor College of Medicine will offer a free, four-week online course called "Medicine in the Digital Age" that begins on May 5. Intrigued, I clicked over to check out the course description:
The course is intended for a general audience and is relevant to anyone working or interested in the emerging healthcare environment.  At the end of the course, participants will have the knowledge to successfully engage with the future of digital medicine.

Medicine in the Digital Age maps out out the challenges and opportunities facing healthcare in the networked age. We will explore the role of social media in healthcare communication, the uses of wearable technologies, the potential for big data to reshape health behaviors, the ethics of personalized medicine, and the impact of these new developments on the doctor-patient relationship.  Participants will gain an understanding of the connected health revolution and tools to critically analyze this evolving ecosystem. Medicine in the Digital Age will launch a fresh conversation about what the future of medicine should be, and how we should get there. Join us!


Kirsten Ostherr and Bryan Vartabedian, MD – co-founders of Rice University's Medical Futures Lab – will lead the course. Given that it starts in May (after HIMSS hoopla has died down), I've decided to sign up and see what I can glean from the four-week curriculum. I'd love for fellow HIStalk Practice readers to join me. Perhaps we can put our heads together after our final project is turned in and write about our experiences. 
---
Webinar
March 5 (Thursday) 2:00 ET. "Care Team Coordination: How People, Process, and Technology Impact Patient Transitions." Sponsored by Zynx Health. Presenters: Grant Campbell, MSN, RN, senior director of nursing strategy and informatics, Zynx Health; Siva Subramanian, PhD, senior VP of mobile products, Zynx Health. This webinar will explore the ways in which people, process, and technology influence patient care and how organizations can optimize these areas to enhance communication, increase operational efficiency, and improve care coordination across the continuum.
---
Announcements and Implementations
East River Medical (WV) selects EHR and PM software from Benchmark Systems.

NextGen Healthcare integrates the Surescripts CompletEPA electronic prior authorization service into its EHR.
Amazing Charts launches MU Success Services to help its clients successfully attest to Meaningful Use. The offering is well timed, given that significant Medicare- and Medicaid-related MU deadlines are coming up on February 28 and March 31.

RelayHealth Financial launches the ConnectCenter claims management portal for PM and RCM vendors, and billing companies.

For the third year in a row, OmniMD e-prescribing technology receives the Surescripts White Coat of Quality Award for its ability to send and receive electronic messages according to industry standards, among other criteria.
Community health center CareSouth Carolina (SC) implements i2iTracks population health technology from i2i Systems to help manage 30,000 patients across 12 facilities.
---
Acquisitions, Funding, Business, and Stock

Home health company Almost Family Inc. launches a Health Innovations business segment to focus on its technology and accountable care operations. It also plans to invest up to $2 million in NavHealth, a patient data-sharing startup co-founded by former U.S. CTO Aneesh Chopra.

Jumpstart Foundry creates the Health:Further annual conference to build on the Nashville-based accelerator's annual investor day for its graduating class. The inaugural event will take place August 19-22 at the Omni Nashville.
Fortune places Cerner among its "World's Most Admired Companies 2015."
CompuGroup Medical acquires South Africa-based practice management vendor Medical EDI Services.
The Wall Street Journal names as one of its 73 startups valued at more than $1 billion Proteus Digital, whose smart prescription pills report back to doctors and drug companies when patients take their medicine.
---
Government and Politics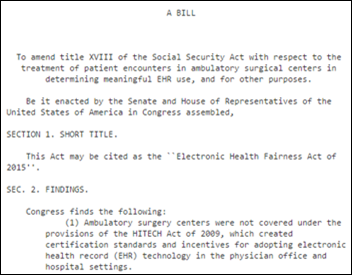 Rep. Diane Black (R-TN) reintroduces the Electronic Health Fairness Act, a bill that would exempt patient encounters that take place in ambulatory surgery centers from counting toward Meaningful Use requirements. There is currently no requirement that ambulatory surgery centers use EHRs, and ONC offers no certification program for them. On the flip side, however, physicians taking part in the EHR incentive program must perform at least half of their outpatient encounters in a facility with a certified EHR or be subject to a penalty.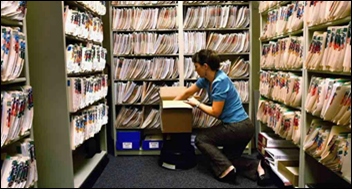 Politico highlights the growing frustration of physicians with the high cost of interoperability, citing between $5,000 and $50,000 as the going rate for setting up connections that allow practices to share EHR data with laboratories, HIEs, and governments. "The No. 1 factor hindering the exchange of information between health care stakeholders is the exorbitant fees that most EHRs are charging for integration, connectivity and reporting," says Lance Donkerbrook, COO of Commonwealth Primary Care ACO (AZ). "The government needs to step in immediately and require these vendors to open access."
---
People
MGMA names Halee Fischer-Wright, MD (St. Anthony North Medical Center) as president and CEO.

Ian Bonnet (Anthem) joins Authentidate as president, CEO, and director.

Bobbie Peterson (Medsphere) joins Apprio as executive vice president of healthcare solutions.

Aneesh Chopra (NavHealth) joins the board of Imperium Health Management.
Scott Fiscus (Hospital Sisters Health System Medical Group) joins Integrated Medical Partners as senior vice president of RCM operations.
---
Research and Innovation
The US Agency for International Development awards Fighting Ebola Grand Challenge funding to the Scripps Translational Science Institute for development of a Bluetooth-connected wearable that will help medical staff remotely monitor the vital signs of Ebola patients in West Africa.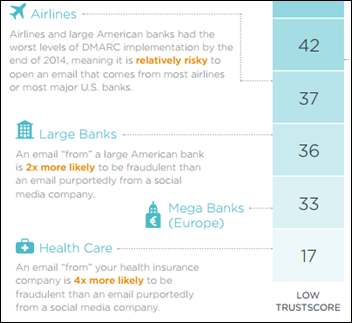 A State of Email Trust study calls out healthcare for being behind the times when it comes to email security. The study, which analyzed 6.5 billion emails, found that an email from a healthcare provider is four times more likely to be fraudulent than one from a social media site. Thirty percent of healthcare organizations analyzed achieved the dubious distinction of scoring "0" – the lowest possible – for implementation of email security protocols.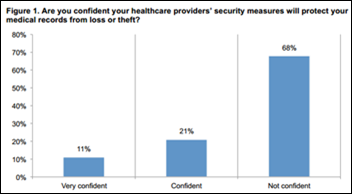 A separate but corresponding study finds that nearly half a million people were victims of medical identity theft in 2014, with 65 percent of respondents spending an average of $13,500 to resolve the issue.
---
Telemedicine

Lawrence Bentvena, DC launches ClickAClinic, the first telemedicine platform to be approved as a clinic in the state of Florida.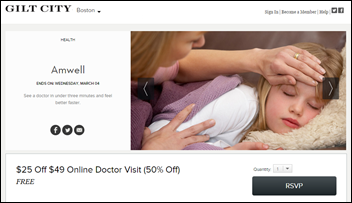 Virtual consultations go mainstream, as the above Gilt City American Well offer shows. Given that deductibles are rising and consumers are becoming more cost conscious, this type of mass telemedicine marketing will likely become more commonplace. I wonder if we'll soon start to see urgent care and retail clinics begin to peddle their services on Groupon in an effort to keep up with the competition.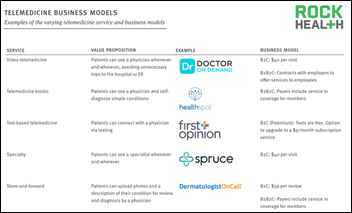 Rock Health provides a thorough yet concise breakdown of the past, present, and near future of telemedicine via its healthcare reform series.

The Partnership for a Connected Illinois launches the Illinois Telehealth Initiative to increase access to healthcare across the state. Backed by the Metropolitan Chicago Healthcare Council, the initiative will work to actively demonstrate the benefits of telehealth as it relates to cost and access, and will develop plans for regional and statewide telehealth networks.
---
Other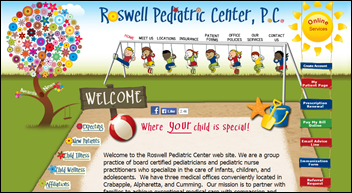 Roswell Pediatric Center (GA) writes a note of thanks to the local community in recognition of the one-year anniversary of a fire that destroyed its office, and of the opening of its new facility:
"Our deepest thanks are extended to the Milton and Alpharetta fire departments who responded quickly and worked together to douse the flames. The firemen remained on the scene the following day and assisted us with removing computers containing patient health records and other sensitive documents. Due to our sophisticated electronic health record system and our backup system, we were able to see patients the day of the fire with absolutely no loss of patient medical records and no disruption to delivering medical care. There are no words to adequately thank these men for their service to us on that day."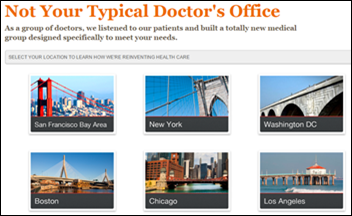 The local business paper profiles One Medical Group (CA), a concierge primary care practice that caters to such enterprise customers as Doximity, Uber Technologies, Adobe, Fitbit, and NBCUniversal. Founded in 2005 by Epocrates co-founder Tom Lee, MD the practice counts Google Ventures, Benchmark, DAG Ventures, and Oak Investment Partners among its backers.
---
Sponsor Updates
---
Contacts
Jennifer,  Mr. H, Lorre, Dr. Jayne, Dr. Gregg, Lt. Dan
More news: HIStalk, HIStalk Connect.
Get HIStalk Practice  updates.
Contact us online.
Become a sponsor.