Top News
HHS Secretary Sylvia Burwell and predecessor Kathleen Sebelius attend oral arguments in the King vs. Burwell Supreme Court case, which is expected to wrap up by the end of June. At issue is the legality of the subsidies for an estimated 7.5 million subscribers in the 34 states that chose not to run their own health insurance exchanges. Critics argue that the law, as written, permits the subsidies to go only to people who use state-run exchanges. Administration officials contend the subsidies were intended to be available in all states.
---
HIStalk Practice Announcements and Requests
Thanks to the following sponsors, new and renewing, that recently supported HIStalk Practice. Click a logo for more information.
The HIMSS 15 media requests have started to trickle in. Note to PR and marketing professionals who may reach out to the HIStalk team with interview opportunities: There's a good chance we won't respond if your opening line is "Hello XX." That tells me right off the bat that you don't have a vested interest in our team, and that you're not very attentive to detail and/or proofreading. Should you work at a PR firm, it also does no favors for your clients. While I have few pet peeves, laziness is definitely one of them.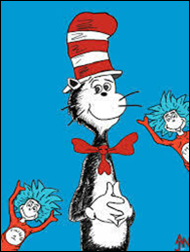 I completely neglected to celebrate the birthday of Dr. Seuss on March 2, despite the fact that several school-age children in close proximity are honoring him this entire week. Fortunately, Mark Gettleman, MD penned this poem in homage. You can read my interview with him (Dr. Gettleman, not Dr. Seuss) here.
---
Webinars


March 5 (Thursday) 2:00 ET. "Care Team Coordination: How People, Process, and Technology Impact Patient Transitions." Sponsored by Zynx Health. Presenters: Grant Campbell, MSN, RN, senior director of nursing strategy and informatics, Zynx Health; Siva Subramanian, PhD, senior VP of mobile products, Zynx Health. This webinar will explore the ways in which people, process, and technology influence patient care and how organizations can optimize these areas to enhance communication, increase operational efficiency, and improve care coordination across the continuum.

March 12 (Thursday) 1:00 ET.  "Turn Your Contact Center Into A Patient-Centered Access Center." Sponsored by West Healthcare Practice. Presenter: Brian Cooper, SVP, West Interactive. A patient-centered access center can extend population health management efforts and scale up care coordination programs with the right approach, technology, and performance metrics. Implementing a patient-centered access center is a journey and this program will provide the roadmap.
---
Acquisitions, Funding, Business, and Stock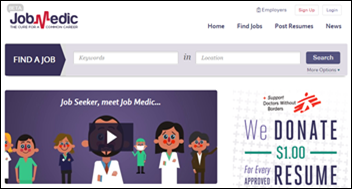 The local business paper profiles JobMedic LLC, a Houston-based startup that's looking to be Monster.com for healthcare. The eight-month-old company is piloting a program that allows health organizations to import their job listings directly to the site, and plans to target HR departments across the country with a similar service.
Medic Management Group Managing Director Tom Ferkovic points out that the grass isn't always greener on the other side, at least when it comes to hospital-employed physicians in Ohio. "The pendulum has swung," he says, adding that physicians have started to leave hospital umbrellas in the northern part of the state to form 30-plus doctor groups. "Some are doing really creative things with quality measures and contracting for risk and bundled payments," he adds. "They're faster, they're more nimble when they have an issue on fixing those, because its their money."
---
Announcements and Implementations

Cornerstone Health Enablement Strategic Solutions (NC) chooses Lightbeam Health Solutions for population health management.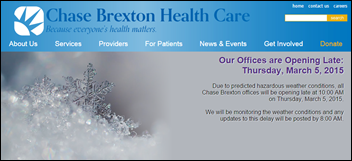 Chase Brexton Health Care (MD) selects i2iTracks population health management solution from i2i Systems to help care for 30,000 patients across seven clinics. It partnered with the Mid-Atlantic Association of Community Health Centers and other FQHCs in Maryland to purchase the company's PopIQ analytics tool.
---
Government and Politics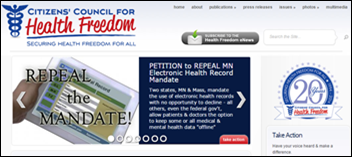 The Citizens Council for Health Freedom offers Minnesotans a way to petition against a state mandate that requires all healthcare providers use an interoperable EHR without giving individuals the right to opt out. Its one-page citizen petition argues, among other points, that, "Interoperability also limits patient access to unbiased second opinions." I'd like to hear from physicians if this is indeed the case. Does seeing another physician's diagnosis and notes tend to sway you in the same direction?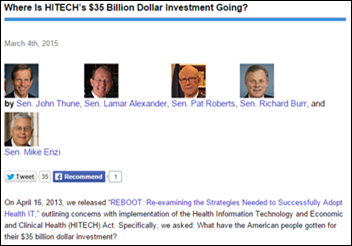 Senators John Thune (R-SD), Lamar Alexander (R-TN), Pat Roberts (R-KS), Richard Burr (R-NC), and Mike Enzi (R-WY), authors of the 2013 REBOOT report, express their frustration with HITECH's $35 billion investment, pointing fingers at ONC and its lack of "nitty gritty" vision for interoperability:
"The long-term sustainability of EHR systems remains one of the biggest unknowns. ONC's roadmap is surprisingly silent on this topic, which is stunning considering that there is only $7 billion in funding left from the HITECH Act. While the President's Budget does request a significant increase in funding for ONC, the administration seems to ignore the reality that taxpayers have already committed billions of dollars toward a goal that is still vague."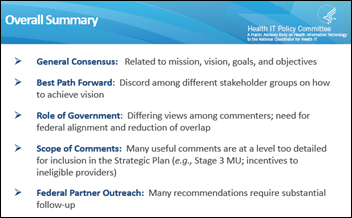 The HIT Strategy & Innovation Workgroup attempts to provide a high-level summary of 400 public comments on ONC's 10-year Federal Health IT Strategic Plan. Its recommendation that the plan "must hold federal partners accountable, with regular, transparent reporting on progress toward goals," especially stood out to me, given the senatorial concerns noted above.
---
Telemedicine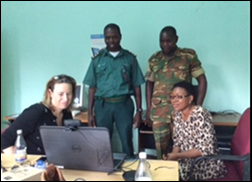 Georgia Partnership for Telemedicine representatives install five telemedicine carts in Lusaka, Zambia as part of the Zambian Defense Force telemedicine project. The GPT team will travel back to Zambia next month to install three additional carts and provide training to Zambian clinical staff.
A bill to expand telemedicine in Colorado heads to Governor John Hickenlooper's desk after passing muster in both the state House and Senate. The governor now has 10 days to sign or veto the legislation, which would require insurers to reimburse equally for telemedicine and in-person services in counties of all sizes. Previous legislation allowed for reimbursement in counties with 150,000 or fewer residents.
---
Research and Innovation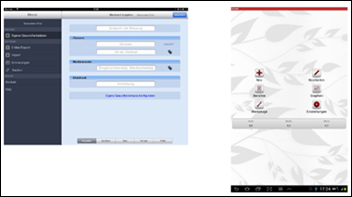 A study of diabetes patients 50 and older finds that the majority have no use for mobile apps to help manage their condition. Of the 32 study participants, half refused to use apps because they saw no added benefit. Twelve percent experienced problems with interoperability (or lack thereof), and another 12 percent decided against them because of poor user experience.

@QualcommLife's tweet from the Mobile World Congress in Barcelona captures in a 140-character nutshell the mobile health experience of the diabetes study participants.

Physicians have just a few days left to participate in the 13-question WEDI survey on ICD-10 readiness.
---
People
William Kinsley (NextGen) is elected to chair the HIMSS EHR Association Privacy and Security Workgroup.

ChartSpan appoints Patrick Carter vice president of product, in addition to his existing roles as co-founder and senior medical officer.
---
Other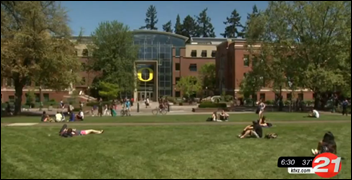 News coverage of a recent rape investigation at the University of Oregon brings to light privacy issues related to student medical records. Students are crying foul over the fact that their on-campus medical records can be used against them in court because they are covered under the Family Education Right and Privacy Act (FERPA) rather than HIPAA.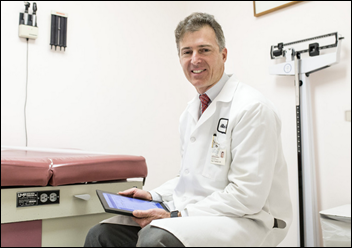 A Wall St. Journal article titled "The Next Marketing Frontier: Your Medical Records" highlights the alerts and reminders sent to patients in Practice Fusion's EHRs, with some of those messages paid for by drug companies. Practice Fusion's CEO defends the practice, saying that with regard to the alerts and presumably the company's free EHR, "someone has to pay for it" and adds that new agreements have been signed to deliver sponsored alerts from Aetna and another drug company. He also states, "For every project we do that drives forth public health or gives data away, we need to make sure it's balanced out by a monetizable exercise."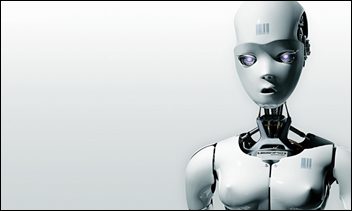 NHS GP Samir Dawlatly writes a piece for The Guardian about what NHS England will be like in the future, given that "automatons" will be in almost total control:
"I feel around for the micro USB port behind my left ear. Even though wireless transmission rates are pretty good, I still prefer the ultrafast USB 12.2 link to download the latest medical updates. I've had the last three days off, so there will be a lot of new guidelines, alerts, emails, novel medicines and recommendations to stop dangerous old therapies to download onto my integrated organic digital hybrid memory hard drive inserted into my hippocampus – the centre for memory and learning in my brain. I notice that my own computer still takes several seconds to boot up. I wonder why doctors have the worst hardware and the slowest software, even though we have people's lives in our hands. At least mistakes have decreased since the advent of the integrated hippocampal hard drive, enabling all medical knowledge to be deposited and updated weekly in the doctor's memory."
---
Contacts
Jennifer,  Mr. H, Lorre, Dr. Jayne, Dr. Gregg, Lt. Dan
More news: HIStalk, HIStalk Connect.
Get HIStalk Practice  updates.
Contact us online.