Top News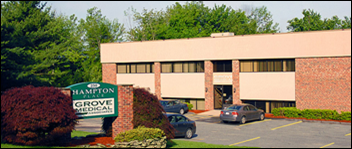 Grove Medical Associates (MA) is named a 2015 HIMSS Ambulatory Davies Award recipient in recognition of its use of healthcare IT to improve patient outcomes while achieving ROI. The internal medicine practice, which implemented its eClinicalWorks EHR in 2005 and patient portal in 2007, is affiliated with the Central Massachusetts Independent Physicians Association.
---
Webinars


May 12 (Tuesday) 1:00 ET. "HIStalk Interviews Regina Holliday." Catch up with Regina Holliday and her recent patient advocacy efforts as she chats with HIStalk's Lorre and Jenn about the HIMSS conference, The Walking Gallery, her upcoming advocacy events, and her new book. Regina will talk about how providers and vendors are working to make the patient voice heard.


May 19 (Tuesday) 2:00 ET. "Lock the Windows, Not Just the Door: Why Most Healthcare Breaches Involve Phishing Attacks and How to Prevent Them." Sponsored by Imprivata. Presenters: Glynn Stanton, CISSP, information security manager, Yale New Haven Health System; David Ting, CTO, Imprivata. Nearly half of healthcare organizations will be successfully cyberhacked in 2015, many of them by hackers who thwart perimeter defenses by using social engineering instead. The entire network is exposed if even one employee is fooled by what looks like a security warning or Office update prompt and enters their login credentials. This webinar will provide real-world strategies for protecting against these attacks.

May 20 (Wednesday) 1:00 ET. "Principles and Priorities of Accountable Care Transformation." Sponsored by Health Catalyst. Presenter: Marie Dunn, director of analytics, Health Catalyst. Healthcare systems must build the competencies needed to succeed under value-based payment models while remaining financially viable in the fee-for-service landscape. This webinar will outline key near-term priorities for building competency at successfully managing at-risk contracts, with a particular focus on the importance of leveraging data to drive effective decision making.
---
Acquisitions, Funding, Business, and Stock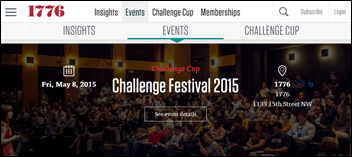 Sixteen startups faceoff this week in the Challenge Cup semifinals in Washington, D.C. Presented by local Incubator 1776 and Philips, the event will whittle the competition down to eight businesses, two of which will ultimately walk away with $50,000 each. Keet, a startup focused on patient engagement and PM tools for physical therapists, is covering its investment bases by competing in the challenge and participating in Healthbox's new Miami Studio.
DrFirst raises $3.5 million in new financing.
---
Announcements and Implementations
New Jersey-based Regional Cancer Care Associates and Osler Health IPA collaborate to share data between their physicians via combined use of RCCA's COSTA analytics tool and Osler's proprietary MDclick population health management, disease severity stratification, and analytics platform.
---
Research and Innovation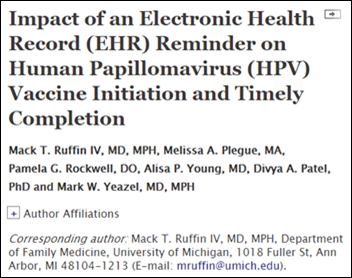 A University of Michigan study finds that patients aged 9-18 were almost three times as likely to receive the HPV vaccine when their physicians received EHR reminders. Similarly aged patients were also 10 times more likely to complete the vaccine regimen when reminders were issued. Author Mack Ruffin, MD stresses that "workflow and culture of individual clinics is also a critical factor when it comes to prompts influencing vaccine rates."
---
Government and Politics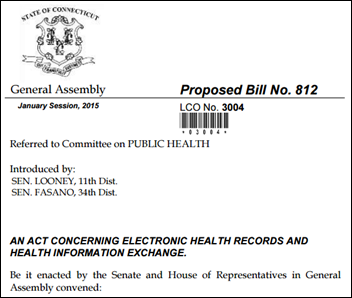 Connecticut Senate President Pro Tempore Martin Looney (D-New Haven) and Senate Minority Leader Len Fasano call for support statewide interoperability in Bill 812, which outlines the need for implementation of EHRs and a publicly accountable HIE, while banning the practice of information blocking on the part of health systems and vendors. Introduced at the beginning of this year, the bill now faces review by the Committee on Appropriations.
---
Telemedicine

The American Association of Telemedicine awards its second Accreditation for Online Patient Consultations to mental health services provider HealthLinkNow. The business was launched five years ago by a husband and wife team with backgrounds in psychiatry and nursing.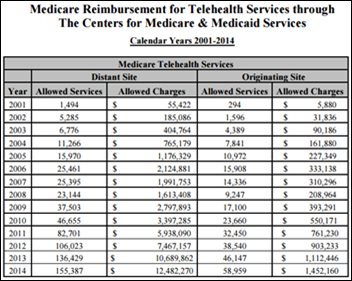 The Center for Telehealth and E-Health Law crunch CMS numbers to find that Medicare paid out nearly $14 million for telemedicine services in 2014, compared to about $12 million in 2013. Both figures are far below the original 2001 Congressional Budget Office estimate of $30 million a year for telehealth encounter reimbursements.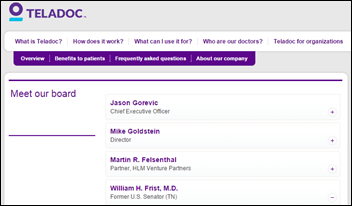 Former U.S. Senator and Teladoc Board Member Bill Frist, MD fails to mention his business ties in a Fortune op-ed advocating for telemedicine services in Texas.

Prescription benefit management company Appro Rx President Kyle Fields invests $100,000 in Appro Connect, a new company that will install telehealth kiosks in independent pharmacies and workplaces. Kiosk users will connect to physicians via the Doctor on Demand app. A prototype will debut later this month near the company's headquarters in Waynesville, Ohio, with a wider roll out expected this summer. 
---
Other

University of Melbourne Professor Alan Lopez suggests that mobile phones be used to transmit birth and death statistics, enabling public health officials to collect patient data that physicians could then use to determine the most common causes of death. Lopez doesn't go into detail about how this would play out technologically, aside from a vague reference to algorithms, though he does point out that "140 countries, or 80 percent of the world's population do not have reliable cause of death statistics. How can you influence country and global policy and intervention programs if you don't know the underlying causes of illness and death?"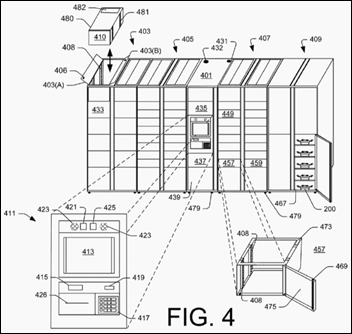 An Amazon patent application suggests the company is looking for ways to have its drones come directly to wherever a user's smartphone is located via a "Bring it to Me" delivery option. I wonder if this likely super-pricey option is just the first step in Amazon's bid to takeover the drive-through pharmacy business model.
---
Sponsor Updates
---
Contacts
Jennifer,  Mr. H, Lorre, Dr. Jayne, Dr. Gregg, Lt. Dan
More news: HIStalk, HIStalk Connect.
Get HIStalk Practice  updates.
Contact us online.
Become a sponsor.