Top News

HHS Secretary Sylvia Burwell awards $112 million to seven regional cooperatives as part of the EvidenceNOW initiative. The funding will enable the cooperatives to provide quality improvement services including EHR support to up to 300 primary care practices in 12 states, potentially impacting the cardiac health of nearly 8 million patients.
---
Webinars


May 27 (Wednesday) 1:00 ET. "Introducing Health Catalyst Academy: An Innovative Approach for Accelerating Outcomes Improvement." Sponsored by Health Catalyst. Presenters: Tommy Prewitt, MD, director, Healthcare Delivery Institute at Horne LLP; Bryan Oshiro, MD, SVP and chief medical officer, Health Catalyst.  The presenters, who are graduates of Intermountain's Advanced Training Program, will introduce the Health Catalyst Academy's Accelerated Practices program, a unique learning experience that provides the tools and knowledge for participants to improve quality, lower cost, accelerate improvement, and sustain gains.
---
Acquisitions, Funding, Business, and Stock

Forbes takes a loose look at executive compensation in six different healthcare sectors, with pharma taking the top spot and healthcare IT vendors shoring up the middle. (Judy's salary at always-private Epic is not included.) All told, close to 150 healthcare executives across 30 different companies took home nearly $960 million in annual compensation.
---
Announcements and Implementations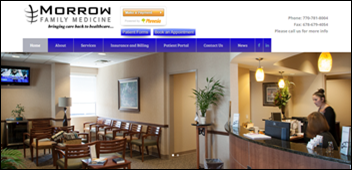 Morrow Family Medicine (GA) rolls out the NeighborAide smartphone app to help caregivers, family members, and friends stay connected to elderly and chronically ill patients. The NeighborAide team includes Jim Morrow, MD of MFM, HBOC/McKesson veterans Robert Connely III and Alok Mathur, and U.S. Coast Guard veteran and elder care expert Dusty Gunn.
EHNAC announces it will develop an accreditation program for data registries to ensure they meet the security and privacy obligations expected of all organizations that handle protected health information.
Varian Medical Systems and Flatiron Health partner to develop EHR, data analytics, and decision-support software for cancer care providers.
Amazing Charts launches an online partner community to offer its clients access to third-party services that integrate with its platform.
---
Government and Politics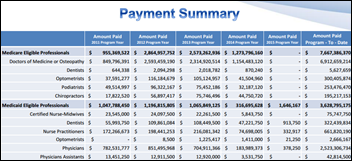 The latest Meaningful Use payment figures show that close to 429,000 EPs have received about $11 billion in incentive payments.
Connecticut's state Senate passes a bipartisan bill that funds the development of a HIE for the state, replacing its failed $4.3 million first attempt.
Minnesota passes legislation exempting solo physicians from the state's EHR implementation mandate. Minnesota was previously the only state that did not give physicians the choice to opt out of EHR adoption. Perhaps the exemption will help alleviate the state's rising levels of physician burnout, largely attributed to paperwork and EHRs.
---
Telemedicine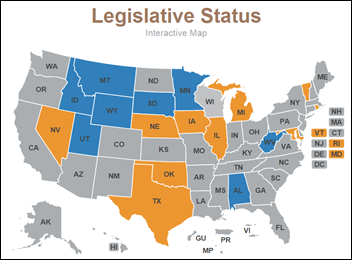 Minnesota becomes the eighth state to adopt the Federation of State Medical Boards' Interstate Medical Licensure Compact. Formation of the Interstate Medical Licensure Compact Commission was triggered several weeks ago when Alabama formally adopted the compact, reaching the FSMB's goal of seven-state participation. The commission will meet later this year to discuss the compact's management and administration.
Representatives Glenn Thompson (R- PA) and Charles Rangel (D-NY) introduce H.R. 2516, the Veterans E-Health and Telemedicine Support Act of 2015, which would expand access to telehealth services for veterans by authorizing VA clinicians to practice medicine across state lines without running afoul of state or local regulations.
---
Other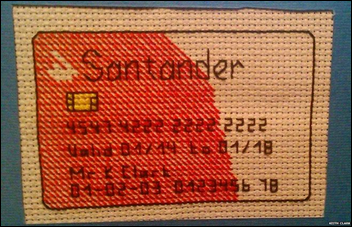 Frustrated with having to wait 10 days for a new debit card in the mail, cross-stitcher Keith Clark creates a homemade one, which he then promptly sends to his bank to show how quickly it can be done. His idea seems like a grassroots movement in the making for consumers eager to have their Social Security numbers removed from their Medicare cards before 2024.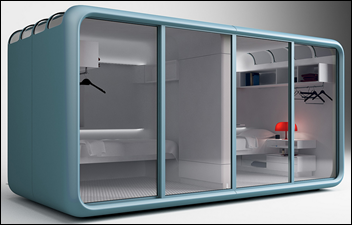 The University of Utah installs dorm-like sleeping pods at the Lassonde Institute, its incubator for new business, so that entrepreneurial students can go from REM cycle to revenue generation in the blink of an eye. Developed by the Yazdani Studio of CannonDesign, each 7x7x7 pod features a bed, closet, bookshelves, and medicine cabinet. The strategically placed living areas certainly bring new meaning to the idea of work-life balance.
---
Sponsor Updates
---
Contacts
Jennifer,  Mr. H, Lorre, Dr. Jayne, Dr. Gregg, Lt. Dan
More news: HIStalk, HIStalk Connect.
Get HIStalk Practice  updates.
Contact us online.
Become a sponsor.