Top News


After a flurry of mostly negative press last week over the company's downplayed CEO switch, Practice Fusion announces partnerships with Theranos and outpatient imaging services company RadNet via a Forbes editorial penned by Lenox Hill Hospital (NY) physician Robert Glatter, MD. (Glatter's over-the-top flattery immediately made me question his ties to the company. After some diligent Googling, I could find no record of a previous or current connection.) The article is scant on details of how the partnerships will work moving forward, thought it does offer interim CEO Tom Langan an opportunity to flex his newly acquired executive muscles. He assures readers in a slightly more detailed press release that, "With nearly 1 million lab and imaging transmissions a month facilitated on the Practice Fusion platform, we are excited about the value that the Theranos and RadNet partnership can help provide as we continue to be the nation's largest and fastest-growing healthcare platform."
---
Webinars


August 25 (Tuesday) 1:00 ET. "Cerner's Takeover of Siemens: An Update (Including the DoD Project)." Sponsored by HIStalk. Presenters: Vince Ciotti, principal, HIS Professionals; Frank Poggio, president and CEO, The Kelzon Group. Vince and Frank delivered HIStalk's most popular webinar, "Cerner's Takeover of Siemens, Are You Ready?" which has been viewed nearly 6,000 times. Vince and Frank return with their brutally honest (and often humorous) opinions about what has happened with Cerner since then, including its participation in the successful DoD bid and what that might mean for Cerner's customers and competitors, based on their having seen it all in their decades of experience.
September 9 (Wednesday) 2:00 ET. "Need to cleanse, unify and manage the provider data in your EMR master file and other IT systems?" Phynd's Unified Provider Management platform allows healthcare organizations to maintain a single, verified, customized profile for each provider across legacy IT systems. This 30-minute presentation will explain how Phynd's system can help synchronize internal provider information in real time; create provider interoperability among systems; and manage, update, and analyze provider information with workflow tools to improve revenue cycle and clinical communication.
Previous webinars are on the YouTube channel. Contact Lorre for webinar services including discounts for signing up by Labor Day.
---
Acquisitions, Funding, Business, and Stock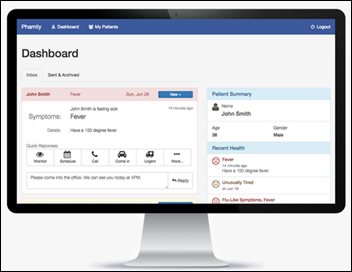 New York City-based Jaan Health secures up to $1 million from Malin Corp., a  global life sciences business based in Ireland. Jaan Health will no doubt use the funding to ramp up development of its Web-based Phamily community care coordination platform. CEO Nabeel Kaukab comes from Barclays Investment Bank, continuing the dicey tradition of industry outsiders looking to cash in on what seems like the easy in of digital health.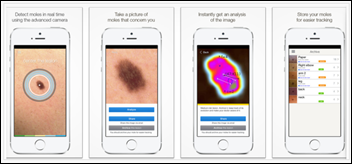 SkinVision, an Amsterdam-based startup that has developed a skin cancer detection app, secures $3.4 million in funding from European pharmaceutical company Leo Pharma. The company has hinted it's looking to expand into the U.S. healthcare market as a result of the new financing, but it may find regulatory hurdles too burdensome to deal with.  The FTC has been quick to crack down on similar apps in the U.S., including MelApp and Mole Detective, for unsubstantiated marketing claims.
---
Announcements and Implementations
Genesis Chiropractic Software releases the Genesis GEMs Plus adaptable tool to help chiropractic practices before, during, and after the ICD-10 transition.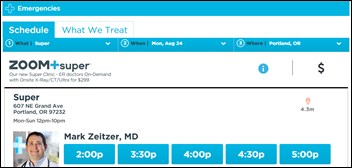 Zoom+ takes urgent care one step further with the opening of its Zoom+Super facility in Portland. Billed as an alternative to traditional ERs, the center offers "ER doctors on demand," with complete treatment costs including labs, X-rays, scans, and medications coming in at a nice round $299.
---
Telemedicine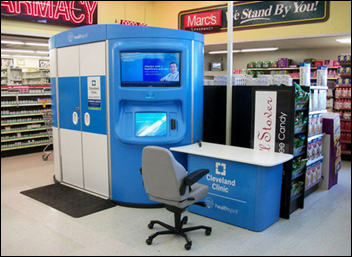 HealthSpot incorporates Samsung's LabGeo PT10 clinical chemistry analyzer to offer lab services at its telemedicine kiosks. Pending FDA approval, HealthSpot patients will be able to obtain blood tests for cholesterol, diabetes , and liver tests in under 7 minutes, with results automatically submitted to their EHR and PHR.
The Colorado Medical Board adopts telemedicine-friendly legislation that allows physicians to treat first-time patients online "so long as the relationship is established in conformance with generally accepted standards of practice."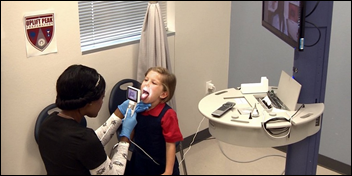 Texas passes legislation that will reimburse physicians for school-based telemedicine, provided students covered by Medicaid. The law, which goes into effect September 1, follows in the footsteps of similar programs in New Mexico and Georgia.
---
Government and Politics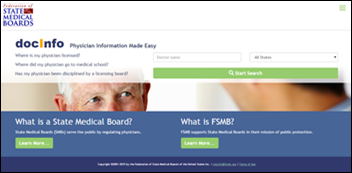 The Federation of State Medical Boards relaunches Docinfo, an online search tool that presents consumers with licensure and disciplinary information on nearly 1 million physicians across the country.
---
Other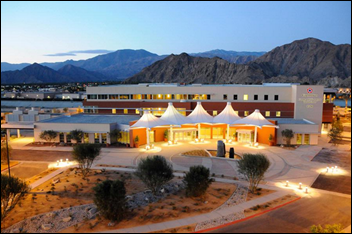 Physicians in Coachella Valley, CA find success with Eisenhower Primary Care 365, a direct primary care program that offers, among other benefits, constant email access via RelayHealth to participating physicians at less than half the price of concierge practices. Founded in 2009 as a way to lure local physicians away from proliferating and increasingly competitive concierge practices, the program now has 14 physicians caring for 6,500 patients at four locations in the valley.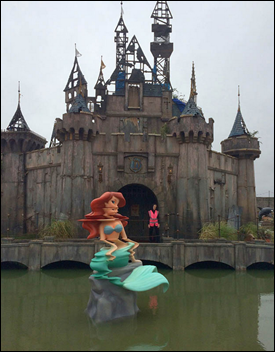 Banksy, the reclusive yet prolific urban artist who has made a name for himself (or themselves) via various forms of social-awareness-raising street art, opens Dismaland in Weston-super-mare, an English coastal town that has definitely seen better days. Billed as "the U.K.'s most disappointing new visitor attraction," the pop-up art exhibition covers 2.5 acres and brings new meaning to the term "theme park." (You have to wonder what the first aid station looks like.)
---
Contacts
Jennifer,  Mr. H, Lorre, Dr. Jayne, Dr. Gregg, Lt. Dan
More news: HIStalk, HIStalk Connect.
Get HIStalk Practice  updates.
Contact us online.
Become a sponsor.