Top News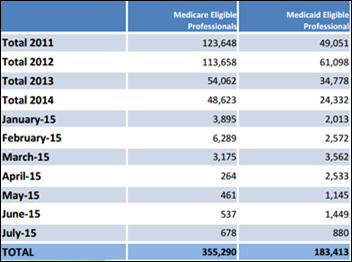 CMS publishes the July 2015 Meaningful Use update: 306,000 EPs and 4,400 EHs have attested to MU Stage 1, while 56,000 EPs and 1,500 EHs have attested for Stage 2. $31.3 billion has been paid out to date.
---
Webinars
September 9 (Wednesday) 2:00 ET. "Need to cleanse, unify and manage the provider data in your EMR master file and other IT systems?" Phynd's Unified Provider Management platform allows healthcare organizations to maintain a single, verified, customized profile for each provider across legacy IT systems. This 30-minute presentation will explain how Phynd's system can help synchronize internal provider information in real time; create provider interoperability among systems; and manage, update, and analyze provider information with workflow tools to improve revenue cycle and clinical communication.
Previous webinars are on the YouTube channel. Contact Lorre for webinar services including discounts for signing up by Labor Day.
---
Announcements and Implementations
Arete Urgent Care (TX) selects DocuTap's EHR and PM software for implementation across its five walk-in clinics.
Jopari Solutions incorporates One Call Care Management's EZ-Auth expedited authorization and scheduling service into its provider portal to streamline worker compensation processes.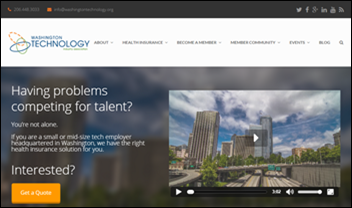 The Washington Technology Industry Association paves presumably new ground by creating health plan packages for its small- and mid-sized tech company members. Created in partnership with Premera Blue Cross, the plans meet WTIA member requests for personal health coaching, telemedicine, wearable devices, and on-site care at the workplace – all features their current health plans don't offer and that will likely attract top talent. The association is working to roll offer additional plan benefits, including out on-site exercise centers, neighborhood health clinics, and online physician reviews, through a phased approach with help from business and provider partners.
---
Acquisitions, Funding, Business, and Stock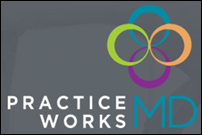 Management consulting firm Practice Works MD opens a new office (presumably its first) in Sarasota, FL. President Karen Vale founded the company last year after a 10-year stint with Partners in Practice, which she sold in 2009 to Origin Healthcare Solutions.
---
Government and Politics

CMS schedules three September webinars to help physicians understand how their measures may be publicly reported on the Physician Compare website.
---
Telemedicine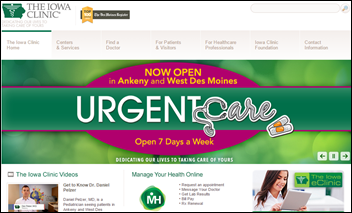 The Iowa Clinic selects the VirtuMedix platform from TeleCommunication Systems to provide telemedicine care via its new eClinic service. The clinic cares for 400,000 patients annually across 37 specialties including family medicine.
The Dallas Observer points out the dismal healthcare quality rankings of Texas, which beat out only Louisiana and Oklahoma in annual HHS rankings – an honor the paper deems "the rough equivalent of beating a couple of asthmatic 4-year-olds in a foot race." The state scored particularly low in hospital admissions for uncontrolled diabetes without complications and avoidable admissions for hypertension, two categories of care that could likely benefit from the integration of telemedicine. While the state has loosened up its regulations where school-based telemedicine is concerned, the legal wrangling continues over licensure and reimbursement issues that would promote widespread adoption by Texas physicians. 
---
Research and Innovation
Researchers conclude that EHR-based trigger algorithms that identify patients at risk of diagnostic delays stand a good chance of preventing delays in diagnostic evaluation for cancer. A seven-month study with 72 PCPs at two sites found that time to evaluation was significantly lower in intervention patients than in control patients, leading researchers to conclude the algorithm may be beneficial in screening patients with other conditions.
---
Other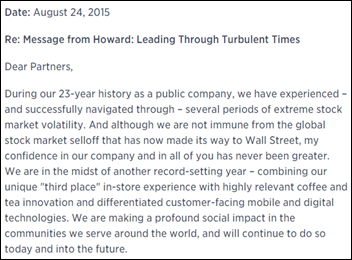 Following news of the Dow's plunge, Starbucks CEO Howard Schultz sends an email to employees encouraging them to keep customer worries and company success top of mind. Imagine how this portion would read if you replaced "customer" with "patient." I can't help but think of the impact it would have on provider teams if they received a message like this every once in awhile from their executive leadership.
"Our customers are likely to experience an increased level of anxiety and concern. Please recognize this and – as you always have – remember that our success is not an entitlement, but something we need to earn, every day. Let's be very sensitive to the pressures our customers may be feeling, and do everything we can to individually and collectively exceed their expectations."
---
Contacts
Jennifer,  Mr. H, Lorre, Dr. Jayne, Dr. Gregg, Lt. Dan
More news: HIStalk, HIStalk Connect.
Get HIStalk Practice  updates.
Contact us online.
Become a sponsor.