Top News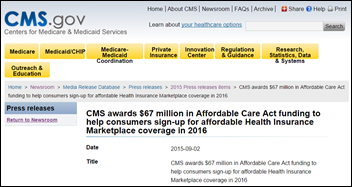 CMS announces $67 million in ACA funding to help consumers sign up for health plan coverage at Healthcare.gov and state partnership exchanges during the 2016 open enrollment period. The agency will allocate the Marketplace Navigator funds to 100 organizations in 34 states. The chosen organizations will use the funds to hire and better equip trained specialists in assisting consumers with health plan selection, financing options, and the application process.
---
Webinars
September 9 (Wednesday) 2:00 ET. "Need to cleanse, unify and manage the provider data in your EMR master file and other IT systems?" Phynd's Unified Provider Management platform allows healthcare organizations to maintain a single, verified, customized profile for each provider across legacy IT systems. This 30-minute presentation will explain how Phynd's system can help synchronize internal provider information in real time; create provider interoperability among systems; and manage, update, and analyze provider information with workflow tools to improve revenue cycle and clinical communication.
September 22 (Thursday) 12:00 ET. "Just Step on the Scale: Measure Ongoing EHR Success and Focus Improvements Using Simple but Predictive Adoption Metrics." Gene Thomas, CIO of Memorial Hospital of Gulfport, will share how his organization used an EHR adoption assessment to quickly target priorities in gaining value from its large Cerner implementation. Thomas and Heather Haugen, CEO of the Breakaway Group, will also share real-life results that prove the need for a disciplined approach to setting and measuring key success factors. Commit to taking that scary first step and step onto the scale, knowing that it will get measurably better every day.
---
Announcements and Implementations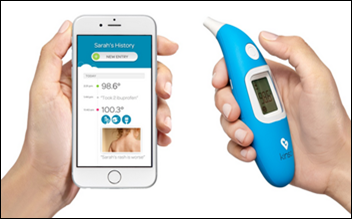 Smart-thermometer company Kinsa launches a wireless in-ear thermometer that connects to a companion smartphone app via Bluetooth. The app includes the new Guidance feature, which looks at historical data, current temperature, and symptoms to provide recommended actions.
---
Acquisitions, Funding, Business, and Stock

Nashville-based Shareable Ink rebrands to Shareable as part of a shift by somewhat new CEO Hal Andrews to refocus the company's strategy around its clinical documentation solution. Andrews explains the technology behind the company's initial product, a pen that could convert handwritten notes into digital files, has evolved into a larger platform with EHR integration capabilities.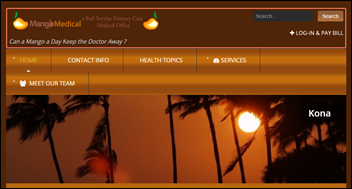 The local business paper profiles Mango Medical, a Hawaii-based company that helps physicians set up cloud-based practices across the islands. The company has helped ease many of the business burdens physicians face when opening up a new practice, such as establishing them on Drchrono, the company's EHR of choice. CEO Timothy Duerler is also considering outsourcing coding to India. ""If that goes well …" he explains, "I think that's what makes or breaks private practices, because if you're seeing the patient but not getting them to insurance companies and getting them paid for, then it's such a narrow margin in private practice. If you're not efficient you can't pay your bills."
---
People

William Winkenwerder Jr., MD (Winkenwerder Strategies) joins the Cureatr Board of Directors.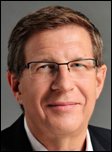 Julian Cohen (Breakthrough) joins Teladoc in the new position of general manager and president of Teladoc Behavioral Health.
---
Telemedicine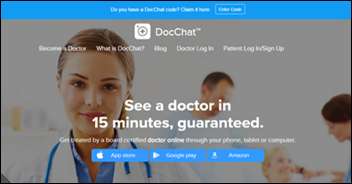 DocChat officially launches its telemedicine app and platform, touting a pilot study in rural nursing homes that reduced trips to the ER by 95 percent. The company is similar to its more mainstream competitors, targeting services to employers and individuals. Founder Steve Okhravi, MD is perhaps best known for founding the New York City-based chain of Emergency Medical Care clinics, which naturally offer DocChat services.
---
Other

Spanish researchers develop an algorithm that enables a smartphone to detect boredom based on a user's mobile activity, including time between calls and texts, time of day, and number of apps used. Researchers even sent bored smartphone users alerts with links to Buzzfeed articles, which they clicked on more often than people who found more constructive ways to use their time. All kidding aside, the study points out the potential for smartphones to eventually send "smarter" alerts – those received by users at times they're more likely to act on them. I imagine such a development could prove useful in mental health apps that track anxiety or depression. 
---
Contacts
Jennifer,  Mr. H, Lorre, Dr. Jayne, Dr. Gregg, Lt. Dan
More news: HIStalk, HIStalk Connect.
Get HIStalk Practice  updates.
Contact us online.
Become a sponsor.