Top News
Essentia Health is one of 11 Minnesota-based providers that will use State Innovation Model grant funding to ramp up data analytics efforts. The health system will use $313,000 to hire a data analyst who will focus solely on population health. The funds will also pay for Epic's Healthy Planet software, which the new analyst will use to identify needs and trends found in Essentia's Epic EHR.
---
Webinars
September 9 (Wednesday) 2:00 ET. "Need to cleanse, unify and manage the provider data in your EMR master file and other IT systems?" Phynd's Unified Provider Management platform allows healthcare organizations to maintain a single, verified, customized profile for each provider across legacy IT systems. This 30-minute presentation will explain how Phynd's system can help synchronize internal provider information in real time; create provider interoperability among systems; and manage, update, and analyze provider information with workflow tools to improve revenue cycle and clinical communication.
September 22 (Thursday) 12:00 ET. "Just Step on the Scale: Measure Ongoing EHR Success and Focus Improvements Using Simple but Predictive Adoption Metrics." Gene Thomas, CIO of Memorial Hospital of Gulfport, will share how his organization used an EHR adoption assessment to quickly target priorities in gaining value from its large Cerner implementation. Thomas and Heather Haugen, CEO of the Breakaway Group, will also share real-life results that prove the need for a disciplined approach to setting and measuring key success factors. Commit to taking that scary first step and step onto the scale, knowing that it will get measurably better every day.
---
Acquisitions, Funding, Business, and Stock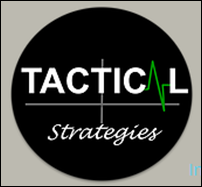 Dexter, MI-based consulting firm Tactical Strategies expands its healthcare IT services to include clinical analytics, and risk management and measures for population health management initiatives.

Analytics vendor MedeAnalytics sells a majority interest in the company to Thoma Bravo, a private equity firm that includes GHX, Hyland Software, SRS Software among its healthcare investments.
---
Announcements and Implementations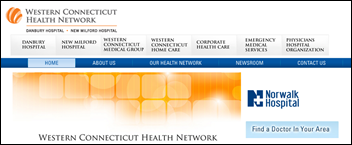 Western Connecticut Health Network chooses Cerner's Millennium EHR, will upgrade its Soarian revenue cycle applications, and implement Cerner's HealtheIntent population health management system.
ZeOmega announces that a managed Medicaid plan has expanded its use of the company's Jiva population health management tool as part of its roll out of a new dual-eligibles program for its underserved members in 16 states and Washington, D.C.
---
People
Medecision promotes Kathy D'Amario to SVP/CTO.
---
Government and Politics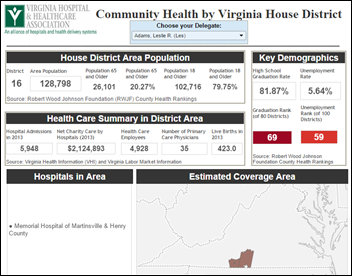 The Virginia Hospital and Healthcare Association develops the Community Health Dashboard to give users insight into key population and health statistics for each of the state's 40 Senate districts or 100 House of Delegates districts. "Starting in September, we are meeting with all the delegates, senators and challengers," explains Riverside Health System spokesman Peter Glagola. Riverside is one of six hospitals represented in the dashboard. "Our goal is to educate the legislators about Riverside Health System and what we do to keep our communities healthy and how legislation influences our business. We will be using the dashboards in our meetings with the legislators."
---
Research and Innovation
The Institute for Family Health and HealthAlliance of the Hudson Valley partner to create the Kingston, NY-based Center for Health Information Technology Research to Promote Population Health in Primary Care. The new center will use a two-year, $1.26 million grant from the Empire Clinical Research Investigator Program to train six primary care-focused researchers in identifying effective methods for using healthcare IT to improve outcomes and reduce health disparities.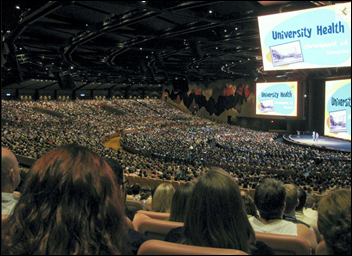 I don't think it's too much of a stretch to think that Epic has been in the population health management business for some time. CEO Judy Faulkner sustained the idea when she told attendees at this year's Epic UGM that customers had exchanged 18 million patient records in July alone. Faulkner stressed the importance of "huge" data in announcing Epic's new Cosmos Research Network, which will enable users to contribute de-identified patient data for research purposes.
Black Book Rankings notes in its latest study that 84 percent of primary care practices in the midst of replacing their EHR are giving preference to vendors with population health tools and analytics.
---
Other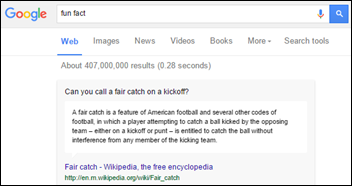 Fun Friday Fact (just in time for game-day weekend): Googling "fun fact" will result in just that, with a link to the original content.
---
Sponsor Updates
AdvancedMD announces the six winners of its video contest.
Nordic brews up an EHR IPA to raise funds for veterans and the unemployed during Epic's UGM in Madison.
PerfectServe releases a new case study featuring IPC Healthcare's Memorial City practice.
---
Contacts
Jennifer,  Mr. H, Lorre, Dr. Jayne, Dr. Gregg, Lt. Dan
More news: HIStalk, HIStalk Connect.
Get HIStalk Practice  updates.
Contact us online.
Become a sponsor.