ICD-10 Gets Physicians Engaged in Dallas
By Robb Verna

The Greenway Health annual Engage user conference, held last week in Dallas, focused on the value of the insights shared by its 75,000 physicians out on the front lines of care. By comments from some of the 2,500 attendees, it was a well-received educational and networking event that more than met their expectations, especially on the eve of the ICD-10 transition.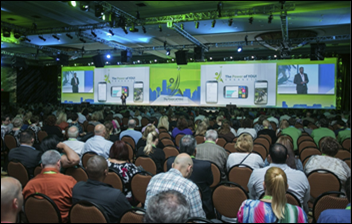 Greg Wolverton, CIO of ARcare/KentuckyCare (AR), enjoyed hearing about the failures and successes of healthcare thought leaders during morning keynotes. "By the end of the conference," he explains, "everyone on my team had a new charge to push healthcare to the next level. Exciting times are upon us for sure." Wolverton is no stranger to change, having ushered ARcare through an EHR implementation and utilization that has earned the two-state FQHC the Nicholas E. Davies Award of Excellence and Stage 7 recognition from HIMSS. (You can check out the HIStalk Practice interview with Wolverton here.)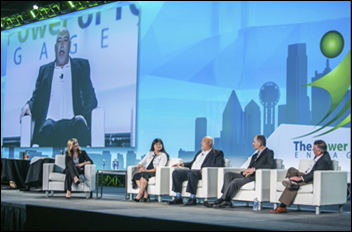 Wolverton was one of four panelists in the second day's general session, which discussed the increasing need for providers to improve efficiency and utilize new tools and processes to meet Internet-savvy patient expectations for convenient, personalized, and individual care. They also tackled the imminent start of ICD-10 coding October 1 — definitely one of the conference's hottest topics. "We feel comfortable that ARcare is ready for ICD-10," Wolverton added. "We've been coding in ICD-9 and -10, as well as SNOMED. We feel prepared. We just hope our payers are as well."
Gabriel de Paz, vice president of financial systems for 21st Century Oncology (FL), the nation's largest radiation oncology practice and one of the largest groups of urologists in the US, admitted that, "I'm concerned about what payers are going to do about ICD-10. I'm hoping for the best but I think you need to prepare for the impact and set some money aside."
Nancy Brown, practice administrator at The Veranda (GA), left the event with a renewed sense of optimism around the October 1 transition. "I left the conference feeling great about our practice's ICD-10 readiness," she says. "I took away just a few additional tips to implement, including a final 20-day daily email educational sequence for staff covering the basics of ICD-10 coding guidelines as they vary from that of ICD-9."
Tiffany Waite, IT manager at Western Slope Cardiology (CO), particularly appreciated the breakout sessions devoted to ICD-10 prep. "I was really able to look at ICD-10 from a different perspective and think of things that I'm missing, which I thought I'd covered," she explains. "I learned Windows programs I can install that will enhance Prime Suite and that I know our doctors will love. I had meaningful conversations with other providers and managers about how they do things within the system and certain things I can try back at our practice."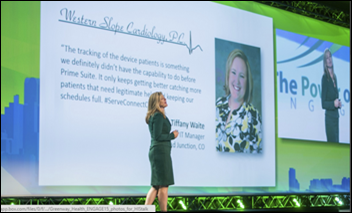 Catering to the Consumer (and Population)
Panelists also discussed the challenges of meeting the desires of the emerging healthcare consumer who is accustomed to 24/7 online convenience in banking, retail, and other aspects of their lives. "Consumers are redefining healthcare," says Allegro Pediatrics (WA) COO Josephine Young, who is also founder and head of Greenway's pediatric user group. "It's no longer sufficient that there's quality healthcare. That's a given. An office visit is a given. Now they're looking at: 'What else can you give me?'"
They also touched on the desire to participate in population health initiatives without incurring significant cost to gather and report data, or divulging even de-identified patient information that can inadvertently be used against them by their competition to remove a competitive advantage, especially for organizations with a significant market footprint in their area.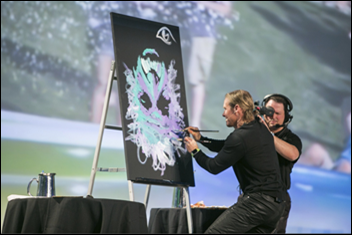 Looking at the World in a Different Way for a Good Cause
Artist and motivational speaker Erik Wahl brought attendees to a standing ovation after his keynote about looking at things differently to embrace and celebrate change. Wahl went from a corporate career to reinventing himself as a skilled artist who merges lightning-fast and dynamic painting strokes with his talk and multimedia presentations that inspire audiences like that in Dallas. Two of the paintings Wahl created during his hour-long presentation — of Albert Einstein, painted upside down and flipped around at the end to surprise the audience even more and the Statue of Liberty in vibrant red, white and blue – were auctioned off throughout the day. A total of $12,500 was raised for the nonprofit Rapha Clinic, which provides free healthcare services to the underserved of southwestern Georgia and eastern Alabama. Greenway Health has long supported the clinic, and hopes with its customers to enable more such clinics to be open in other areas in coming years.
"We were literally blown away by the gracious bidding of our customers, partners, and staff," says Eric Grunden, Greenway's vice president of professional services who sits on the Rapha Clinic board. "While the paintings are wonderful and Erik's presentation was truly inspirational, it's the support of our customers to serve others that really inspires us. We're proud to be associated with people who share our commitment to serve, connect, and care, as Greenway's motto states."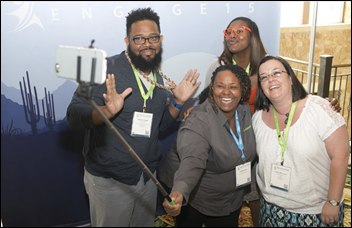 Motivation and 'Missing the Mark'
"These conference keynoters also motivate us in so many ways," says attendee Mona Engle, RN, CEO and practice administrator of Drs. May•Grant Associates (PA). "You can often come to healthcare conferences somewhat defeated by how the industry is changing, but you leave on a 'high' knowing we are doing what we need to be doing for the betterment of healthcare and that we CAN continue on."
"The Engage conference is one that we put on our calendars year after year," she adds. "There are so many things that we as a private practice learn from so many different avenues. It all begins from the minute you arrive and start interacting with your peers, hearing their challenges and their successes they're willing to share. The heart of Greenway is shared by its CEO, Tee Green. We always appreciate his candor in what the company has accomplished and how in some regards it 'missed the mark' the previous year, while sharing the strategic, thoughtful steps that have been put in place to correct issues and always keeping its customers as the primary focus."
Robb Verna is director of Carrollton, GA-based Greenway Health's Customer for Life Program.
---
Contacts
Jennifer,  Mr. H, Lorre, Dr. Jayne, Dr. Gregg, Lt. Dan
More news: HIStalk, HIStalk Connect.
Get HIStalk Practice  updates.
Contact us online.
Become a sponsor.