Top News
Scottsdale, AZ-based PM consulting firm PracticeMax acquires Brewster, NY-based Medical Management Corp. of America for an undisclosed sum. The acquisition provides PracticeMax access to MMCOA's specialty physician client base in the Northeast. Its last acquisition was of Optimum Medical Management in September 2014.
---
Webinars
November 11 (Wednesday) 2:00 ET. "Trouble Upstream: The Underinsured and Cash Flow Challenges." Sponsored by TransUnion. Presenter: Jonathan Wiik, principal consultant, TransUnion Healthcare. The average person spends nearly $15,000 per year on healthcare as deductibles keep rising. Providers must educate their patients on plan costs and benefits while controlling their own collection costs by using estimation tools, propensity-to-pay analytics, and point-of-sale collections. This webinar will highlight industry trends in managing underinsured patients and will describe ways to match patients to appropriate funding.


November 12 (Thursday) 1 :00 ET. "Top Predictions for Population Health Management in 2016 and Beyond." Sponsored by Medecision. Presenters: Tobias C. Samo, MD, FACP, FHIMSS, CMIO, Medecision; Laura Kanov, BS, RRT, MBA, SVP of care delivery organization solutions, Medecision. With all the noise and hype around population health management, the presenters will share their predictions for 2016 and their insight into meeting the mounting pressures of value-based reimbursement and the tools and technology needed to manage care delivery.
November 18 (Wednesday) 2:00 ET. "Making VDI Secure and Simple for Healthcare." Sponsored by Park Place International. Presenters: James Millington, group product line marketing manager, VMware; Erick Marshall, senior systems engineer of virtual desktop infrastructure, Park Place International. Deployment of a virtual solution can optimize the experience of clinician users. Attendees will learn how to address the evolving demands of security and mobility in clinician workflow to improve the quality of care.
Contact Lorre for webinar services. Past webinars are on our HIStalk webinars YouTube channel.
---
Acquisitions, Funding, Business, and Stock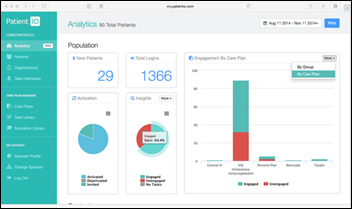 Patient IO will use an undisclosed amount of funding from Athenahealth to ramp up product development of its care coordination tool, and integrate it with the AthenaNet cloud platform. The Austin, TX-based startup will also join Athenahealth's More Disruption Please accelerator program, which conveniently opened a third location in Austin earlier this year.
---
People

Peter Tippett, MD (Verizon) joins the DataMotion Board of Directors.

Susan Anderson (Alberta Health) joins Orion Health as managing director of Canadian operations.
---
Telemedicine
XG Technology partners with GlobalMedia Group to offer a telemedicine delivery system for use in remote and underserved areas. The XMax Telemedicine Network Solution will combine XG's mobile broadband technology with GMG's telemedicine platform, and can also be adapted for use during emergency situations.
Walgreens expands and upgrades telemedicine services from MDLive to an additional 20 states via its mobile app. Telemedicine services were launched within the app in 2014, and are now available to consumers in 25 states.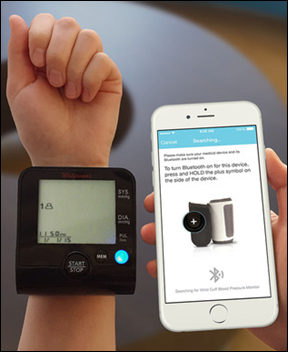 On a related note, Walgreens launches the Connect app, offering its Balance Reward members who own Well at Walgreens connected blood glucose meters or blood pressure wrist monitors to earn points for taking daily readings. Measurements are captured and transmitted via Qualcomm Life's 2net platform and mobile tools.
---
Government and Politics

The Patriot Promise Foundation launches ahead of Veterans Day to assist veterans in finding quality healthcare, which will including bringing commercially available healthcare technologies to the attention of physicians that care for veterans. Alliant Healthcare Products President and CEO Bob Taylor, who founded the organization, stresses that "we need to get beyond simply pointing fingers at the VA and work with them to do what it takes to find and fix any gaps in healthcare, whether it's the availability of the latest technology or actively treating Post Traumatic Stress for vets."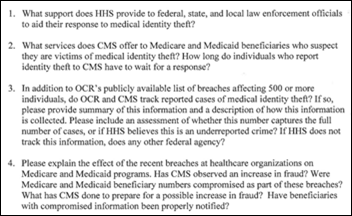 Members of the Senate HELP and Finance Committees write to CMS and OCR asking for an explanation of the steps being taken to aid medical identity theft victims and prevent future cyberattacks. The authors point out the increasing frequency of such attacks, and highlight the reluctance of CMS to correct Medicare billing records for identity theft victims. They conclude with a series of 12 questions in the hopes of receiving a response by November 24.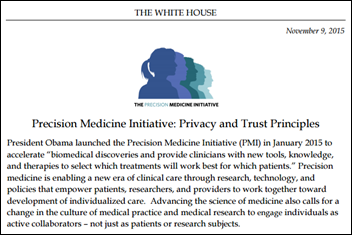 The above letter's timing is especially apropos, given the White House's release of Privacy and Trust Principles for its Precision Medicine Initiative. The four-page document assures participants they have the right to access results of the studies they participate in, and to be informed of any data breaches. It also prohibits re-identification of de-identified data.
The "who owns the data?" debate rages in Pennsylvania, as the House approves a bill that would require outpatient diagnostic imaging centers to notify patients or their designees of any significant abnormalities at the time of service or within 20 days after the results are mailed to the patient's physician. Supporters of the bill, which now moves to the Senate, steadfastly believe that test results belong to the patient, while detractors are concerned such a practice will interfere with the sacred physician-patient relationship.
---
Research and Innovation

The third annual Practice Profitability Index shows that physicians still aren't optimistic when it comes to turning a profit, though they are more upbeat about revenue than in years past. The forecasts align with the nearly 20 percent of practices that plan on budgeting for the replacement of their EHR and PM systems due to the prohibitive expense and sluggishness of current tools, plus their inability to easily integrate with other tech. The usual suspects – declining reimbursement, rising costs, and regulatory changes – ranked as the top threats to overall profit growth.
---
Other

Tweets from the HIMSS Connected Health Summit are flying fast and furiously, with HHS CTO Susannah Fox attempting to validate the usefulness of tweeting from conferences (a practice I know Mr. H has no time for, but I often enjoy.) Kudos to Fox, who spoke about insider views on government innovation, and cheekily referred to herself as "Lord of the Geeks" in the process.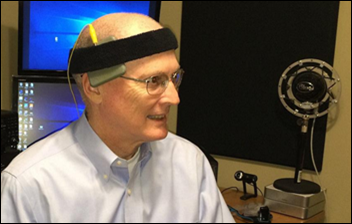 The Wall Street Journal looks at the "Weird World of Brain Hacking" and the ethical concerns that arise when at-home scientists use DIY devices to treat a variety of conditions, including boosting creativity and cognitive performance. "You don't often find a tool inside a lab that people replicate outside the lab and use their own way," says MIT researcher Anna Wexler. "The controversy gets at the larger issue of who gets to control the tools of science."
---
Contacts
Jennifer,  Mr. H, Lorre, Dr. Jayne, Dr. Gregg, Lt. Dan
More news: HIStalk, HIStalk Connect.
Get HIStalk Practice  updates.
Contact us online.
Become a sponsor.