Top News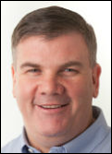 Practice Fusion names Tom Langan permanent CEO. Langan, who joined the company in mid 2014 as chief commercial officer, had been interim CEO since August. Langan's title jump caused a bit of an uproar, with some  insiders speculating that the ouster of former CEO Ryan Howard was a board decision rather than a personal one on Howard's part. At the time, rumors swirled that the company was preparing for an IPO, a development that might be escalated now that Langan seems to have found his permanent footing in the C-suite.
---
Webinars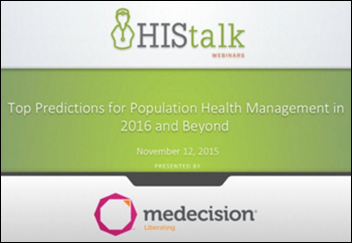 Medecision experts Laura Kanov and Tobias Samo, MD presented 12 population health management predictions during today's HIStalk webinar, spanning physicians, consumers, and technology. My new favorite buzzphrase, coined by Kanov, is "payvider space." Check out my tweet recap of their presentation here.
November 18 (Wednesday) 2:00 ET. "Making VDI Secure and Simple for Healthcare." Sponsored by Park Place International. Presenters: James Millington, group product line marketing manager, VMware; Erick Marshall, senior systems engineer of virtual desktop infrastructure, Park Place International. Deployment of a virtual solution can optimize the experience of clinician users. Attendees will learn how to address the evolving demands of security and mobility in clinician workflow to improve the quality of care.
November 20 (Friday) 2:00 ET. "The Athenahealth Leadership Institute Presents: Dr. John Halamka Interviewed by Jonathan Bush." Sponsored by Athenahealth. Presenters: John Halamka, MD, MS, CIO, Beth Israel Deaconess Medical Center; Jonathan Bush, CEO, Athenahealth. Providers are fed up with interface fees and the lengthy, fragmented narratives we're exchanging today. But what is the right course of action to help deliver better care across the continuum? Bring your questions as we join Dr.Halamka and Jonathan Bush to discuss the current state of healthcare and how we can improve care coordination and interoperability.
Contact Lorre for webinar services. Past webinars are on our HIStalk webinars YouTube channel.
---
#HIStalking Tweet Chat

The next #HIStalking tweet chat will take place Thursday, November 19 at 12pm ET. Nonprofit Healthwise (@healthwise) will host. Stay tuned for topics.
---
Announcements and Implementations
The Canada-based Centre for Effective Practice will offer its evidence-based tools and programs via CognisantMD's Ocean Platform, which acts as an interface between patient tablets, secure messaging, and data collected in EHRs. The integration will launch with CEP's patient poverty screening tool, followed by an opioid manager and lower-back pain screening tool.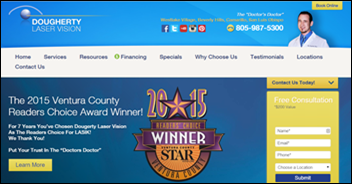 Dougherty Laser Vision (CA) rolls out VersaSuite's EHR and PM platform across its four locations.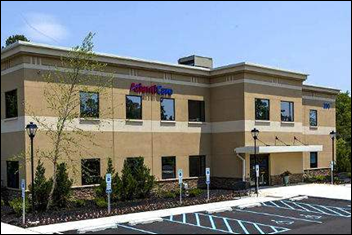 AtlantiCare implements online scheduling via ZocDoc for its primary care and specialty physicians.
---
People

David Smith (EEI Global) joins OptimizeRx as vice president of client services.
---
Government and Politics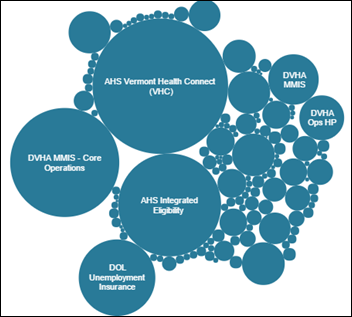 Newly released documents show that the State of Vermont has invested $1.3 billion in 132 IT projects, the bulk of which focus on healthcare. Coming in at just over $866 million, healthcare IT projects include the ongoing development of the Vermont Health Connect insurance exchange, which is set to cost $302.3 million to implement and maintain between this year and next. It's the state's most expensive project to date.
---
Research and Innovation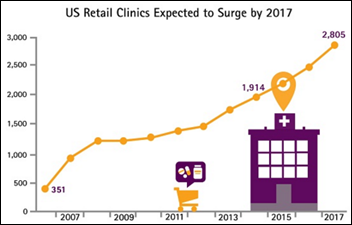 Accenture expects the number of retail clinics to increase 47 percent, at a minimum, between 2014 and 2017, creating capacity for 25 million patient visits. The forecast validates Walgreen's recent decision to move its Healthcare Clinics over to Epic. The company, which currently operates over 400 clinics, wouldn't share with me its expansion projections for the coming year (or the cost of the implementation), but I think it's safe to assume that the big bucks it's spending will not just be for its current locations.
---
Telemedicine

Scottsdale, AZ-based HealthiestYou secures a $30 million investment from Frontier Capital. The company will use the cash infusion to ramp up sales and marketing efforts to employer groups, expand its executive team, and develop its technology to capture more of the telemedicine market.
Raintree Systems integrates SnapMD's telemedicine tool into its EHR and PM system for physical therapists.
---
Other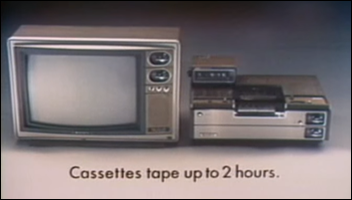 Because I know you were wondering: Sony finally decides to discontinue Betamax, the long-ago competitor of VHS tapes. The company halted production of Betamax players in 2002, but carried on making tapes for Japanese recording studios and die-hard fans of the outmoded technology. As Quartz points out, "Betamax was never granted a hipster revival."
---
Contacts
Jennifer,  Mr. H, Lorre, Dr. Jayne, Dr. Gregg, Lt. Dan
More news: HIStalk, HIStalk Connect.
Get HIStalk Practice  updates.
Contact us online.
Become a sponsor.