Peter Weigel, MD is a PCP at Medical Associates of Westfield (NJ). The practice sees between 25 and 35 patients a day via its two full-time physicians and one part-time physician. MAW also employs a part-time NP and two full-time receptionists. It attested for Stage 2 Meaningful Use this year using Hello Health's EHR and patient portal, and began participating in the Medicare chronic-care management incentive program earlier this year.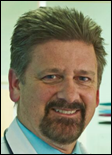 1. How long has the CCM initiative been running, and what type of outcomes have you seen?
We started participating in CCM in June. It's too early to see any significant outcomes; however, we have several patients to whom we were alerted that there was a problem. This allowed us to reach out to them and address the problem, either over the phone or by an office visit earlier than scheduled.
2. What types of technology have enabled your practice to participate in CCM strategies?
Our EHR offers CCM services. We have been working with our vendor from the outset. They have a call center, and can access our EHR to obtain patient information and enter phone-call content.
3. What are your practice's CCM goals?
I hope to enroll all eligible patients, and to use CCM to improve their overall health and decrease hospitalizations.
4. Have you received any incentives yet?
We have submitted charges to Medicare and are beginning to see some payments. Medicare pays between $42 and$48 dollars per patient per month for CCM. They are paying in the same timely fashion as they do for all other submitted charges, on average in about two weeks. They pay 80 percent of allowable and the patient's secondary insurance pays the other 20 percent. There has not been an issue so far. 
I think that, with a large enough practice, this could be a significant revenue generator, especially because you as the physician do not have to do the majority of the work. You just have to review what has been done and sign off on the note. Of course, if you use a company such as Hello Health, you'll need to split the income, but you would in essence be splitting it if you did it all in your office because you would have to pay someone to be the coordinator and make the calls. All in all, I think it is a reasonable amount of income for the amount of work necessary. It is also a way for physicians to "get their feet wet" in outcomes-based reimbursement, which will be the payment model in the future.
5. What advice do you have for other independent physicians looking to undertake CCM projects?
It probably does not make sense from a monetary or personnel standpoint to attempt to do CCM on your own, especially if you are a solo or small group practice. It makes more sense to connect with a vendor that offers a turnkey service so that you can get set up and hit the ground running. The money you spend for the service is more than made up for in decreased personnel costs and headaches.
---
Contacts
Jennifer,  Mr. H, Lorre, Dr. Jayne, Dr. Gregg, Lt. Dan
More news: HIStalk, HIStalk Connect.
Get HIStalk Practice  updates.
Contact us online.
Become a sponsor.