Top News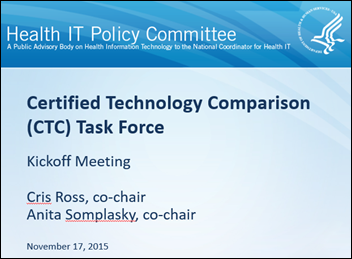 ONC launches its newest advisory committee, the Certified Technology Comparison Task Force, which will collaborate on the development and maintenance of a certified EHR comparison tool. Task force members include representatives from AMA, Mayo Clinic, Vibrant Health Family Clinics, Missouri Cancer Associates, Tenet Healthcare, Lawrence and Memorial Hospital, the National Rural Health Resource Center, and ONC. The new committee will hold two hearings in January to hear from experts in the field, and then work to compile its recommendations for a MACRA-mandated report ultimately due to Congress in April.
---
Webinars
November 18 (Wednesday) 2:00 ET. "Making VDI Secure and Simple for Healthcare." Sponsored by Park Place International. Presenters: James Millington, group product line marketing manager, VMware; Erick Marshall, senior systems engineer of virtual desktop infrastructure, Park Place International. Deployment of a virtual solution can optimize the experience of clinician users. Attendees will learn how to address the evolving demands of security and mobility in clinician workflow to improve the quality of care.
November 20 (Friday) 2:00 ET. "The Athenahealth Leadership Institute Presents: Dr. John Halamka Interviewed by Jonathan Bush." Sponsored by Athenahealth. Presenters: John Halamka, MD, MS, CIO, Beth Israel Deaconess Medical Center; Jonathan Bush, CEO, Athenahealth. Providers are fed up with interface fees and the lengthy, fragmented narratives we're exchanging today. But what is the right course of action to help deliver better care across the continuum? Bring your questions as we join Dr.Halamka and Jonathan Bush to discuss the current state of healthcare and how we can improve care coordination and interoperability.


December 2 (Wednesday) 1:00 ET. "The Patient is In, But the Doctor is Out: How Metro Health Enabled Informed Decision-Making with Remote Access to PHI." Sponsored by Vmware. Presenters: Josh Wilda, VP of IT, Metro Health; James Millington, group product line manager, VMware. Most industries are ahead of healthcare in providing remote access to applications and information. Some health systems, however, have transformed how, when, and where their providers access patient information. Metro Health in Grand Rapids, MI offers doctors fast bedside access to information and lets them review patient information on any device (including their TVs during football weekends!) saving them 30 minutes per day and reducing costs by $2.75 million.
December 3 (Thursday) 2:00 ET. "501(r) Regulations – What You Need to Know for Success in 2016." Sponsored by TransUnion. Presenter: Jonathan Wiik, principal consultant, TransUnion Healthcare Solutions. Complex IRS rules take effect on January 1 that will dictate how providers ensure access, provide charity assistance, and collect uncompensated care. This in-depth webinar will cover tools and workflows that can help smooth the transition, including where to focus compliance efforts in the revenue cycle and a review of the documentation elements required.
Contact Lorre for webinar services. Past webinars are on our HIStalk webinars YouTube channel.
---
#HIStalking Tweet Chat – Ensuring the Patient's Voice is Heard

The next #HIStalking tweet chat will take place Thursday, November 19 at 12pm ET. Nonprofit Healthwise (@healthwise) will host. Check out topics here.
---
Acquisitions, Funding, Business, and Stock

Health IT and RCM solutions vendor TeamPraxis will market and sell Athenahealth products to physicians in Hawaii.

Healthcare staffing firm AMN Healthcare acquires executive search and advisory services firm B.E. Smith for $160 million.
---
Announcements and Implementations

AdvancedMD and its "ICD-10 Posse" report that all of its clients smoothly transitioned to ICD-10 by the October 1 deadline, and that clearing-house and carrier-level rejections have decreased from ICD-9 levels. Successful claims are at the highest level ever seen by the company's clients.

IPatientCare develops a Peer to Peer portal to help physicians collaboratively manage and track referrals, schedule appointments, and share patient charts.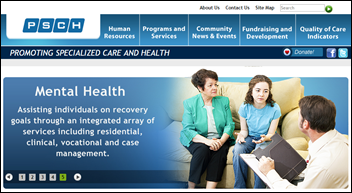 New York City-based human services agency PSCH integrates mobile patient engagement solutions, including text messaging, from Sense Health into its Assertive Community Treatment program for mentally ill Medicaid patients.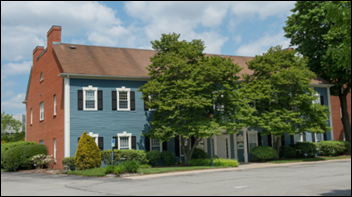 Performance Physical Therapy implements Clinicient's Insight PM solution across its nine practices in Rhode Island.
Connect Healthware adds NetDirector's health data exchange capabilities to its Chart EHR.
---
Telemedicine

Chattanooga, TN-based startup WeCounsel Solutions sees a 35-percent increase over the last three months in telemedicine sessions conducted via its platform for private mental health practices.
---
Research and Innovation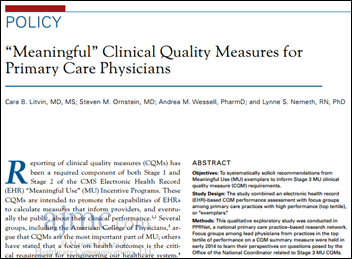 An American Journal of Managed Care study of 27 high-performing primary care practices highlights eight recommendations for Stage 3 Meaningful Use clinical quality measurement requirements:
CQMs should be evidence-based, focused on high-priority conditions, and relevant for primary care physicians.
A few core CQMs focused on public health issues should apply to all eligible providers.
The focus of CQMs should largely be on outcomes.
Reporting of CQMs should limit burden on providers.
Consider performance thresholds for some CQMs.
EHRs should have capabilities to capture patient-generated data, which could be incorporated into CQMs.
Locally developed CQMs can encourage innovation.
Population management tools are vital to improving quality.
---
Other
AMA formally adopts several new health IT-related policies at its Interim Meeting this week, including working to revise quality standards and Meaningful Use requirements; accelerating the development and adoption of "universal and enforceable" EHR interoperability standards for all vendors before the Medicare Incentive Based Payment kicks in, and developing model state legislation that will help increase physicians registration and use of state-based prescription drug monitoring programs. That particular policy incorporates a demand for ONC to delay MU until real-time integration between EHRs and PDMPs has been achieved. Media reports also suggest that AMA backed off its proposed guidelines for the ethical practice of telemedicine, sending them back to the drawing board for a lack of focus on medical specialties and telemedicine-related liability.
---
Contacts
Jennifer,  Mr. H, Lorre, Dr. Jayne, Dr. Gregg, Lt. Dan
More news: HIStalk, HIStalk Connect.
Get HIStalk Practice  updates.
Contact us online.
Become a sponsor.