An unnamed Texas ACO selects ZeOmega's Jiva population health platform to better coordinate care for 50,000 lives 1,100 network providers.
Pennsylvania-based physician group Doylestown Health Partnership and Tandigm Health sign a collaboration agreement that will combine Tandigm's analytics tools, real-time data, and clinical expertise with DHP's capabilities in the management of chronically ill patients. Tandigm Health signed a similar agreement with Holy Redeemer Health System and the Innovative Wellness Alliance, both also based in Pennsylvania, earlier this year.

Radiology data mining and analytics company Montage Healthcare Solutions develops the Collaborative Research Network, a tool that will enable multi-site and cross-organizational research queries and analytics in the areas of population health, radiology research, and health policy. Developers believe the data-sharing network will better enable researchers to assess disease trends and variability, radiological findings, and report characteristics.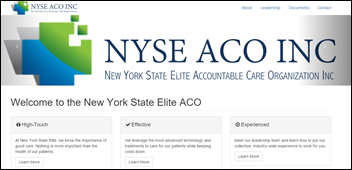 Physician-led New York State Elite ACO selects a combined population health management solution from LabCorp and HealthEC to help manage the rapid expansion of its Medicare Advantage Easy Choice Managed Care plan. The solution includes care coordination, practice transformation, consulting, data analytics and reporting, clinical nursing support, and clinical intervention for high-risk patients.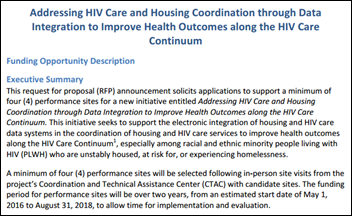 HRSA seeks performance-site applications for a new outcomes-improvement initiative that will support the electronic integration of housing and HIV care data systems with the coordination of care and housing. The program will award chosen applicants up to $525,000 between May 2016 and August 2018. Applications are due December 15.
---
Contacts
Jennifer,  Mr. H, Lorre, Dr. Jayne, Dr. Gregg, Lt. Dan
More news: HIStalk, HIStalk Connect.
Get HIStalk Practice  updates.
Contact us online.
Become a sponsor.