Top News
Consumer telemedicine company VitalAlert announces it will give 50 percent of its earnings to MAP International, a Christian-based health organization that provides health and relief services to patients in underserved countries around the world. The company, which contracts with Teladoc physicians, has partnered with the charity to a lesser degree since 2014.
---
HIStalk Practice Announcements and Requests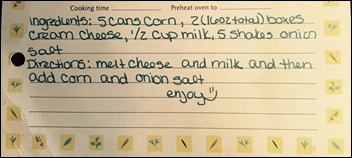 Happy early Thanksgiving! Still struggling to come up with a side dish to take to the family get together tomorrow? Try your hand at homemade creamed corn. It's super easy, requiring minimal prep and cooking time. Gobble til you wobble!
---
Webinars
December 2 (Wednesday) 1:00 ET. "The Patient is In, But the Doctor is Out: How Metro Health Enabled Informed Decision-Making with Remote Access to PHI." Sponsored by Vmware. Presenters: Josh Wilda, VP of IT, Metro Health; James Millington, group product line manager, VMware. Most industries are ahead of healthcare in providing remote access to applications and information. Some health systems, however, have transformed how, when, and where their providers access patient information. Metro Health in Grand Rapids, MI offers doctors fast bedside access to information and lets them review patient information on any device (including their TVs during football weekends!) saving them 30 minutes per day and reducing costs by $2.75 million.
December 2 (Wednesday) 1:00 ET. "Tackling Data Governance: Doctors Hospital at Renaissance's Strategy for Consistent Analysis." Sponsored by Premier, Inc. Presenters: Kassie Wu, director of application services, Doctors Hospital at Renaissance; Alex Eastman, senior director of enterprise solutions, Premier, Inc. How many definitions of "complications" (or "cost" or "length of stay"…) do you have? Doctors Hospital at Renaissance understood that inconsistent use of data and definitions was creating inconsistent and untrusted analysis. Join us to hear about their journey towards analytics maturity, including a strategy to drive consistency in the way they use, calculate, and communicate insights across departments.
December 2 (Wednesday) 2:00 ET. "Creating HIPAA-Compliant Applications Without JCAPS/JavaMQ Architecture." Sponsored by Red Hat. Presenters: Ashwin Karpe, lead of enterprise integration practice, Red Hat Consulting; Christian Posta, principle middleware architect, Red Hat. Oracle JCAPS is reaching its end of life and customers will need a migration solution for creating HIPAA-compliant applications, one that optimizes data flow internally and externally on premise, on mobile devices, and in the cloud. Explore replacing legacy healthcare applications with modern Red Hat JBoss Fuse architectures that are cloud-aware, location-transparent, and highly scalable and are hosted in a container-agnostic manner.
December 3 (Thursday) 2:00 ET. "501(r) Regulations – What You Need to Know for Success in 2016." Sponsored by TransUnion. Presenter: Jonathan Wiik, principal consultant, TransUnion Healthcare Solutions. Complex IRS rules take effect on January 1 that will dictate how providers ensure access, provide charity assistance, and collect uncompensated care. This in-depth webinar will cover tools and workflows that can help smooth the transition, including where to focus compliance efforts in the revenue cycle and a review of the documentation elements required.
December 9 (Wednesday) 12 noon ET. "Population Health in 2016: Know How to Move Forward." Sponsored by Athenahealth. Presenter: Michael Maus, VP of enterprise solutions, Athenahealth. ACOs need a population health solution that helps them manage costs, improve outcomes, and elevate the care experience. Athenahealth's in-house expert will explain why relying on software along isn't enough, how to tap into data from multiple vendors, and how providers can manage patient populations.
December 9 (Wednesday) 1:00 ET. "The Health Care Payment Evolution: Maximizing Value Through Technology." Sponsored by Medicity. Presenter: Charles D. Kennedy, MD, chief population health officer, Healthagen. This presentation will provide a brief history of the ACO Pioneer and MSSP programs and will discuss current market trends and drivers and the federal government's response to them. Learn what's coming in the next generation of programs such as the Merit-Based Incentive Payment System (MIPS) and the role technology plays in driving the evolution of a new healthcare marketplace.
December 16 (Wednesday) 1:00 ET. "A Sepsis Solution: Reducing Mortality by 50 Percent Using Advanced Decision Support." Sponsored by Wolters Kluwer Health. Presenter: Stephen Claypool, MD, medical director of innovation lab and VP of clinical development and informatics for clinical software solutions, Wolters Kluwer Health. Sepsis claims 258,000 lives and costs $20 billion annually in the US, but early identification and treatment remains elusive, emphasizing the need for intelligent, prompt, and patient-specific clinical decision support. Huntsville Hospital reduced sepsis mortality by 53 percent and related readmissions by 30 percent using real-time surveillance of EHR data and evidence-based decision support to generate highly sensitive and specific alerts.
December 16 (Wednesday) 1:00 ET. "Need for Integrated Data Enhancement and Analytics – Unifying Management of Healthcare Business Processes." Sponsored by CitiusTech. Presenters: Jeffrey Springer, VP of product management, CitiusTech; John Gonsalves, VP of healthcare provider market, CitiusTech. Providers are driving consumer-centric care with guided analytic solutions that answer specific questions, but each new tool adds complexity. It's also important to tap real-time data from sources such as social platforms, mobile apps, and wearables to support delivery of personalized and proactive care. This webinar will discuss key use cases that drive patient outcomes, the need for consolidated analytics to realize value-based care, scenarios to maximize efficiency, and an overview of CitiusTech's integrated healthcare data enhancement and analytics platform.
Contact Lorre for webinar services. Past webinars are on our HIStalk webinars YouTube channel.
---
Announcements and Implementations
ActX integrates its new real-time genomic decision-support service into NewCrop's e-prescribing system for controlled substances. The tool will deliver prescribing physicians alerts about medication efficacy, dosing, and adverse reactions based on patient genetic profiles.
---
People

Ray Good (SCI Consulting) joins Cognosante as vice president of capture management.
---
Government and Politics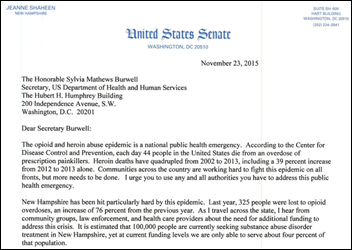 Senator Jeanne Shaheen (D-NH) announces a $600 million emergency funding bill to help combat the opioid and heroin abuse epidemic. The Senate Appropriations Committee member proposes to allocate $50 million to CDC for development of prescription drug monitoring programs, intervention programs, and rapid response projects. Shaheen notes in a corresponding letter to HHS Secretary Sylvia Burwell that 325 people died of opioid overdoses last year in New Hampshire, an increase of 76 percent over the previous year. "Communities across the country are working hard to fight this epidemic on all fronts, but more needs to be done," she explains. "I urge you to use any and all authorities you have to address this public health emergency."
---
Research and Innovation

JAMA offers a high-level overview of PCP perspectives on healthcare delivery system changes, noting that half of surveyed physicians believe greater use of healthcare IT has positively affected quality of care. A similar number of PCPs view the use of quality metrics as an assessment tool in a positive light. While no direct correlation to health IT is noted, nearly the same amount are considering early retirement.
Researchers discover that patients with narcotics prescriptions largely take to social media to discuss their medication's side effects. Out of 2.5 billion tweets and posts to social networking forums like askapatient.com, researchers found that patients largely focused on gastrointestinal issues such as nausea, vomiting, and constipation. "[The study] highlights that many patients need more information, more education, and perhaps a more meaningful relationship with their doctors," said study author Brennan Spiegel, MD. "If doctors can carefully and thoroughly explain the side effects of pain medicines with their patients, then it may lead to less misunderstandings and misuse of opioids."
---
Other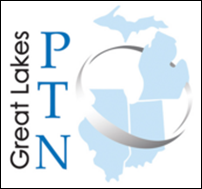 The Altarum Institute opens enrollment in Michigan for the Great Lakes Practice Transformation Network, a three-state quality improvement project funded by CMS. The program, which kicks off next spring, will offer qualifying physicians practice coaching, as well as assistance with quality reporting requirements and value-based payment initiatives.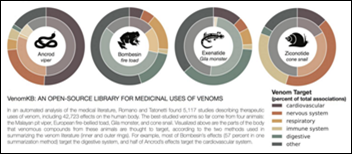 Data scientists at Columbia University create Venom Knowledge Base, the first online catalog of known animal venom and their 42,000-plus effects on humans. Scientists hope that the catalog will accelerate the discovery of new medical treatments.
The Massachusetts League of Community Health Centers celebrates the anniversary of the founding of the nation's first health center in 1965, taking advantage of the festivities to highlight the need for revamped medical school curricula. "We're making great progress, says Antonia McGuire, president and CEO of the Edward M. Kennedy Community Health Center (MA), "but it's clear that medical schools have not adjusted their training approach to address issues of team coordination, process improvement, patient engagement and better use of technology – all of which are basic requirements in practicing primary care in the post-ACA era. Medical schools should draw upon the community-based expertise of community health centers in developing their curricula and training programs in primary care."
---
Contacts
Jennifer,  Mr. H, Lorre, Dr. Jayne, Dr. Gregg, Lt. Dan
More news: HIStalk, HIStalk Connect.
Get HIStalk Practice  updates.
Contact us online.
Become a sponsor.