Top News
MIT Startup Exchange graduate Healthjump acquires DataTrade Solutions for an undisclosed price. The Phoenixville, PA-based medical record exchange vendor will leverage DataTrade's consulting and development services in an effort to expand its customer footprint and interoperability capabilities.
---
HIStalk Practice Announcements and Requests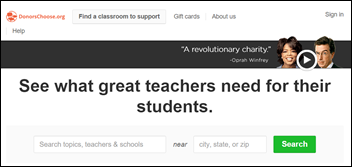 As the frantic Black Friday and Cyber Monday shopping blitzes wind down, consider sending some of your resources to DonorsChoose via HIStalk. Mr. H has established quite the reputation for funding a ton of STEM-related DonorsChoose projects courtesy of generous reader donations, and matching funds provided by an anonymous vendor executive for donations of $100 or more. Companies or individuals interested in contributing and having their funds matched can follow these steps:
Purchase a gift card in the amount you'd like to donate.
Send the gift card by the email option to mr_histalk@67.225.140.230/~histalk (that's his DonorsChoose account).
He'll be notified of your donation and you can print your own receipt for tax purposes.
He'll pool the money and apply the matching funds, with an emphasis on STEM-related projects as the matching-funds donor prefers. You can check out weekly updates of what projects get funded at HIStalk.com, where Mr. H runs photos and thank yous from classroom recipients.
---
Webinars
December 2 (Wednesday) 1:00 ET. "The Patient is In, But the Doctor is Out: How Metro Health Enabled Informed Decision-Making with Remote Access to PHI." Sponsored by Vmware. Presenters: Josh Wilda, VP of IT, Metro Health; James Millington, group product line manager, VMware. Most industries are ahead of healthcare in providing remote access to applications and information. Some health systems, however, have transformed how, when, and where their providers access patient information. Metro Health in Grand Rapids, MI offers doctors fast bedside access to information and lets them review patient information on any device (including their TVs during football weekends!) saving them 30 minutes per day and reducing costs by $2.75 million.
December 2 (Wednesday) 1:00 ET. "Tackling Data Governance: Doctors Hospital at Renaissance's Strategy for Consistent Analysis." Sponsored by Premier, Inc. Presenters: Kassie Wu, director of application services, Doctors Hospital at Renaissance; Alex Eastman, senior director of enterprise solutions, Premier, Inc. How many definitions of "complications" (or "cost" or "length of stay"…) do you have? Doctors Hospital at Renaissance understood that inconsistent use of data and definitions was creating inconsistent and untrusted analysis. Join us to hear about their journey towards analytics maturity, including a strategy to drive consistency in the way they use, calculate, and communicate insights across departments.
December 2 (Wednesday) 2:00 ET. "Creating HIPAA-Compliant Applications Without JCAPS/JavaMQ Architecture." Sponsored by Red Hat. Presenters: Ashwin Karpe, lead of enterprise integration practice, Red Hat Consulting; Christian Posta, principle middleware architect, Red Hat. Oracle JCAPS is reaching its end of life and customers will need a migration solution for creating HIPAA-compliant applications, one that optimizes data flow internally and externally on premise, on mobile devices, and in the cloud. Explore replacing legacy healthcare applications with modern Red Hat JBoss Fuse architectures that are cloud-aware, location-transparent, and highly scalable and are hosted in a container-agnostic manner.
December 3 (Thursday) 2:00 ET. "501(r) Regulations – What You Need to Know for Success in 2016." Sponsored by TransUnion. Presenter: Jonathan Wiik, principal consultant, TransUnion Healthcare Solutions. Complex IRS rules take effect on January 1 that will dictate how providers ensure access, provide charity assistance, and collect uncompensated care. This in-depth webinar will cover tools and workflows that can help smooth the transition, including where to focus compliance efforts in the revenue cycle and a review of the documentation elements required.
December 9 (Wednesday) 12 noon ET. "Population Health in 2016: Know How to Move Forward." Sponsored by Athenahealth. Presenter: Michael Maus, VP of enterprise solutions, Athenahealth. ACOs need a population health solution that helps them manage costs, improve outcomes, and elevate the care experience. Athenahealth's in-house expert will explain why relying on software along isn't enough, how to tap into data from multiple vendors, and how providers can manage patient populations.
December 9 (Wednesday) 1:00 ET. "The Health Care Payment Evolution: Maximizing Value Through Technology." Sponsored by Medicity. Presenter: Charles D. Kennedy, MD, chief population health officer, Healthagen. This presentation will provide a brief history of the ACO Pioneer and MSSP programs and will discuss current market trends and drivers and the federal government's response to them. Learn what's coming in the next generation of programs such as the Merit-Based Incentive Payment System (MIPS) and the role technology plays in driving the evolution of a new healthcare marketplace.
December 16 (Wednesday) 1:00 ET. "A Sepsis Solution: Reducing Mortality by 50 Percent Using Advanced Decision Support." Sponsored by Wolters Kluwer Health. Presenter: Stephen Claypool, MD, medical director of innovation lab and VP of clinical development and informatics for clinical software solutions, Wolters Kluwer Health. Sepsis claims 258,000 lives and costs $20 billion annually in the US, but early identification and treatment remains elusive, emphasizing the need for intelligent, prompt, and patient-specific clinical decision support. Huntsville Hospital reduced sepsis mortality by 53 percent and related readmissions by 30 percent using real-time surveillance of EHR data and evidence-based decision support to generate highly sensitive and specific alerts.
December 16 (Wednesday) 1:00 ET. "Need for Integrated Data Enhancement and Analytics – Unifying Management of Healthcare Business Processes." Sponsored by CitiusTech. Presenters: Jeffrey Springer, VP of product management, CitiusTech; John Gonsalves, VP of healthcare provider market, CitiusTech. Providers are driving consumer-centric care with guided analytic solutions that answer specific questions, but each new tool adds complexity. It's also important to tap real-time data from sources such as social platforms, mobile apps, and wearables to support delivery of personalized and proactive care. This webinar will discuss key use cases that drive patient outcomes, the need for consolidated analytics to realize value-based care, scenarios to maximize efficiency, and an overview of CitiusTech's integrated healthcare data enhancement and analytics platform.
Contact Lorre for webinar services. Past webinars are on our HIStalk webinars YouTube channel.
---
People

Jim Adams (Endeavor Quest) joins Syncordia Technologies and Healthcare Solutions Corp.'s Board of Advisors.

Culbert Healthcare Solutions promotes Jaffer Traish to VP of its Epic practice, and names collegiate soccer phenom Art Lopez (Telcare) Mid-West Regional Account Manager.
---
Announcements and Implementations
Athenahealth adds MedStatix patient survey technology to athenaOne EHR, PM, and care coordination services. Athenahealth customers will have complimentary access to overall satisfaction scores, with the option to upgrade for deeper insights.
Chiropractic Health Services (WI) selects iPatientCare's EHR and RCM services.
---
Government and Politics
CMS releases its updated quality strategy, outlining the methods by which it proposes to tie 30 percent of traditional Medicare payments to alternative payment models and 85 percent of all traditional Medicare payments to quality or value by the end of 2016.
---
Telemedicine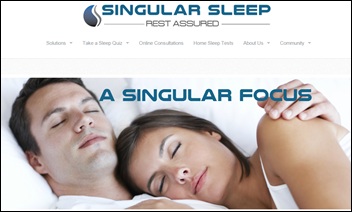 Singular Sleep launches a "virtual sleep center" offering telemedicine services in 13 states to consumers suffering from sleep disorders. The Mt. Pleasant, SC-based startup is led by former Orlando Magic Director of Medical Services Joseph Krainin, MD.
---
Research and Innovation
Providers seem to have enough weeks under their stethoscopes to finally begin offering less-than-rosy assessments of their transitions to ICD-10. A survey of 298 healthcare stakeholders reveals that 28 percent found the transition to be smooth, while 51 percent experienced "a few technical issues." Eleven percent classified the process as a "failure to operate in an ICD-10 environment." The biggest hurdles included (and likely still include) rejected medical claims, clinical documentation and physician education, and reduced revenue from coding delays and IT fixes.
---
Other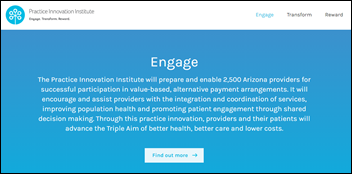 The local paper profiles the development of the Practice Transformation Institute, a collaboration between Arizona Health-E Connection, Mercy Care Plan, and Mercy Maricopa Integrated Care that aims to help Arizona physicians transition to value-based care models. Funded by a $3.6 million HHS grant, the Institute will make the focal point of its strategy data collection and information sharing between stakeholders via The Network HIE. Near-term goals include helping physicians reduce unnecessary procedures and hospitalizations; and increasing well-child visits, pediatric dental care, breast cancer screenings, and diabetes care.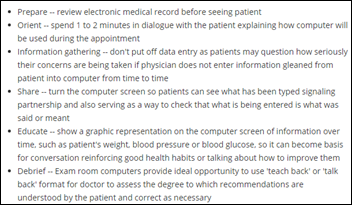 Regenstrief Institute Investigator and Indiana University School of Medicine Professor of Medicine Richard Frankel develops the POISED model to help physicians develop and reinforce good exam-room computer use. While the model's tips are certainly relevant, it's Frankel's take on gender disparities that caught my eye: Female physicians typically look up from the computer screen every 30 seconds or so, making eye contact with the patient to signal that they are still actively engaged in the relationship. Males, however, rarely look up.
Singaporean professor Rachid Yazami develops a smart chip that has the potential to charge smartphone batteries in less than 10 minutes. The fingernail-sized chip, which can be embedded in most types of batteries, will likely be ready for licensing and manufacture by the end of 2016. Yazami has already approached Sony, Sanyo, and Samsung about marketing opportunities.
It's never too late for a sweet Thanksgiving story: Southwest Louisiana Primary Healthcare Center staff make surprise pie deliveries to 30 elderly and home-alone patients on Thanksgiving. "We think we have a lot to be thankful for," says Medical Director Leone Elliot, MD. "In the spirit of Thanksgiving, we're going to extend that to our patients."
---
Contacts
Jennifer,  Mr. H, Lorre, Dr. Jayne, Dr. Gregg, Lt. Dan
More news: HIStalk, HIStalk Connect.
Get HIStalk Practice  updates.
Contact us online.
Become a sponsor.