Top News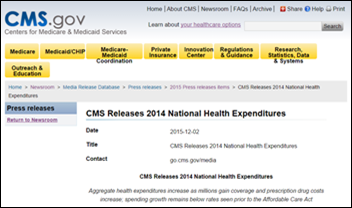 CMS shares national health expenditures for 2014, highlighting the costly fact that spending grew 5.3 percent last year to $3 trillion – figures that, surprisingly to me, are below most years prior to the ACA. The agency notes that consumer spending grew by only 1.3 percent, compared to 2.4 percent the year before. I'd argue that's because millions of consumers are delaying or avoiding care all together due to increasingly high deductibles. Those that do seek care are more often than not faced with sticker shock – a consequence of their local family physician giving in to employment pressure from the local health system, which just happens to offer the latest and greatest EHR. Prescription drug prices also played their part in the increase, growing 12.2 percent to $297.7 billion.
---
Webinars
December 3 (Thursday) 2:00 ET. "501(r) Regulations – What You Need to Know for Success in 2016." Sponsored by TransUnion. Presenter: Jonathan Wiik, principal consultant, TransUnion Healthcare Solutions. Complex IRS rules take effect on January 1 that will dictate how providers ensure access, provide charity assistance, and collect uncompensated care. This in-depth webinar will cover tools and workflows that can help smooth the transition, including where to focus compliance efforts in the revenue cycle and a review of the documentation elements required.
December 9 (Wednesday) 12 noon ET. "Population Health in 2016: Know How to Move Forward." Sponsored by Athenahealth. Presenter: Michael Maus, VP of enterprise solutions, Athenahealth. ACOs need a population health solution that helps them manage costs, improve outcomes, and elevate the care experience. Athenahealth's in-house expert will explain why relying on software along isn't enough, how to tap into data from multiple vendors, and how providers can manage patient populations.
December 9 (Wednesday) 1:00 ET. "The Health Care Payment Evolution: Maximizing Value Through Technology." Sponsored by Medicity. Presenter: Charles D. Kennedy, MD, chief population health officer, Healthagen. This presentation will provide a brief history of the ACO Pioneer and MSSP programs and will discuss current market trends and drivers and the federal government's response to them. Learn what's coming in the next generation of programs such as the Merit-Based Incentive Payment System (MIPS) and the role technology plays in driving the evolution of a new healthcare marketplace.
December 16 (Wednesday) 1:00 ET. "A Sepsis Solution: Reducing Mortality by 50 Percent Using Advanced Decision Support." Sponsored by Wolters Kluwer Health. Presenter: Stephen Claypool, MD, medical director of innovation lab and VP of clinical development and informatics for clinical software solutions, Wolters Kluwer Health. Sepsis claims 258,000 lives and costs $20 billion annually in the US, but early identification and treatment remains elusive, emphasizing the need for intelligent, prompt, and patient-specific clinical decision support. Huntsville Hospital reduced sepsis mortality by 53 percent and related readmissions by 30 percent using real-time surveillance of EHR data and evidence-based decision support to generate highly sensitive and specific alerts.
December 16 (Wednesday) 1:00 ET. "Need for Integrated Data Enhancement and Analytics – Unifying Management of Healthcare Business Processes." Sponsored by CitiusTech. Presenters: Jeffrey Springer, VP of product management, CitiusTech; John Gonsalves, VP of healthcare provider market, CitiusTech. Providers are driving consumer-centric care with guided analytic solutions that answer specific questions, but each new tool adds complexity. It's also important to tap real-time data from sources such as social platforms, mobile apps, and wearables to support delivery of personalized and proactive care. This webinar will discuss key use cases that drive patient outcomes, the need for consolidated analytics to realize value-based care, scenarios to maximize efficiency, and an overview of CitiusTech's integrated healthcare data enhancement and analytics platform.
Contact Lorre for webinar services. Past webinars are on our HIStalk webinars YouTube channel.
---
Acquisitions, Funding, Business, and Stock

Best known for managing data conversions for pharmacies, Chicago-based Two Point expands its services to physician groups, healthcare systems, and hospitals. Company founder and president Phil Lisitza caught the data migration bug in 1990 when he helped his father, a pharmacist, migrate data between old and new computer systems.
---
Announcements and Implementations

Drchrono develops its medical billing app for the iPad, offering real-time claims payment status and rejection rates. The company has also added surgical center billing to its EHR platform.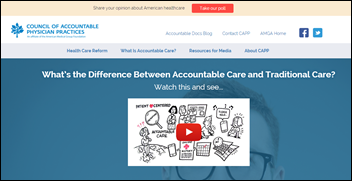 The Council of Accountable Physician Practices launches Accountablecaredoctors.org to offer physician and consumers resources related to care coordination and value-based care models.
---
Telemedicine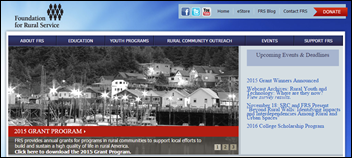 The Foundation for Rural Service awards four grants of between $250 and $5,000 to projects focused on telemedicine, distance education, and economic development opportunities that benefit rural communities. The winning projects, awarded to Horton Community Enhancement Organization, Circles of McPherson County, and several local hospitals, are endorsed by community-based telecommunications companies that are members of NTCA–The Rural Broadband Association.
---
Research and Innovation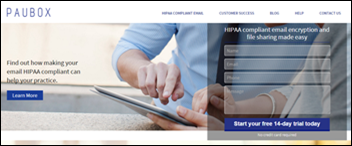 Entrepreneur highlights promising innovations from Los Angeles TechWeek, a week-long event that occurred simultaneously with other TechWeeks across the country. High on its list of healthcare-related endeavors is Paubox, a two-way, HIPAA-compliant email and file-sharing solution for physician practices developed by a San Francisco-based team that seems to have met at the University of Hawaii. (Pau seems to be a Hawaiian term for "finished" or "done.")
---
Other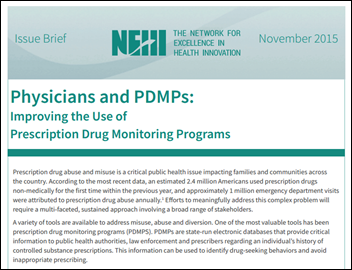 The Network for Excellence in Health Innovation publishes a report on prescription drug monitoring programs, a hot topic given the federal government's highly publicized initiative to crack down on nationwide opioid abuse. The report highlights the fact that just 25 percent of PCPs are aware of their prescription drug monitoring programs. Correspondingly, it suggests that programs should make their registries easier to sign up for, and offer unsolicited alerts and reports to ensure physicians get the right information at the right time. PDMP integration with EHRs would likely abate the lack of utilization, and potentially meet Meaningful Use requirements.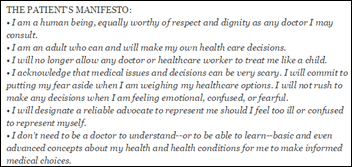 Right up my #HIStalking alley: "Don't Let Your Doctor Kill You" author Erika Schwartz, MD publishes "The Patient's Manifesto" in an effort to eliminate the fear many patients have of speaking up and out during healthcare encounters.
---
Sponsor Updates
Blog Posts
---
Contacts
Jennifer,  Mr. H, Lorre, Dr. Jayne, Dr. Gregg, Lt. Dan
More news: HIStalk, HIStalk Connect.
Get HIStalk Practice  updates.
Contact us online.
Become a sponsor.