Top News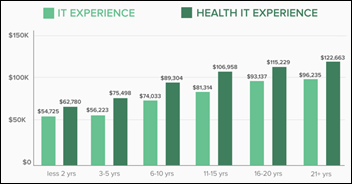 A HealthITJobs.com survey of 700 healthcare IT professionals finds the median industry salary to be $80,000 and salary bonuses to be $5,000. There seems to an $18,000 gap between what employees think they're worth and what they're actually getting paid, a statistic that corresponds with the half of respondents who are planning to change jobs within the year. Project managers receive the biggest salaries, and jobs in New England pay the most. Consulting companies offer the biggest paychecks, while physicians groups and clinics pay the least – just one more reason to thank your family physician for doing what they do the next time you see them.
---
Webinars
I really enjoyed tuning in to yesterday's webinar with VMware, which featured the entertaining and informative Metro Health VP of IT Joshua Wilda. He kept coming back to the value virtual desktop interfaces bring to physicians in terms of mobile care coordination and even work/life balance. Kudos to his wife, a clinician and new mom, for providing Wilda with one of the best work/life balance anecdotes I've heard in awhile. Check out the recorded presentation here, and the Twitter-friendly recap here.
December 9 (Wednesday) 12 noon ET. "Population Health in 2016: Know How to Move Forward." Sponsored by Athenahealth. Presenter: Michael Maus, VP of enterprise solutions, Athenahealth. ACOs need a population health solution that helps them manage costs, improve outcomes, and elevate the care experience. Athenahealth's in-house expert will explain why relying on software along isn't enough, how to tap into data from multiple vendors, and how providers can manage patient populations.
December 9 (Wednesday) 1:00 ET. "The Health Care Payment Evolution: Maximizing Value Through Technology." Sponsored by Medicity. Presenter: Charles D. Kennedy, MD, chief population health officer, Healthagen. This presentation will provide a brief history of the ACO Pioneer and MSSP programs and will discuss current market trends and drivers and the federal government's response to them. Learn what's coming in the next generation of programs such as the Merit-Based Incentive Payment System (MIPS) and the role technology plays in driving the evolution of a new healthcare marketplace.
December 16 (Wednesday) 1:00 ET. "A Sepsis Solution: Reducing Mortality by 50 Percent Using Advanced Decision Support." Sponsored by Wolters Kluwer Health. Presenter: Stephen Claypool, MD, medical director of innovation lab and VP of clinical development and informatics for clinical software solutions, Wolters Kluwer Health. Sepsis claims 258,000 lives and costs $20 billion annually in the US, but early identification and treatment remains elusive, emphasizing the need for intelligent, prompt, and patient-specific clinical decision support. Huntsville Hospital reduced sepsis mortality by 53 percent and related readmissions by 30 percent using real-time surveillance of EHR data and evidence-based decision support to generate highly sensitive and specific alerts.
December 16 (Wednesday) 1:00 ET. "Need for Integrated Data Enhancement and Analytics – Unifying Management of Healthcare Business Processes." Sponsored by CitiusTech. Presenters: Jeffrey Springer, VP of product management, CitiusTech; John Gonsalves, VP of healthcare provider market, CitiusTech. Providers are driving consumer-centric care with guided analytic solutions that answer specific questions, but each new tool adds complexity. It's also important to tap real-time data from sources such as social platforms, mobile apps, and wearables to support delivery of personalized and proactive care. This webinar will discuss key use cases that drive patient outcomes, the need for consolidated analytics to realize value-based care, scenarios to maximize efficiency, and an overview of CitiusTech's integrated healthcare data enhancement and analytics platform.
Contact Lorre for webinar services. Past webinars are on our HIStalk webinars YouTube channel.
---
Announcements and Implementations

Therap Services offers developmental disability software bundles designed for agencies applying for the $10 million NY Dept. of Health and NY Office for People with Developmental Disabilities health information investment program. Approved recipients can use the funds for projects related to technology purchases, including EHRs, and PM and electronic billing software; as well as upgrades and services.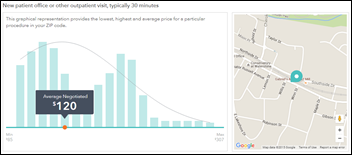 Healthcare pricing transparency app developer FairCare makes its search engine available to consumers on the Web, offering prices in every zip code for 10,000 medical and dental procedures performed by 4 million US physicians.
Salesforce and Persistent Systems develop a set of physician and patient relationship management tools including campaign management, marketing KPI dashboards, referral management, and CRM functionality.
Atlanta-based Clinical Practice Solutions develops four new Dragon Medical Certified Training and Support Plans for physicians struggling to use the technology to its fullest capabilities.
---
Acquisitions, Funding, Business, and Stock

ICDLogic joins the Allscripts Developer Program to build an integration between its CypherLink ICD-10 code-generation tool and Allscripts EHR.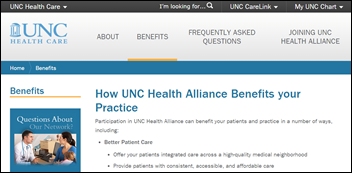 The local business paper covers the aggressive efforts of UNC Health Care to recruit independent physicians for its new UNC Health Alliance, a clinically integrated network that already includes 2,000 UNC physicians. The health system wants to add an additional 1,000 physicians to better compete with similar networks developed by Duke Health and WakeMed Health and Hospitals. UNC will provide Alliance physicians with "additional support" including IT integration support, care management, population health analytics, and reporting. All three area health systems are on Epic.
---
Government and Politics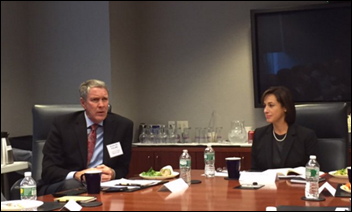 Bill Frist, MD meets with National Coordinator Karen DeSalvo, MD to discuss public health initiatives, likely tying the discussion in to his new Nashville Health nonprofit. Frist hopes to initially focus Nashville Health's efforts on improving hypertension, smoking cessation, and child health among the city's 800,000 residents with help from Vanderbilt University's School of Medicine.
---
Telemedicine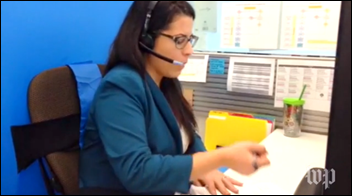 The Washington Post provides an in-depth look at the value telemedicine is bringing to mental health practices in North Carolina. The primary care offices of Carolinas Healthcare System, in particular, have seen great success incorporating telemental health consults into regular office visits. Scores on depression and anxiety screenings have fallen by nearly half since virtual visits were introduced last year.
---
Other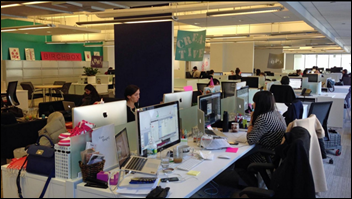 Mashable looks at the inroads mobile house call startup Pager is making with businesses like Spotify and Birchbox, which offer employees Pager's services at deep discounts. Employees at Birchbox, a newly self-insured employer, have also used the service to schedule flu shots, health and wellness seminars, sexual health checks, and treatments for common infections. It's even considering investing in a private room for female health screenings, should its employees feel comfortable enough to undergo gynecological exams just down the hall from the break room.  
---
Contacts
Jennifer,  Mr. H, Lorre, Dr. Jayne, Dr. Gregg, Lt. Dan
More news: HIStalk, HIStalk Connect.
Get HIStalk Practice  updates.
Contact us online.
Become a sponsor.