Top News

EClinicalWorks will invest $30 million over the next two quarters to build out a new data center and expand technology capabilities in India. The company, which employs 4,000 at its US headquarters, will hire at least 300 people there within the next three months, an aggressive hiring spree that will better enable it to use India as its secondary data center. It plans to launch an appointment-booking and health records app for patients in India early next year.
---
HIStalk Practice Announcements and Requests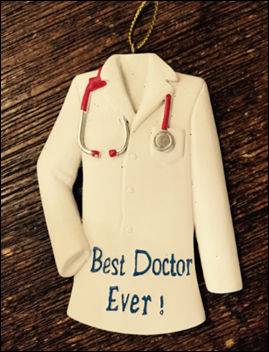 This yet-to-be personalized ornament caught my eye while browsing at the local trim-a-tree shop. I'd snap up a bunch if it read "Best Health IT End User Ever!"
---
Webinars
December 9 (Wednesday) 12 noon ET. "Population Health in 2016: Know How to Move Forward." Sponsored by Athenahealth. Presenter: Michael Maus, VP of enterprise solutions, Athenahealth. ACOs need a population health solution that helps them manage costs, improve outcomes, and elevate the care experience. Athenahealth's in-house expert will explain why relying on software along isn't enough, how to tap into data from multiple vendors, and how providers can manage patient populations.
December 9 (Wednesday) 1:00 ET. "The Health Care Payment Evolution: Maximizing Value Through Technology." Sponsored by Medicity. Presenter: Charles D. Kennedy, MD, chief population health officer, Healthagen. This presentation will provide a brief history of the ACO Pioneer and MSSP programs and will discuss current market trends and drivers and the federal government's response to them. Learn what's coming in the next generation of programs such as the Merit-Based Incentive Payment System (MIPS) and the role technology plays in driving the evolution of a new healthcare marketplace.
December 15 (Tuesday) 1:00 ET. "CPSI's Takeover of Healthland." Sponsored by HIStalk. Presenters: Frank Poggio, CEO, The Kelzon Group; Vince Ciotti, principal, H.I.S. Professionals. Frank and Vince are back with their brutally honest (and often humorous) opinions about the acquisition. They will review industry precedents (such as Cerner-Siemens), the possible fate of each Healthland product, the available alternatives, and steps Healthland customers should take now. Their previous webinar that covered Cerner's takeover of Siemens has drawn nearly 7,000 views and this one promises to be equally informative and entertaining.
December 16 (Wednesday) 1:00 ET. "A Sepsis Solution: Reducing Mortality by 50 Percent Using Advanced Decision Support." Sponsored by Wolters Kluwer Health. Presenters: Rick Corn, VP/CIO, Huntsville Hospital; Stephen Claypool, MD, medical director of innovation lab and VP of clinical development and informatics for clinical software solutions, Wolters Kluwer Health. Sepsis claims 258,000 lives and costs $20 billion annually in the US, but early identification and treatment remains elusive, emphasizing the need for intelligent, prompt, and patient-specific clinical decision support. Huntsville Hospital reduced sepsis mortality by 53 percent and related readmissions by 30 percent using real-time surveillance of EHR data and evidence-based decision support to generate highly sensitive and specific alerts.
December 16 (Wednesday) 1:00 ET. "Need for Integrated Data Enhancement and Analytics – Unifying Management of Healthcare Business Processes." Sponsored by CitiusTech. Presenters: Jeffrey Springer, VP of product management, CitiusTech; John Gonsalves, VP of healthcare provider market, CitiusTech. Providers are driving consumer-centric care with guided analytic solutions that answer specific questions, but each new tool adds complexity. It's also important to tap real-time data from sources such as social platforms, mobile apps, and wearables to support delivery of personalized and proactive care. This webinar will discuss key use cases that drive patient outcomes, the need for consolidated analytics to realize value-based care, scenarios to maximize efficiency, and an overview of CitiusTech's integrated healthcare data enhancement and analytics platform.
Contact Lorre for webinar services. Past webinars are on our HIStalk webinars YouTube channel.
---
Acquisitions, Funding, Business, and Stock

PatientsLikeMe receives a $900,000 grant from the Robert Wood Johnson Foundation, some of which it will use to collaborate with the National Quality Forum on incorporating patient-reported outcome measures into routine clinical care to assess physician performance.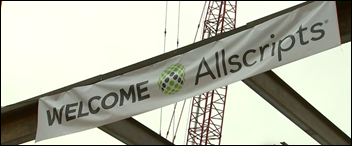 Allscripts breaks ground on a 12-story, 33,000 square-foot office building in Raleigh, NC. The company will move its 1,200 nearby employees into the first nine floors of the new office tower once it's completed in May 2017, and already anticipates further expansion.
ZocDoc and Oscar Health join the #GetCovered bandwagon, encouraging consumers to sign up for insurance at Healthcare.gov by the December 15 deadline. Payer Oscar Health has created a video explaining how health insurance works, while ZocDoc, an online appointment-booking company, is in the midst of calling customers who have paid out-of-pocket for healthcare in the past. While ZocDoc CEO Oliver Kharraz says the company's efforts are "all in the name of removing barriers to get access to care," I'm pretty sure there's hope of attracting new customers, too.
---
Announcements and Implementations
Medfx and GenieMD develop the Connected PHR app, integrating it with Medfx's HIE to give patients and physicians access to health data from anywhere at anytime.
---
Telemedicine

Rock Health names Doctor on Demand the Fastest Growing Company in its annual Top 50 in Digital Health.  The company has raised $63 million so far this year, and secured deals with major players like CVS Health, as well as 200-plus employer groups.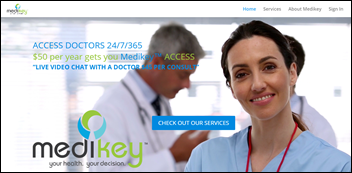 MediKey, an online healthcare pricing and purchasing search engine, partners with Teladoc and EDocAmerica to offer telemedicine services to under- and uninsured consumers. Given the Doctor on Demand accolades mentioned above, I find it interesting that MediKey CEO Joe Truscelli says the company is "opening the floodgates for consumers to take advantage of many healthcare services – like Teladoc and EDocAmerica – which have not yet reached their true potential market penetration."
---
Government and Politics
The Congressional Budget Office estimates that the ACA will shrink the US economy by 2 million jobs over the next 10 years as consumers, particularly seniors past retirement age and lower-wage earners, decide to stop working without fear of losing employer-sponsored insurance coverage.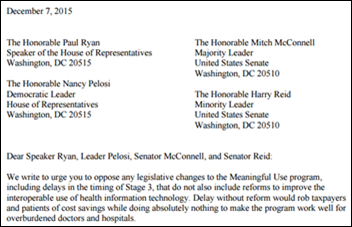 A coalition of healthcare IT vendors and lawmakers send House Speaker Paul Ryan and several other legislators a letter calling for an end to talks of delaying Stage 3 of Meaningful Use. Despite their desire to steam ahead with MU, the authors are well aware of the need to make EHRs more interoperable, and offer several suggestions including: banning information blocking, creating vendor incentives for better usability, drafting a definition of interoperability, and more testing and enforcement around EHRs.

The Bipartisan Policy Center hosts such health IT luminaries as ONC's Karen DeSalvo, MD Acting CMS Administrator Andy Slavitt, and American College of Physicians CEO Steven Weinberger, MD at an afternoon event on improving health through interoperability. I didn't catch any of the live stream, but did come across tweets related to Weinberger's call for physicians to "involve" patients with their EHRs.
---
Research and Innovation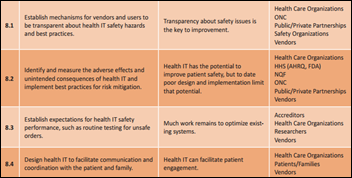 The National Patient Safety Foundation publishes a 46-page report outlining the need to accelerate patient safety improvements, including in the area of healthcare IT. Recommended calls to action include:
Establish mechanisms for vendors and users to be transparent about health IT safety hazards and best practices.
Identify and measure the adverse effects and unintended consequences of health IT and implement best practices for risk mitigation.
Establish expectations for health IT safety performance, such as routine testing for unsafe orders.
Design health IT to facilitate communication and coordination with the patient and family.
A Commonwealth Fund study comparing care coordination across 10 developed nations finds that only about 30 percent of family physicians in the US are "always notified" when a patient is seen in the ED or discharged from the hospital. The report concludes that US physicians are "among the least prepared to manage conditions associated with aging outside of hospital or nursing home settings."
---
Other
The Sequoia Project releases the Carequality Interoperability Framework, including legal terms, policy requirements, technical specs, and governance processes to help healthcare stakeholders "unlock previously unseen levels of connectivity." The framework's 12 collaborators will roll out the initial phase of the framework, which will focus on query-based exchange of clinical documents.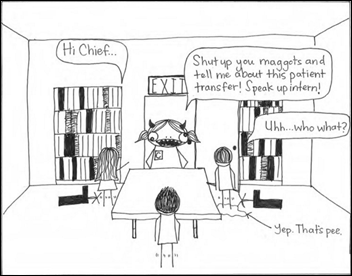 Almost half the students taking the Comics in Medicine class at Penn State depict their supervisors as monsters, a statistic their professors tie in to the greater problem of medical residents screening positively for depression or depressive symptoms. Thomas Schwenk, MD dean of the University of Nevada Medical School, feels that educators today "don't teach in ways that encourage wellness and good mental health and coping mechanisms. There's got to be a shift back toward dedicated teaching and mentorship. We've lost that because of the craziness of the system."
---
Contacts
Jennifer,  Mr. H, Lorre, Dr. Jayne, Dr. Gregg, Lt. Dan
More news: HIStalk, HIStalk Connect.
Get HIStalk Practice  updates.
Contact us online.
Become a sponsor.