Top News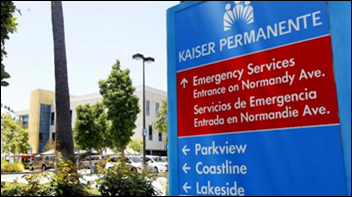 Kaiser Permanente announces plans to open a medical school in Southern California. Classes will begin in 2019, and will likely accommodate up to 50 students. "We have the opportunity to help train future physicians on 21st century medicine and be on the cutting edge of all the changes we are experiencing," says CEO Bernard Tyson. "Our model of care is best for the current and future diverse populations in this country." The organization is also putting out feelers for a dean, who will hopefully embed healthcare IT into the curriculum.
---
Reader Comments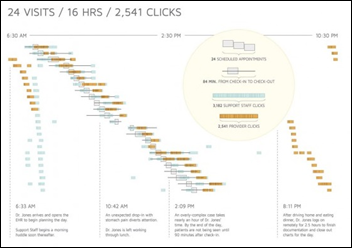 From Greg Chittim: "Re: The FlowingData "Day in the Life" of Americans. I am a huge fan of FlowingData (we have both of his posters up in our office) and read Nathan's stuff regularly. I thought you'd appreciate our "Day in the Life of Dr. Jones," which is an artistic representation of what exists in our core Analytics platform. We are able to mine data from the HIPAA audit trail required in all EHRs to visualize the minute-by-minute lives of physicians and care teams as they interact with their EHR and PM systems. From that, we can make very detailed inferences about when/how they get behind schedule, the effect of same-day appointments, and if the care teams are working to the 'top of their license.'"
---
Announcements and Implementations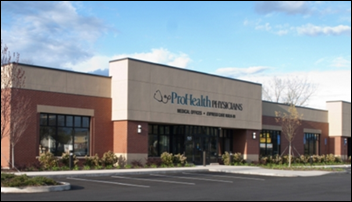 ProHealth Physicians  (CT) partners with OptumCare for administrative and clinical support. Optum will provide ProHealth's 370 clinicians with data, analytics, connectivity, and population health management tools plus front-office services.
IPatientCare signs on with Area 51 Data Solutions to improve data security, support, and backup services for its EHR customers.
MedAllies, a Direct Reference implementation vendor, will leverage Merge Healthcare's vendor-neutral referral management platform to simplify image ordering and results delivery for its nearly 300,000 connected users.
---
Acquisitions, Funding, Business, and Stock

CVS Health completes its acquisition of Target's pharmacy and clinic businesses for $1.9 billion. Included in the buy-out are 1,672 pharmacies and 79 clinics, which will be rebranded as MinuteClinics. CVS expects to open up to 20 new clinics in Target stores within the next three years. CVS Health Executive Vice President and Associate CMO Andrew Sussman, MD alluded to the Target clinic integration during my interview with him earlier this month.
---
Government and Politics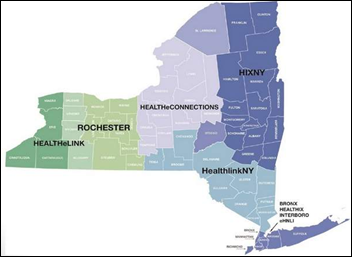 The Syracuse, NY-based HealthEConnections HIE and Fort Drum Regional Health Planning Organization sign an agreement with the DoD making the digital medical records of nearly 20,000 local soldiers and military families shareable with physicians outside of the VA. "What's been missing all these years has been the military," explains FDRHPO CIO Corey Zeigler. "Now, when soldiers and their family get care in our area, all of that information goes back to their primary physician on post."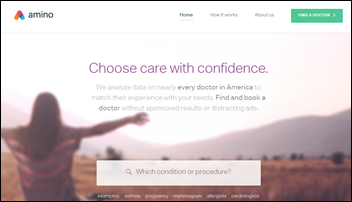 Medicare will provide physician-level data to Amino, a San Francisco-based startup that is the first for-profit company to earn access to the full range of Medicare data for providers. Amino will initially use the data to help patients, particularly women, find physicians whose practice patterns and skills meet their needs, and plans to roll out services related to procedures, treatment options, and costs in the near future.
---
Other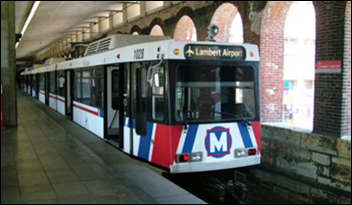 Missouri's St. Louis County conducts a feasibility study on the idea of opening health clinics at MetroLink stops. The Bi-State Development agency, which runs the county's public transportation, is conducting the $42,000 study, scheduled for completion early next summer. The clinics would be the first of their kind in the country. "This will bring healthcare closer to the community, particularly for those who are transit dependent," says Project Manager John Wagner.
Brazil shuts down WhatsApp for 48 hours after the Facebook-owned messaging app fails to comply with a court order related to criminal gang activity. As I mentioned last week, 80 percent of the country's physicians use the app to communicate with patients. No word yet on how treatment plans or appointment scheduling were affected.
---
Contacts
Jennifer,  Mr. H, Lorre, Dr. Jayne, Dr. Gregg, Lt. Dan
More news: HIStalk, HIStalk Connect.
Get HIStalk Practice  updates.
Contact us online.
Become a sponsor.