Top News
Massachusetts Governor Charlie Baker announces big plans to create a "digital health care hub" in hopes of attracting more business to the state. The initiative, led by the Massachusetts eHealth Institute at MassTech, will provide office space, programming and networking support to digital health startups in Boston. The Massachusetts Competitive Partnership will offer early-stage companies funding, and assistance with developing licensing agreements that will make it easier for them to work with area universities.
---
Webinars
January 13 (Wednesday) 1:00 ET. "Top 5 Benefits of Data as a Service: How Peace Health Is Breathing New Life Into Their Analytics Strategy." Sponsored by Premier. Presenter: Erez Gordin, director of information management systems, Peace Health. Finding, acquiring, and linking data consumes 50 to 80 percent of an analyst's time. Peace Health reduced the time analysts were spending on data wrangling, freeing them up to create new actionable insights.
Contact Lorre for webinar services. Past webinars are on our HIStalk webinars YouTube channel.
---
Acquisitions, Funding, People, Business, and Stock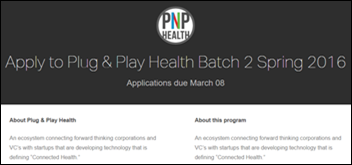 Johnson & Johnson Health and Wellness Solutions partners with Plug and Play Tech Center to launch a three-month technology accelerator in Sunnyvale, CA for startups looking to develop direct-to-consumer wellness solutions, especially those targeting nutrition, physical activity, stress, sleep, and alcohol and smoking cessation. The 12-week program will provide coaching and mentorship support for two groups of companies each year. Awards, possibly including seed funding, will be given to the three most promising companies in each group. Applications for the first group will be received through February 15.
---
People

Cognosante promotes Davis Foster to president of health data and communications.

Rita Bowen (Healthport) joins MRO as vice president, privacy, HIM policy and education.

HIMSS awards Brian Yeaman, MD its 2015 HIMSS Physician IT Leadership Award. Yeaman is founder and president of Yeaman and Associates consulting firm, and a practicing family physician at Yeaman Signature Health Clinic (OK).
---
Announcements and Implementations
CareCentrix, a home care company based in Hartford, CN, enters into an agreement with Athenahealth enabling Athena clients to send durable medical equipment orders to CareCentrix via the AthenaCoordinator platform.
---
Government and Politics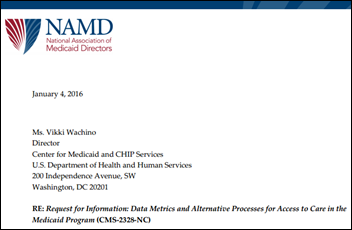 The National Association of Medicaid Directors calls on CMS to reassess the ways in which it measures access to Medicaid, placing special focus on keeping up with technology: "Measures should also allow states to incorporate telehealth initiatives, particularly for highly specialized provider types, behavioral health providers, and other state-identified provider types. Further, measures should be nimble enough so as to keep pace with evolving technology and innovations that states and providers may leverage to facilitate access, particularly for specialty services."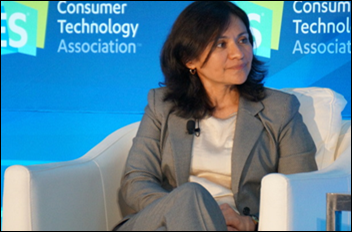 FTC Chairwoman Edith Ramirez tells likely shocked CES attendees that she prefers a non-connected pedometer to flashier devices like the Fitbit because she doesn't want "sensitive health information being shared." Ramirez and several FTC colleagues attended the show to get a better handle on how companies are tackling consumer privacy, protecting information, and data security. She obviously doesn't yet have much faith in their collective ability to protect consumer data.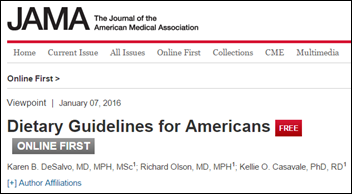 Coinciding nicely with the start of many New Year's resolutions, National Coordinator and Acting Assistant Secretary for Health Karen DeSalvo, MD co-authors a brief on the new dietary guidelines put out by HHS earlier today. The biggest sticking points for most Americans will likely be with the directives to consume less sugar, saturated fats, and sodium.
---
Telemedicine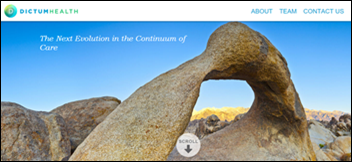 Oakland, CA-based Dictum Health forms an executive team as it prepares to launch its telemedicine platform. The cloud-based tablet technology will be geared towards acute-care diagnosis for remote and home-based patients. The new, six-person team includes CEO Mory Ejabat (Ascend), CMO Chris Simmons, MD (John Muir Health) Vice President of Engineering Kim Hobbs (Zhone Technologies), Vice President of Product Management Elizabeth Keate (Allergan), Vice President of Quality and Regulatory Affairs Paul Landesman (Consult Wing), and Vice President of Marketing Deb Anderson (Abbott Laboratories).
---
Research and Innovation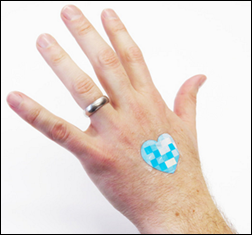 The Wall Street Journal looks at some of the more novel "connected" concepts coming out of CES (and related patient privacy challenges), including the First Response Pregnancy Pro, L'Oréal My UVPatch, and Aterica's smart EpiPen case. Of the three, I'm most interested in the patch and its accompanying app, which can tell me how much sun I've been exposed to throughout the day. I haven't yet gotten into the habit of applying sunscreen daily, so a product like this might be just the wake-up call I need.
---
Other

Yet another reason I'm glad I don't subscribe to cable: Time Warner Cable announces that the emails and passwords of up to 320,000 customers may have been hacked as a result of malware downloaded during phishing attacks. The company, alerted to the breach by the FBI, is still working to determine how the breach occurred. I suppose TWC wins the dubious honor of the first data breach of 2016.
---
Contacts
Jennifer,  Mr. H, Lorre, Dr. Jayne, Dr. Gregg, Lt. Dan
More news: HIStalk, HIStalk Connect.
Get HIStalk Practice  updates.
Contact us online.
Become a sponsor.