Top News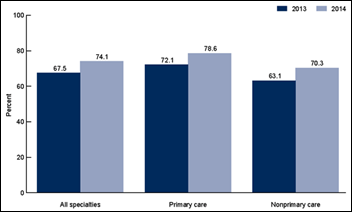 The CDC publishes data from its 2014 National Electronic Health Records Survey, finding that 74 percent of office-based physicians are now using certified EHRs, while 32 percent are sharing patient health information with external providers. Physicians with a certified EHR were also more likely than non-certified users to share patient data electronically with behavioral health, long-term care, and home health providers. 
---
Webinars
None scheduled in the next few weeks. Contact Lorre for webinar services. Past webinars are on our HIStalk webinars YouTube channel.
---
Announcements and Implementations
DrFirst releases a new version of its e-medication management platform, adding predictive analytics and a mobile app.
Florida Orthopaedic Institute selects a predictive rules engine platform from RCxRules to enhance its RCM processes.
---
People

Massachusetts General Hospital President Peter Slavin joins American Well's Board of Directors.

Drew Hamilton (TeleTrac) joins Kareo as chief sales officer.
---
Telemedicine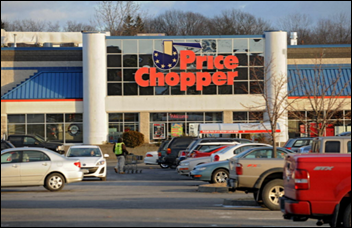 Golub Corp. partners with Doctor on Demand to pilot telemedicine services at five Price Chopper locations in New York and Vermont, part of the company's broader effort to build a successful chain of walk-in clinics at its affiliated Market 32 grocery stores. In the wake of HealthSpot's bankruptcy filing, I found it interesting that Golub VP Kathy Bryant says the telemedicine push ties in nicely with the chain's Computerized Screening health stations that can gather biometric information like temperature, weight, and blood oxygen levels.
The Garage – a curiously named health IT company based in Orlando, FL -  signs multiple contracts with providers for its Ignite telemedicine platform, which includes audio, video, and text.
---
Government and Politics

The Office of Information and Regulatory Affairs reviews a proposed ONC rule that seeks to develop enhanced oversight and accountability for its health IT certification program. No leaks yet on what the proposed rule portends for the program, which was set up last fall. I'm willing to bet (literally, since a good chunk of the industry will be in Las Vegas next month) that ONC drops the details during HIMSS.
CMS issues a final rule that requires physicians to document face-to-face encounters with Medicaid patients before ordering home health services or medical equipment. The healthcare IT connection involves the rule's clarification that such encounters can include telemedicine for homebound patients in need of timely services. Updated Medicaid telemedicine rules are in the works.
---
Other
Ascension Ventures, Athenahealth, and Cambia Health Solutions will host Invest for Health on March 14 as part of the SXSW Interactive Festival in Austin, Texas. Organizers hope to attract entrepreneurs, heathcare executives, and venture capitalists to the inaugural event. Given that the first session is entitled "Where it Hurts: What's Wrong with Healthcare in America?" (the almost exact title of Athenahealth CEO Jonathan Bush's 2014 book) it's probably safe to assume that executives from the three companies above will headline.
---
Contacts
Jennifer,  Mr. H, Lorre, Dr. Jayne, Dr. Gregg, Lt. Dan
More news: HIStalk, HIStalk Connect.
Get HIStalk Practice  updates.
Contact us online.
Become a sponsor.