Top News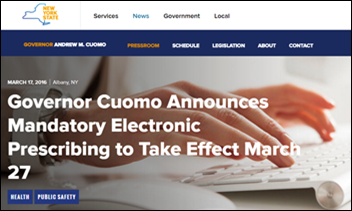 There's no stopping I-STOP: New York's mandatory e-prescribing mandate goes into effect over the weekend despite an uncertain level of prescriber readiness even after the 12-month postponement a year ago. Paper or call-in prescriptions can be issued upon patient request or upon technology failure, which then requires the prescribing physician to report the prescription to the state's Department of Health, which has not implemented appropriate reporting technology and suggests that prescribers just note it in the EHR instead. Medical Society of the State of New York President Joseph Maldonado, MD has asked for two exceptions to the new requirement – exempting providers that write less than 25 prescriptions per year and reducing documentation requirements when technical problems temporarily force physicians back to paper.
---
Webinars


April 1 (Friday) 1:00 ET. "rise of the small-first-letter vendors … and the race to integrate HIS & MD systems." Sponsored by HIStalk. Presenters: Frank L. Poggio, president and CEO, The Kelzon Group; Vince Ciotti, principal, HIS Professionals. Vince and Frank are back with their brutally honest (and often humorous) opinions about the rise of the small-first-letter vendors. Athenahealth and eClinicalWorks are following a growing trend toward real integration between hospital and physician systems, but this is not a new phenomenon. What have we learned from these same efforts over the last 30 years? What are the implications for hospital and ambulatory clients? What can clients expect based on past experience?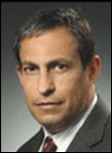 April 8 (Friday) 1:00 ET. "Ransomware in Healthcare: Tactics, Techniques, and Response." Sponsored by HIStalk. Presenter: John Gomez, CEO, Sensato. Ransomware continues to be an effective attack against healthcare infrastructure, with the clear ability to disrupt operations and impact patient care. This webinar will provide an inside look at how attackers use ransomware; why it so effective; and recommendations for mitigation.
Contact Lorre for webinar services. Past webinars are on our HIStalk webinars YouTube channel.
Here's the recording of last week's webinar, "Six Communication Best Practices for Reducing Readmissions and Capturing TCM Revenue."
---
Acquisitions, Funding, Business, and Stock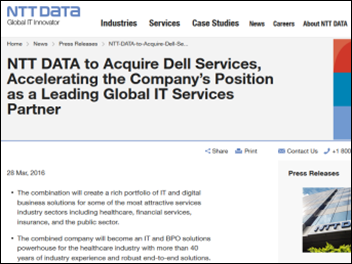 Japan's NTT Data will buy Dell's IT services business, the former Perot Systems, for $3.05 billion. Dell is selling the business, which it acquired for $3.9 billion in 2009, to raise money to finance its $60 billion acquisition of storage vendor EMC.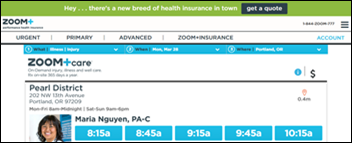 On-demand healthcare provider and payer Zoom+ will relocate its Portland headquarters to the capitol's Pearl District next year. The company's new offices will take up 30,000 square feet, house 300 employees including medical professionals and technologists, and will include a virtual care hub and innovation lab.
---
People

Erika Running (Jacobus Consulting) returns to Sisu Healthcare IT Solutions in the new position of vice president of analytics.

Andrea De La Bruere (Ingenuity Health) joins Vermont Information Technology Leaders as senior solutions specialist.


Anna Baird (RadiumOne) and Baljeet Singh (Twitter) join Livongo Health as CFO and vice president of product management, respectively.
---
Telemedicine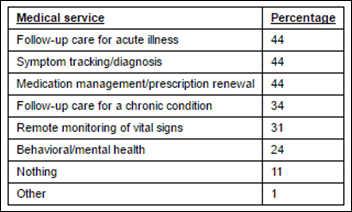 A study of 500 insured consumers who use Web-based health tools and apps finds that telemedicine may have a consumer awareness problem. Thirty-nine percent of those surveyed hadn't heard of telemedicine. Ninety-three percent of those that have report that it has lowered their healthcare costs. Over 25 percent are unsure of when and when not to use telemedicine. Given that just a third of the respondent health plans offer telemedicine, it seems there's a big opportunity for payers to help bridge this knowledge gap and lower member costs.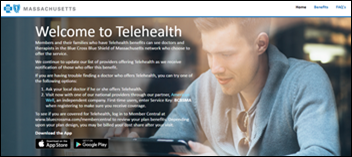 Blue Cross Blue Shield of Massachusetts partners with American Well to offer its members telemedicine services. The launch comes a year after the start of what was initially a two-year BCBSMA/American Well telemedicine pilot program with several physician practices and Blue Cross nurse care managers.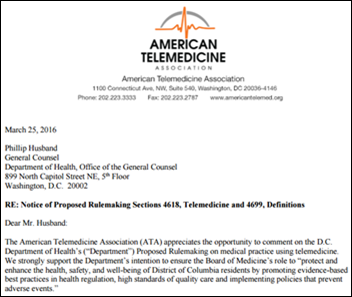 The ATA takes the Washington, D.C. Department of Health to task for its proposed telemedicine rules, which the association deems "onerous and arbitrary" due to ambiguous phrasing; lack of consistency; the need for additional, potentially burdensome patient consent; and an emphasis on tools over clinical expertise.
---
Government and Politics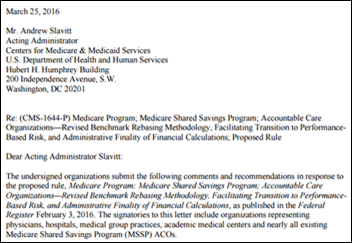 The National Association of ACOs and 20 supporting organizations write to Acting CMS Administrator Andy Slavitt in response to the ACO benchmarking proposed rule issued by CMS early last month. The signers voice their support for incorporating regional cost data into benchmarks, and advocate for the designation of all MSSP ACOs as qualifying alternative payment models under MACRA.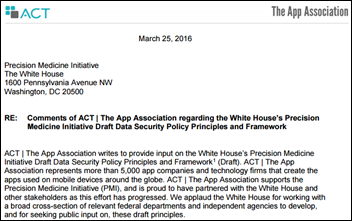 ACT | The App Association urges The White House to rethink its draft data security policies for the Precision Medicine Initiative, particularly as they pertain to small- and medium-sized entities who may face prohibitive costs in complying with them.  "For example," writes the association, "small- and medium-sized entities may find difficulty in attaining independent third-party reviews of their security plans that, at minimum, include 'a review of the organization's adherence to its security plan; regular vulnerability assessments; and evaluation and adjustment of the security program in light of vulnerability assessments and evolving circumstances' without facing prohibitive costs that are not scaled to the risk they should be managing per the NIST Cybersecurity Framework's approach."
---
Other

Drumroll please: The HIStalk Practice Award for Best Headline goes to … "All Right Stop, Collaborate and Listen! CMS is Back with its Brand New Invention, Preparing for CJR Gainsharing" and "America's Med Students are a Bunch of Drunks" (from Vice's Munchies microsite, of course). I'll let you take time out of your day to read these winners.
The New York Times calls for federal oversight to ensure that employees aren't discriminated against by their employers based on supposedly de-identified health data provided by companies like Castlight Health, which helps employers anticipate health insurance needs by analyzing employee healthcare claims and demographic data. "As data analysis techniques evolve, such services will be able to draw ever more sophisticated conclusions about people based on their health use," NYT editors write. "Americans need federal protections to make sure that those conclusions don't cost them their jobs."
---
Sponsor Updates
Blog Posts
---
Contacts
Jennifer,  Mr. H, Lorre, Dr. Jayne, Dr. Gregg, Lt. Dan
More news: HIStalk, HIStalk Connect.
Get HIStalk Practice  updates.
Contact us online.
Become a sponsor.