Dominic Mack, MD is the new director of the Morehouse School of Medicine's National Center for Primary Care.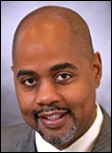 Tell me about yourself and the National Center for Primary Care.
I have been practicing family medicine for 25 years. I am the founder and past president of Mack Medical Consultants, and am now an associate professor and director of the National Center for Primary Care at the Morehouse School of Medicine in Atlanta. As part of that role, I also serve as the executive medical director of the Georgia Health Information Technology Center and principal investigator for the Health Policy Center of the NIH Trandisciplinary Collaborative Center at MSM.
The mission of the NCPC is to promote excellence in community-oriented primary health care and optimal outcomes for all Americans, with a special focus on underserved populations and eliminating health disparities. Our team provides training for primary care practitioners, conducts both population-level and practice-based research to improve health outcomes, and shares protocols and tools for improving primary care effectiveness in culturally-diverse settings.
How will you steer the center in expanding its portfolio and allocating grant funds?
Going forward, we will be inclusive of the greater primary care system supporting physicians and other health professionals and stakeholders including primary care entities such as hospitals, health professional organizations, community based organizations and state/federal health agencies, to name a few. We will continue to be a research and training center, but our programs will produce best-practice models that hinge on our four core competencies -education and training, research, health IT, and quality improvement.
My objective in 2016-17 is to continue our development and growth using collaborative models focusing on care-integration opportunities that highlight primary care, mental health, and addiction. Expertise in these areas along with HIT will enable us to develop education and training curriculum that add value to the Morehouse School of Medicine system. My aim is to complete the development of our NCPC Learning Center/ Virtual Community Concept, which engages stakeholders through a national Web presence and distance learning programs. Competencies are integrated into a learning center platform that centralizes learning (synchronous and asynchronous) and resources to support outreach, education, and training for healthcare stakeholders. This allows the NCPC to support education programs for an array of healthcare audiences. Public awareness of NCPC/MSM programs will be heightened to support the acquisition of new contracts and grant opportunities with external partners across the nation. This concept engages national audiences who reference us as a resource center and seek our consultation for the development of their programs.
A 2016 objective is to hire a new research director who will also serve as the research leader in Family Medicine. This director will assume the NCPC research duties and responsibilities, which include research mentorship, grant writing, publications, and the development of new funded research programs. I will continue our focus on population-based health equity and practice-based research including big data research using our Medicaid database; and also expand to dissemination and implementation research projects. Anne Gaglioti, MD will lead our efforts to rekindle the Southeastern Research Network to develop practice-based research projects with primary care associations and FQHCs across the Southeast. Once our research director is on board, I will continue to provide strategic direction and ensure our research focus continues to align with the overall direction of the NCPC/MSM. We will seek collaborative partnerships within MSM to successfully compete for new funding opportunities.
We also plan to expand our Meaningful Use and HIE services throughout Georgia and the Southeast. To my understanding, we are the only HIT center that is located at an African-American institution and the only minority center that is focused on increasing HIT adoption in practices that serve rural and underserved communities. This gives us a significant opportunity to develop best-practice models that simplify adoption for smaller practices/hospitals at an equitable cost. Importantly for health equity research, it allows access to practice-based clinical data for real-time practice- and population-based research. This includes telehealth and other cloud-based quality management services that support EHR/HIT adoption. We are also evaluating HIT policy to better influence equitable EHR adoption in our national community.
What are the biggest healthcare IT challenges PCPs face when it comes to caring for the underserved populations? How is the center helping them to deal with these challenges?
Affording the latest and best technology for their practices. Innovative analytics that help practices with the implementation of quality programs are expensive and require resources that smaller practices and hospitals don't have. We are developing affordable models that are innovative and made to fit these organizations. Rural and urban practices that serve these communities need support to exchange, analyze, and report data in a way that adds value to the practice.
Can you share any success stories relating to healthcare technology impacting healthcare access and outcomes in underserved populations?
We have multiple stories about the success of small practices. One of those involves a small one-doc pediatric practice that has been assisted by GaHITEC over the last five years. This practice has moved from paper records to an HER, and is now exchanging information through Georgia Health Connect, an HIE established through our GaHITEC work to serve underserved areas.
How are you seeing PCPs incorporating public health and population health management strategies into their care?
We truly believe that everyone has a right to access quality healthcare and our practices are on the front line of this care. Some are accessing these innovative platforms through collaboration or being acquired by larger health systems. In many cases, our segment of practices are lagging in the adoption because of the lack of resources (finances, staff, etc.)
What healthcare technologies excite you most in terms of their potential to have the biggest impact on access and outcomes across patient populations?
Mobile telehealth has the potential to impact underserved populations significantly because of accessibility. Most people don't know that these populations are the biggest consumers of cellular data.
Do you have any final thoughts?
We hope to develop models that can be sustainable and enable smaller hospitals and independent practices to stay successful and autonomous. I believe the disappearance of independent practices is to the healthcare system as the closing down of all small businesses would be to the business community. Hopefully we aggregate these small practices and hospitals to create a virtual ACO through our HIE products.
---
Contacts
Jennifer,  Mr. H, Lorre, Dr. Jayne, Dr. Gregg, Lt. Dan
More news: HIStalk, HIStalk Connect.
Get HIStalk Practice  updates.
Contact us online.
Become a sponsor.