Caesar Djavaherian, MD is founder of Direct Urgent Care, a chain that employs 90 staff to care for close to 100 patients a day across its three facilities in California. The company, which has attested to Meaningful Use via its Drchrono EHR, recently began using an Eko stethoscope that captures heart and lung sounds and transmits them to its EHR.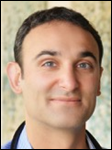 What was the impetus for adopting the EHR-integrated Eko stethoscope? Were you already an Eko/Drchrono customer?
At Direct Urgent Care, we are driven by the idea that patients need to feel better faster. Being able to easily share findings related to heart or lung sounds with a specialist who can aid in timely diagnosis and treatment decisions is critical to getting them feeling better.
How do you hope its utilization will benefit DUC and its patients?
We know it will. It is an additional way to get objective data in the right hands.
What sort of healthcare technology adoption/implementation challenges are unique to urgent care practices?
The nature of urgent care is that we care for accidents and injuries that are often unpredictable. We have to be nimble enough to check things like insurance eligibility, and set up proper patient communication channels for a large number of disease processes. Being able to leverage technology to get these things done so that patients find it to be a seamless process drives our technology adoption.
There's been a lot of industry chatter recently about the need for a simpler patient bill. HHS has even launched a design contest to help foster better design and greater patient-centeredness. How have you seen technology impact the likelihood of your patients to pay in a timely manner? From a design perspective, can urgent care bills be improved?
Billing is a pain point for patients as well as providers. If healthcare acted more like a free market, we would have much better bills, much more price transparency, and more informed patients. It is criminal to have patients and providers agree to work with each other without knowing what the costs would entail. We have created a price list for patients who do not have insurance or prefer not to use their insurance for care. We need to have better communication around billing and pricing for patients to be true consumers and help drive the cost of healthcare down and away from high-cost care such as emergency departments.
What's next on the horizon for Direct Urgent Care in terms of new healthcare technologies, particularly those that will better enable patient engagement? Any plans to look in to telemedicine?
We imagine ourselves as a technology-enabled healthcare startup. We would like connected devices to help us speed up the patient data acquisition process so that patients can very quickly be assessed and treated. We constantly evaluate devices to help us achieve this, which is how we got to Drchrono and Eko.
---
Contacts
Jennifer,  Mr. H, Lorre, Dr. Jayne, Dr. Gregg
More news: HIStalk, HIStalk Connect.
Get HIStalk Practice updates.
Contact us online.
Become a sponsor.