Top News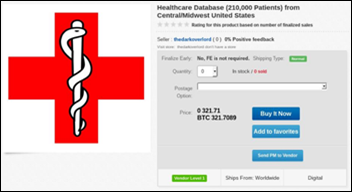 A hacker known as "thedarkoverlord" advertises 655,000 healthcare records on a dark Web marketplace, allegedly stolen from healthcare organizations in Missouri, Georgia, and the Central/Midwest. The hacker claims he conducted each breach via an unknown vulnerability in each organization's remote desktop protocol, from which he kept going until he "got to the juicy machines running their electronic health systems" – at least one of which he claims is SRSsoft's EHR. The data is being sold to nefarious dealers for between $100,000 and $411,000, though the hacker has also claimed he's holding the information ransom for "a modest amount compared to the damage that will be caused to the organizations when I decide to publicly leak the victims."
---
Webinars


June 28 (Tuesday) 2:00 ET. "Your Call Is Very Important." Sponsored by West Healthcare Practice. Presenters: Cyndy Orrys, contact center director, Henry Ford Health System; Brian Cooper, SVP, West Interactive. The contact center is a key hub of patient engagement and a strategic lever for driving competitive advantage. Cyndy will share how her organization's call center is using technologies and approaches that create effortless patient experiences in connecting them to the right information or resource. Brian will describe five key characteristics of a modern call center and suggest how to get started.
Contact Lorre for webinar services. Past webinars are on our HIStalk webinars YouTube channel. Be sure to ask for her "Summer Doldrums Special" that we always run through Labor Day and you'll get a great deal
---
People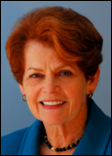 Helen Darling (National Quality Forum) joins the Teladoc Board of Directors.
---
Announcements and Implementations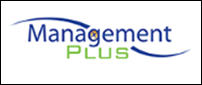 Salt Lake City-based ManagementPlus, a part of The Eye Care Leaders Group, adds revenue cycle solutions to its line of health IT and consulting services for optometry practices.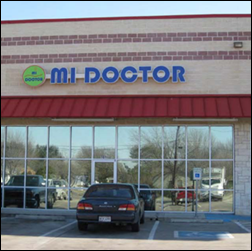 Mi Doctor (TX) implements Redox's API, enabling its Relaymed point-of-care test administration software to receive orders and post results directly into its EClinicalWorks EHR and PM systems. The integration is the latest in a list of new relationships for the API integration startup, which has up until now focused on hospital-centric systems.
---
Government and Politics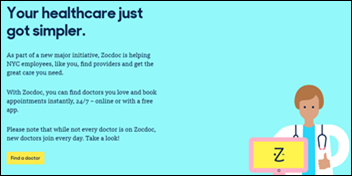 New York City Mayor Bill de Blasio announces that the city will leverage Zocdoc's physician scheduling technology to help employees on its health plan access in-network physicians across all five boroughs. The partnership is part of the city's WorkWell NYC initiative, which aims to help its 1.2 million employees, retirees, and dependents become and remain healthy.
A state-run physician ranking system comes under fire (again) for placing cost above quality, and culling cost assessments from sample sizes deemed too small to be statistically reliable. Developed by the Group Insurance Commission for state of Massachusetts employees, the $7 million system uses its rankings to place physicians in tiers – the higher the tier, the higher the co-pay. "There has been a fair amount of concern raised about tiering by our members for several years and the GIC method of tiering was particularly worrying based on the methodology they use," said Dennis Dimitri, MD. "We shouldn't apply flawed methodology and inadequate methodology and then have both physicians and patients suffer as a result of these inadequacies."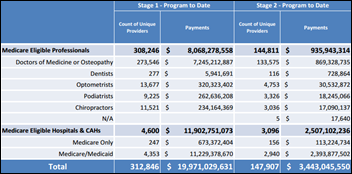 CMS reports it has paid out $34.7 billion in Meaningful Use incentive payments as of last month, including over $9 billion for EPs. It's worth noting that none of that went to new AMA President Andrew Gurman, MD who has been transparent about the fact that its more fiscally responsible for his solo practice to take the penalties than to invest in new technology.
---
Other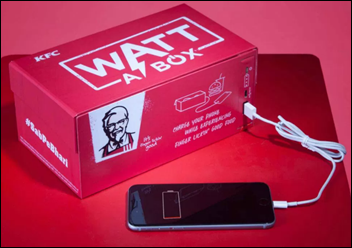 First it was tasty nail polish in Hong Kong, now its phone chargers in India. KFC has launched limited edition "Watt-A-Box" packages in Delhi and Mumbai to spice up its paper boxes, most of which are being given out via an online contest.
With his typical aplomb, Athenahealth CEO Jonathan Bush quells rumors he may one day run for the highest office in the land. "First of all, we need another Bush like I need a hole in my head," he said. "I don't want to be another Bush, but I do want to be politically active, I do want to provide air cover." He also made it clear he won't vote for Trump, adding that, "If he was a little bit less clinically narcissistic, I would vote for him." I can't help but think back to his appearance at HIStalkapalooza …
---
Contacts
Jennifer,  Mr. H, Lorre, Dr. Jayne, Dr. Gregg
More news: HIStalk, HIStalk Connect.
Get HIStalk Practice updates.
Contact us online.
Become a sponsor.