Top News


Carlsbad, CA-based Medsphere and Salt Lake City-based ChartLogic merge, giving Medsphere access to ChartLogic's ambulatory EHR product line and customers. ChartLogic will retain its brand name and operate as a division of Medsphere. The news comes on the heels of ChartLogic's lab ordering system partnership with Change Healthcare, which announced today that it will form a new company with beleaguered McKesson Technology Solutions. Mr. H has more on that (plus lively reader commentary) here.
---
Webinars
None scheduled in the coming weeks. Contact Lorre for webinar services. Past webinars are on our HIStalk webinars YouTube channel. Be sure to ask for her "Summer Doldrums Special" that we always run through Labor Day and you'll get a great deal.
---
Announcements and Implementations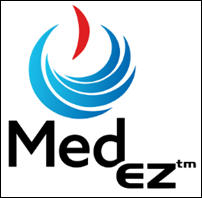 Integrated Software Solutions develops a cloud-based version of its MedEz EHR, PM, and billing software for behavioral health and substance abuse services.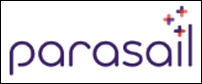 Medical financing company Parasail Health develops a new payment plan app to help patients find suitable financing plans before leaving the doctor's office, or via a physician's billing statement.
Phoenix, AZ-based Dox Podiatry adds India-based ITech's billing and PM technology to its EHR for podiatrists.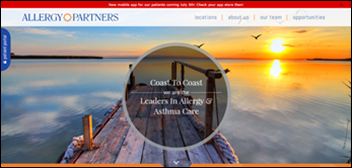 Allergy Partners, a network of allergy, asthma, and immunology practices in 23 states, develops and launches a mobile app that offers interactive patient coaching for specific conditions and helps to track medications, allergy injections, triggers, and symptoms.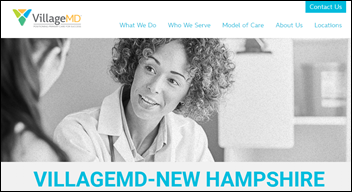 New Hampshire-based Derry Medical Center and Southern New Hampshire Internal Medicine Associates partner with VillageMD to form VillageMD-New Hampshire. The primary care-focused joint venture will help 57 physicians across the state transition to value-based care models with the help of VillageMD's analytics, care coordination tools, and in-office support.
---
Acquisitions, Funding, Business, and Stock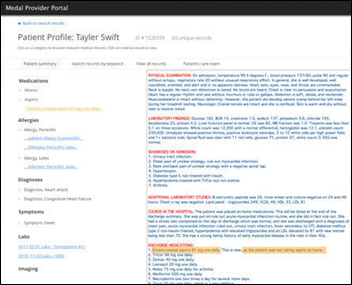 San Francisco-based Medal raises $3.78 million as part of a seed round led by angel investors 8VC. The San Francisco-based startup, which has developed software that streamlines data sharing between EHRs, will use the funds to further hiring and product deployments. CEO Lonnie Rae Kurlander is a former third-year physician-in-training from Boston University.
Not surprising in the least: Capgemini's annual World Wealth Report predicts that healthcare, high-tech, and financial services will be the industries most likely to increase the net worth of high net worth individuals (anyone having "investable assets" of $1 million or more) through 2025. Six percent of the world's 1.8 billionaires have made their fortunes in healthcare, which I'm willing to bet up until now has consisted of medical devices, pharma, and life sciences. (Patrick Soon-Shiong of NantWorks fame, whose net worth is valued at $11.5 billion, is of course an exception to my assumption.) It would be interesting to compare the truly life-saving/changing innovations – not to mention philanthropic activities – that have come out of those healthcare dynasties with those that are likely to spring up within healthcare IT circles.
---
People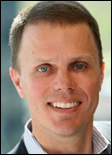 Rob Rebak (Sharecare) joins AbilTo as CEO.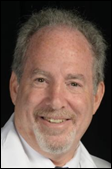 The Federation of State Medical Boards names Kenneth Steier, DO (Touro College of Osteopathic Medicine-Middletown) a fellow.
---
Telemedicine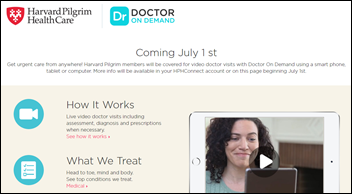 Harvard Pilgrim rolls out Doctor on Demand telemedicine services to its health plan members in Connecticut, Maine, Massachusetts, and New Hampshire.
---
Government and Politics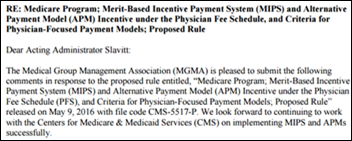 CMS begins to wade through over 3,700 comments on the proposed MACRA/MIPS rule, which should be finalized this fall. When it comes to physician practices, commentary has been decidedly negative as many trade associations believe the reporting requirements and penalties would be crushingly burdensome. MGMA bared no bones in its assessment: "MGMA and our members recognize proposed MIPS criteria are so onerous that, when coupled with an almost non-existent Advanced APM pathway, they would consume clinicians' time and resources in collecting and reporting what are essentially government-mandated data points rather than spending time with patients." It advocates, among other changes, postponing the start date to January 1, 2018, and reducing reporting requirements.
---
Research and Innovation

I'm a little surprised at the attention a Mayo Clinic study has gotten, given that just about any physician with an EHR could probably have validated its hypothesis at the outset. The study of 6,375 physicians – 85 percent of which are EHR users – found a direct correlation between that use (including e-prescribing) and burnout across all ages, genders, specialties, and hours worked. I don't care to register for full access to the study, so turned to Time's summary for further findings, which, not surprisingly, included stats relating to the dissatisfaction physicians feel towards their EHRs, and the fact that most don't feel the technology improves patient care.

A Salesforce study of over 1,700 insured adults finds that most aren't taking advantage of technology to keep in touch with their physician. Over 60 percent still use the phone to schedule appointments, while 62 percent rely on their physicians to manage their health data. And yet the majority of those same adults would be open to telemedicine visits, mobile apps, and wearables integration. The sticking point of digital health rears its ugly head once again: Just because consumers have access to these shiny new tools doesn't mean they will use them in meaningful ways, or that physicians will welcome them with open arms.
---
Other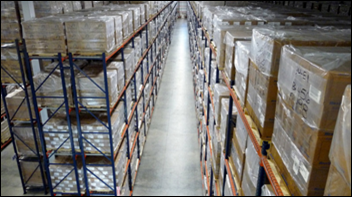 NPR looks inside a secret government warehouse with rows upon rows of medical necessities stockpiled in the event of a healthcare catastrophe. Part of the CDC's Strategic National Stockpile Program, the  warehouse (purportedly one of six) will be ground zero for distribution of supplies worth over $7 billion to state and local governments. "We have the capability, if something bad happens, that we can intervene in a positive way, but then we don't ever want to have to do that. So it's kind of a strange place," says SNS Director Greg Burel. "But we would be foolish not to prepare for those events that we could predict might happen."
---
Contacts
Jennifer,  Mr. H, Lorre, Dr. Jayne, Dr. Gregg
More news: HIStalk, HIStalk Connect.
Get HIStalk Practice updates.
Contact us online.
Become a sponsor.