Top News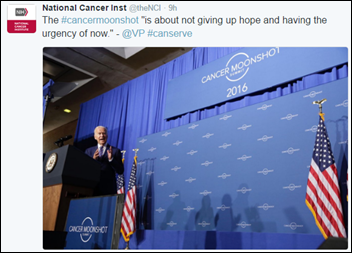 HHS selects nearly 200 physician practices and 17 payers to participate in the Medicare arm of the Oncology Care Model, which will offer participants performance-based payments for episodes of care related to chemotherapy administration, and monthly care management payment for each Medicare beneficiary. The five-year program, which kicks off July 1, will be an Advanced Alternative Payment Model under the proposed MACRA Quality Payment Program. "The Oncology Care Model encourages greater collaboration and information sharing so that cancer patients get the care they need," said HHS Secretary Sylvia Burwell. "This patient-centered care model furthers the goal of the Vice President's Cancer Moonshot to improve coordination, care, and outcomes while spending dollars more wisely." Her announcement was made during the first Cancer Moonshot Summit in Washington, DC.
---
Webinars
July 13 (Wednesday) 1:00 ET. "Why Risk It? Readmissions Before They Happen." Sponsored by Medicity. Presenter: Adam Bell, RN, senior clinical consultant, Medicity. Readmissions generate a staggering $41.3 billion in additional hospital costs each year, and many occur for reasons that could have been avoided. Without a clear way to proactively identify admitted patients with the highest risk of readmission, hospitals face major revenue losses and CMS penalties. Join this webinar to discover how to unlock the potential of patient data with intelligence to predict which admitted patients are at high risk for readmission.
Contact Lorre for webinar services. Past webinars are on our HIStalk webinars YouTube channel. Ask Lorre about her "Summer Doldrums Special" sale.
Yesterday's webinar by West Healthcare Practice drew nearly 500 registrants and will no doubt generate many YouTube page views after the fact. Lots of readers are apparently interested in what Henry Ford is doing with contact centers. Those with shorter attention spans can check out the tweet recap here.
---
Acquisitions, Funding, Business, and Stock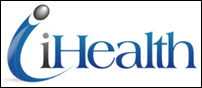 IHealth secures an undisclosed amount of funding from Fulcrum Equity Partners. The consulting firm, which acquired RCM vendor DNA Healthcare just over a month ago, will use the cash infusion to ramp up service-line development, expand its customer base, and plan for future acquisitions.

Definitive Healthcare acquires Atlanta-based market intelligence company Billian's HealthData for an undisclosed sum. It's the second acquisition for the Natick, MA-based company this year; it acquired The Max database of healthcare providers from US Lifeline in January. 
---
Announcements and Implementations

DocGraph announces during the Cancer Moonshot Summit that it will release an open cancer dataset that includes information on nearly 1 million Medicare cancer patients and over 10 million claims. The –based company will work with analytics business CareSet Systems to develop challenges that will prompt researchers and digital health companies to discover actionable insights from the data.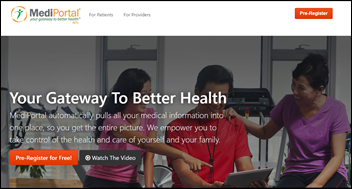 Health record aggregator MediPortal joins the National Association for Trusted Exchange (NATE) ahead of its official launch this later this summer.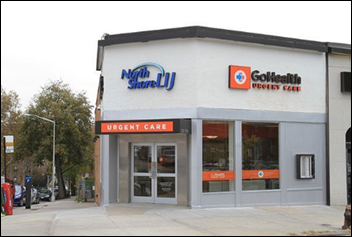 GoHealth Urgent Care selects Orion Health's Rhapsody Integration Engine to more effectively connect with its growing network of health system partners. The chain of clinics operates 23 centers in New York City and 14 in Portland. It plans to open its first urgent care facility in San Francisco later this summer.
---
Other
The local paper publishes a humorous look at what a trip to the office of "Dr. Trump" would look like: "The problem with modern medicine is doctors want too much information," the hypothetical doctor explains. "It's kind of like the IRS when they audit me each year. They want too much information. So my medical practice is based on fewer patient facts and less information. I focus on the person. I am the anti-establishment doctor and I'm great."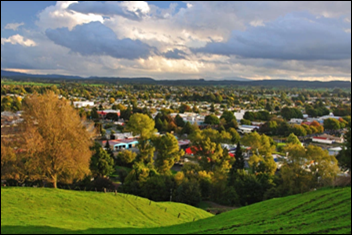 A local staffing agency is still struggling to fill the now infamous physician vacancy at a remote practice in New Zealand. The job listing, which has generated hundreds of "trash applications," gained notoriety earlier this year thanks to its $400,000 starting salary and pleas for its fulfillment from one of two resident physicians, both of whom are desperate to retire but don't want to leave their 600 patients in the lurch.
Motherboard compiles a list of criminal activities hackers could engage in with stolen healthcare records:
Medical insurance fraud.
Pose as a doctor to lure patients into giving away more personal data.
Apply for credit using the names of victims.
Steal a victim's tax refund.
Purchase a mobile phone in a victim's name.
---
Contacts
Jennifer,  Mr. H, Lorre, Dr. Jayne, Dr. Gregg
More news: HIStalk, HIStalk Connect.
Get HIStalk Practice updates.
Contact us online.
Become a sponsor.