Top News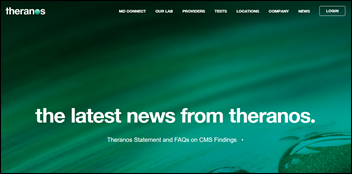 Theranos attempts to move past its CMS sanctions with the addition of two new hires. Dave Wurtz (Thermo Fisher Scientific) joins the company as vice president, regulatory and quality, to oversee laboratory and device development standards. Daniel Guggenheim (McKesson) joins as chief compliance officer. His will likely be the most high-profile role, given the monumental turnaround task of ensuring the startup follows federal and state health regulations. (I can't help but question the men's motivation behind joining such an unstable enterprise, not to mention how the company can afford to pay employees at this point.) The company has also formed a new compliance and quality committee to oversee Theranos executives and directors. Board member Fabrizio Bonanni believes the turnaround "will take forever – it is a never-ending process. We will build a bunch of things first, then we will improve on them, then we'll be inspected and we'll get additional suggestions. You will only be as good as the last inspection was. You'll never rest."
---
Webinars
None scheduled in the next few weeks. Contact Lorre for webinar services. Past webinars are on our HIStalk webinars YouTube channel.
---
Announcements and Implementations

Healthcare CRM vendor Updox debuts care coordination software for pharmacists that helps them exchange secure messages with physicians, receive transitions of care, and offer patients the ability to schedule services like vaccines and screenings.
Vasco Data Security International launches identity proofing, credential issuance, fulfillment, and authentication services for providers and health IT vendors.
---
Acquisitions, Funding, Business, and Stock

Athenahealth EVP and COO Ed Park will step down at the end of this year, transitioning to a seat on the Board of Directors. SVP and Chief Product Officer Kyle Armbrester, who also leads the company's inpatient efforts, will take over Park's role. Park has been with the company since 1998. The news came during release of the company's latest earnings, which included a 20-percent revenue growth over the last six months, and a $2.7 million net loss as of the six months ending June 30. The company added 5,000 new physician and 80 new hospital customers.
---
People

Amy Mechley, MD (Christ Hospital Health Network) joins Pershing Yoakley & Associates as a principal within its Strategy & Integration business.
---
Telemedicine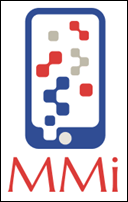 Premier Diversified Holdings will acquire up to $500,000 of units (or 2 millions shares) of telemedicine company MyCare MedTech, which provides virtual consults via its GoEvisit app. Premier President and CEO Sanjeev Parsad will take a seat on the MyCare board. The deal marks Premier's first foray into telemedicine. Its current holdings include medical diagnostic clinics in Canada and China, a reinsurance business based in Bermuda, and a Canadian craft beer brewery.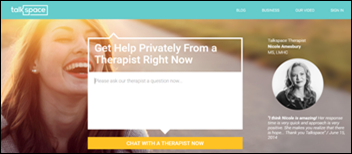 Talkspace implements Agora.io's video-for-telemedicine cloud service as part of its Unlimited Messaging Therapy and LiveTalk Online Therapy programs. The Agora technology will offer Talkspace users higher-resolution, real-time voice and video calls during therapy sessions.
---
Government and Politics

CMS hunts for a new CTO. Applications for the position, currently occupied by George Linares, who has been with the agency since 2003, are due by August 21. The selected candidate will "provide executive direction, leadership, and support to the entire organization with regard to the Health Insurance Marketplace," as well as ensure efficient and effective use of all IT resources related to marketplace programs.
---
Research and Innovation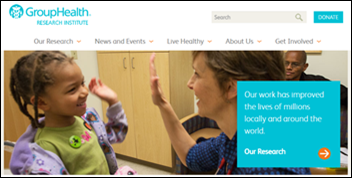 The Patient-Centered Outcomes Research Institute awards Group Health Research Institute $2.8 million to compare methods of measuring blood pressure in confirming new diagnoses of hypertension. Methods will include home BP monitoring, clinic BP monitoring, and taking measurements via retail kiosk. They'll be compared to 24-hour ambulatory BP monitoring for accuracy, comfort, and convenience. It would be interesting to also determine which method most seamlessly transfers BP readings to physician EHRs.
A survey of 1,000 employees working for large companies finds that a majority believe that workplace health and wellness programs have had a positive impact on their physical health. An even higher percentage – 91 percent – regardless of income or age, noted they would participate more if they were rewarded. Just under 50 percent had participated in a program to help them improve their physical health. I wish the study had dived into what type of rewards employees would respond to most – money, time off, cheaper health benefits …
---
Other
Denmark for the gold: Danish authorities reveal a nationwide 2015 data breach that occurred when two CDs containing unencrypted health data on 5,282,616 citizens were mistakenly mailed to a firm contracted by China's embassy in Denmark. Datatilsynet, Denmark's data protection authority, has verified that personal and health data was exposed in the breach, including national identification numbers.
---
Contacts
Jennifer,  Mr. H, Lorre, Dr. Jayne, Dr. Gregg
More news: HIStalk, HIStalk Connect.
Get HIStalk Practice updates.
Contact us online.
Become a sponsor.