Top News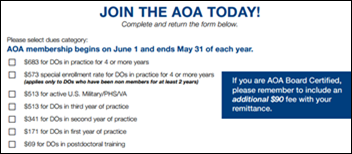 Albert A. Talone, DO heads up a class-action lawsuit representing 32,000 osteopaths against the American Osteopathic Association. The lawsuit contends that AOA's requirement that physicians purchase AOA memberships in order to obtain and maintain board certifications is illegal, has no reasonable connection to the advanced certification, and violates antitrust laws. "There is no legitimate reason why a physician should also have to purchase an annual membership in the AOA and pay additional hundreds of dollars a year to the AOA in dues on top of the costs of certification," James Greenberg of the representing law firm (and former general counsel of the New Jersey Association of Osteopathic Physicians and Surgeons). "Our doctors should never have had to pay these fees, and we're suing to recover these fees and to establish that the doctors won't have to pay them anymore."
While I can't comment on the AOA's legal wranglings or how much merit the lawsuit might have, I can, just for fun, compare the membership rates of the AOA and the AMA, which seems like the more affordable association at first glance.
---
Webinars
August 10 (Wednesday) 1:30 ET. "Taming the Beast: CDS Knowledge Management." Sponsored by LogicStream Health. Presenters: Luis Saldana, MD, MBA, CMIO, Texas Health Resources (THR); Maxine Ketcham, clinical decision support analyst, THR; Kanan Garg, senior applications analyst, THR; Patrick Yoder, CEO, LogicStream health. This presentation will review THR's systematic process for managing clinical decision support assets, including identifying broken alerts, addressing technical and clinical issues, modifying order sets, and retiring tools that have outlived their usefulness. Attendees will learn how THR uses a robust knowledge management platform to better understand how clinicians are interacting with their clinical content to maintain their order sets and reduce the number of alerts fired.
Contact Lorre for webinar services. Past webinars are on our HIStalk webinars YouTube channel.
---
Announcements and Implementations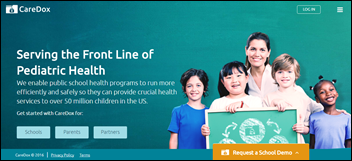 Eighty-three districts across the country sign on to CareDox's EHR for school-based healthcare. The New York City-based startup has raised $6.9 million since launching in 2014. In addition to providing EHRs to schools free of charge, the company seems intent on leveraging the de-identified health data for pediatric research through partnerships.
---
Telemedicine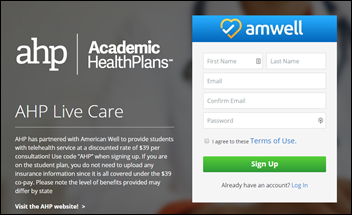 American Well partners with Academic HealthPlans to offer its virtual visit services – including psychologist visits – to AHP's student members at over 100 US universities and colleges.
The Los Angeles School District – the second-largest in the country – will pilot telemedicine technology from Boynton Beach, FL-based LifeMD at five schools this fall in hopes of expanding the service countywide in the near future.
---
Research and Innovation
Astellas Pharma US teams with health tech incubator Matter Chicago (of which it's a platinum sponsor) to launch the Astellas Oncology C3 Prize competition, which seeks innovative ideas for cancer care from early stage entrepreneurs. The winner will receive a $50,000 grant, while two runners-up will receive $25,000 grants. Winners will also receive a free year of membership at Matter. C3 Prize Program Director Tyler Marciniak emphasizes that the competition isn't looking for medicines or medical devices, but rather digital health tools that help improve medication adherence and caregiver coordination. Applications are due August 8.
---
Other

I have fond memories of my first and thus far only trip to Paris. The Eiffel Tower sparkling at night, amazing shopping (of the window variety given it was during my student days), and an overload of art at the Louvre more than made up for the push-button shower at my youth hostel. At the time, I didn't notice much of a traffic jam on the Seine, but the founders of SeaBubbles have lately thought otherwise. The startup is looking to develop airborne water taxis capable of speeds up to 25 knots (29 mph) to sell to individuals and local governments. The company has already received the support of Paris Mayor Anne Hidalgo, who has pledged to cut pollution levels in the city.
---
Contacts
Jennifer,  Mr. H, Lorre, Dr. Jayne, Dr. Gregg
More news: HIStalk, HIStalk Connect.
Get HIStalk Practice updates.
Contact us online.
Become a sponsor.