Top News
The local business paper highlights some of the steps Athenahealth is taking to ameliorate its inability to to hit 30 percent year-over-year growth in new clients – a fact divulged in a Q3 earnings call late last week. They include: hiring an as yet unnamed chief people officer, the creation of which was announced by CEO Jonathan Bush in May; a shift in sales tactics now that Meaningful Use has died down; and getting the most out of its More Disruption Please program participants, most of which are early stage companies in need of an eager scaling partner. Mr. H provided his own summary of the earnings call in this week's Monday Morning Update.
---
HIStalk Practice Announcements and Requests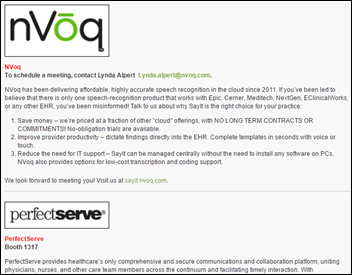 HIStalk's Must-See Exhibitors Guide for MGMA 2016 is live. Click here to look over the products and innovations our sponsors plan to showcase, and map out your trip to the exhibit hall accordingly.
---
Webinars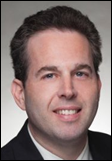 November 8 (Tuesday) 1:00 ET. "A CMIO's Perspective on the Successful 25 Hospital Rollout of Electronic Physician Documentation." Sponsored by Crossings Healthcare. Presenter: Ori Lotan, MD, CMIO, Universal Health Services. UHS rolled out Cerner Millennium's electronic physician documentation to its 6,000 active medical staff members — 95 percent of them independent practitioners who also work in competitor facilities — across 25 acute care hospitals. UHS's clinical informatics team used Cerner's MPage development toolkit to improve the usability, efficiency, communications capability, and quality metric performance of Dynamic Documentation, embedding clinical decision support and also using Nuance's cloud-based speech recognition product for the narrative bookends of physician notes. This CMIO-led webinar will describe how UHS achieved 70 percent voluntary physician adoption within one month of go-live, saved $3 million in annual transcription expense, and raised EHR satisfaction to 75 percent. It will include a short demonstration of the software that UHS developed to optimize the physician experience.
November 9 (Wednesday) 1:00 ET. "How to Create Healthcare Apps That Get Used and Maybe Even Loved." Sponsored by MedData. Presenter: Jeff Harper, founder and CEO, Duet Health. Patients, clinicians, and hospital employees are also consumers who manage many aspects of their non-medical lives on their mobile devices. Don't crush their high technology expectations with poorly designed, seldom used apps that tarnish your carefully protected image. Your app represents your brand and carries high expectations on both sides. This webinar will describe how to build a mobile healthcare app that puts the user first, meets their needs (which are often different from their wants), creates "stickiness," and delivers the expected benefits to everyone involved.
Contact Lorre for webinar services. View previous webinars on our HIStalk webinars YouTube channel.
---
Announcements and Implementations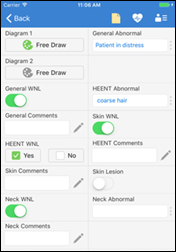 Drchrono updates its mobile EHR app with new design features and user interface functionality.
DirectTrust announces steady growth in the number of Direct exchange users, addresses, and exchanges. The number of healthcare organizations served by DirectTrust Health Information Service Providers increased by 62 percent to nearly 70,000 year over year. New participants include HealthLinkNY, LifeWire, and SSL.com.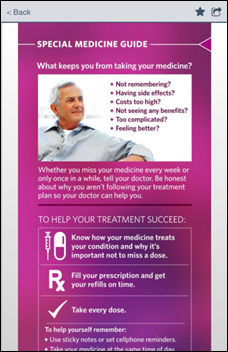 PatientPoint develops a new app for physicians that delivers medical news and point-of-care patient education materials.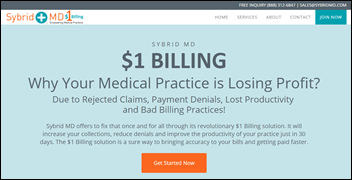 Bellmore, NY-based Sybrid MD launches a $1 billing solution for physician practices. (One dollar will ensure service for the first 30 days.) The company boasts in a grammatically incorrect way that, "Non-techie and new physician practices can quickly adapt this robust billing service and get paid in time without having to worry about impending regulations and newest technologies." Grammar usage like this makes me wonder if copywriters have gone out of business.
---
Acquisitions, Funding, Business, and Stock

Primary care management services company VillageMD expands into Chicago through partnerships with multiple primary care groups.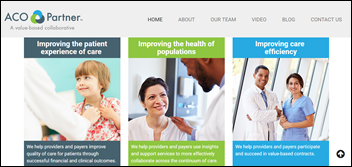 Blue Cross Blue Shield of Arizona subsidiary Trinnovate Ventures invests an undisclosed amount in ACO Partner, its joint venture with McKesson. Created in April, the JV seeks to help payers and independent practices transition to value-based care models using McKesson's physician engagement, care management, population health services, and technology.
---
Telemedicine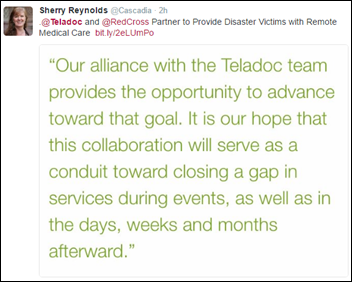 The American Red Cross and Teladoc launch a pilot collaboration that will bring telemedicine services to people served by the Red Cross in areas of natural disaster. As part of the pilot, Teladoc employees will be encouraged to donate time and resources to the Red Cross via the company's Teladoc Cares volunteer initiative.
---
Government and Politics

US Surgeon General Vivek Murthy, MD gets into some Step It Up smack talk with US Olympian Dominique Dawes. The Fitbit-sponsored challenge ends today. Americans have racked up a collective 57.2 billion steps so far.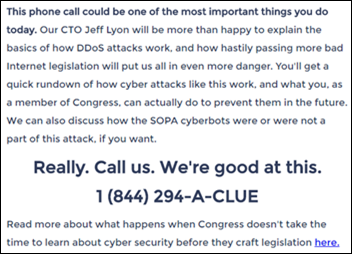 Nonprofit Fight for the Future creates a tech support hotline – 1 (844) 294-A-CLUE – to "help" members of Congress, especially those befuddled by last week's Internet outage. The corresponding website puts the organization's mission into perspective: "Are you a member of Congress who has been asked to give a TV interview about the massive DDoS attacks that took down 'the internet' last week, but have absolutely no clue what you're talking about? We can help!" The pros at Politico shared their hotline experience:
"The phone line greets you with a 'press one if you're a member of Congress' prompt, and instructs that if you have a rotary phone, you should get a new one. 'Have some self-respect,' the automated voice says. Your … host lied and pressed 1, where a staffer identified himself as a "cyber bot" to skewer a specific member of Congress. He then offered meaningful cybersecurity advice, served with a side of chiding Capitol Hill for passing last year's cybersecurity information sharing law and others that the group argued presents a threat to digital privacy."
---
Other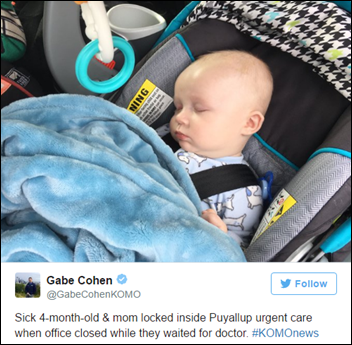 MultiCare Puyallup Urgent Care (WA) staff accidentally lock Savannah Lewitt and her four month-old son in the building at closing time after taking the baby's vitals and then telling Lewitt the physician would be in to see them "in about 10 minutes." Thirty minutes later, she walked out of the exam room to find the clinic empty and locked up tight. She and her son managed to leave with assistance from the cleaning crew. As a result, the clinic now requires that staff check every room and door just before closing.
---
Contacts
Jenn,  Mr. H, Lorre, Dr. Jayne, Dr. Gregg
More news: HIStalk, HIStalk Connect.
Get HIStalk Practice updates.
Contact us online.
Become a sponsor.