Top News
The local paper highlights the success Capstone Pediatrics (TN) has had with its care coordination efforts. The 10-facility practice earned a $397,000 bonus from UnitedHealthcare Community Plan of Tennessee for reducing hospitalizations among its UnitedHealthcare Medicaid patients by 28 percent. As part of UnitedHealthcare's Medicaid ACO, the practice received resources including technology to help it meet quality metrics. What that technology no doubt played an important role in Capstone's results, it seems that the human touch was the biggest factor: "We take a holistic approach to care, and our experience shows that addressing one's whole health – including medical, behavioral, social, and other needs – leads to better health outcomes," explains CEO and CMO Gary Griffieth, MD. "We've helped our patients and their families navigate care complexities, which has led to fewer hospital admissions and a healthier population overall."
---
Webinars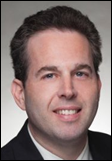 November 8 (Tuesday) 1:00 ET. "A CMIO's Perspective on the Successful 25 Hospital Rollout of Electronic Physician Documentation." Sponsored by Crossings Healthcare. Presenter: Ori Lotan, MD, CMIO, Universal Health Services. UHS rolled out Cerner Millennium's electronic physician documentation to its 6,000 active medical staff members — 95 percent of them independent practitioners who also work in competitor facilities — across 25 acute care hospitals. UHS's clinical informatics team used Cerner's MPage development toolkit to improve the usability, efficiency, communications capability, and quality metric performance of Dynamic Documentation, embedding clinical decision support and also using Nuance's cloud-based speech recognition product for the narrative bookends of physician notes. This CMIO-led webinar will describe how UHS achieved 70 percent voluntary physician adoption within one month of go-live, saved $3 million in annual transcription expense, and raised EHR satisfaction to 75 percent. It will include a short demonstration of the software that UHS developed to optimize the physician experience.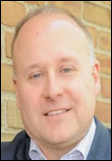 November 9 (Wednesday) 1:00 ET. "How to Create Healthcare Apps That Get Used and Maybe Even Loved." Sponsored by MedData. Presenter: Jeff Harper, founder and CEO, Duet Health. Patients, clinicians, and hospital employees are also consumers who manage many aspects of their non-medical lives on their mobile devices. Don't crush their high technology expectations with poorly designed, seldom used apps that tarnish your carefully protected image. Your app represents your brand and carries high expectations on both sides. This webinar will describe how to build a mobile healthcare app that puts the user first, meets their needs (which are often different from their wants), creates "stickiness," and delivers the expected benefits to everyone involved.
Contact Lorre for webinar services. View previous webinars on our HIStalk webinars YouTube channel.
---
Acquisitions, Funding, Business, and Stock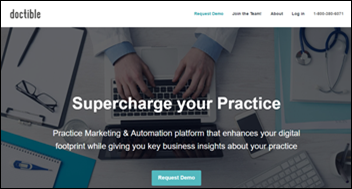 Physician practice marketing and automation software startup Doctible raises $2 million in seed financing led by Bootstrap Incubation. The San Diego-based company has also added new features to its product, including referral management and integrated scheduling.
---
Announcements and Implementations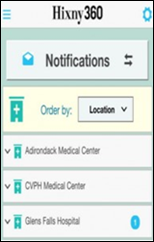 Hixny, which seems to have pivoted from its HIE branding to population health management, develops an app giving physicians the ability to remotely monitor high-risk patients in real time via HIE-based alerts.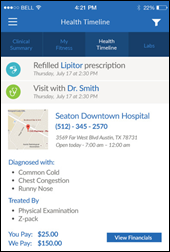 B.well launches a health management service for consumers that includes PHR capabilities, access to virtual consults, appointment scheduling, and preventive care reminders. The Baltimore-based company seems to have opened for business earlier this year with a similar product for payers and employers.

OptimizeRx adds brand messaging and support capabilities, including EHR strategy and planning services, to its line of e-prescribing coupon tools.
Scrypt develops HIPAA-compliant faxing, and secure storage apps for iOS devices. The Austin-based company, which also develops tools for the financial services industry, acquired HIPAA-secure messaging vendor DocbookMD in March.
ResMed adds cloud connectivity and the ability to filter patients into groups based on adherence status and/or type of therapy to its AirView remote-monitoring technology for sleep apnea and respiratory care patients.
---
Telemedicine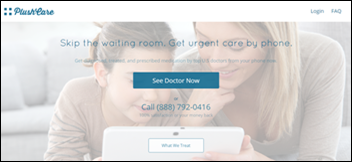 PlushCare closes an $8 million round of Series A financing led by GGV Capital. Jeff Richards, managing partner at GGV Capital, will join the direct-to-consumer telemedicine startup's board. The company will use the investment to grow beyond the 15 states it currently operates in.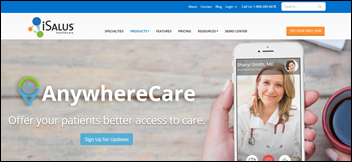 Indianapolis-based ISalus Healthcare adds telemedicine functionality to its OfficeEMR.
---
Government and Politics
Amerigroup New Jersey joins the Comprehensive Primary Care Plus program, bringing the total number of payers to 66 based on the most recent list from CMS, which has agreed to re-open payer and provider applications for the CPC+ program early next year.
---
Other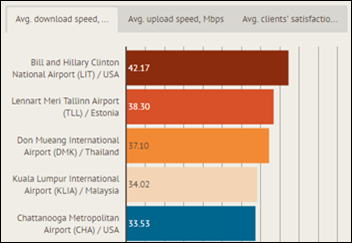 Just in time for your next layover: Rotten WiFi puts together a list of 20 airports with the best WiFi, factoring in user satisfaction and upload and download speeds. Tiny Chattanooga, TN (a favorite getaway of mine) outranks far more cosmopolitan destinations when it comes to satisfaction rankings. Estonia, which ranked number two for download speeds, has made a name for itself in its use of healthcare IT, rolling out a national EHR in 2009 to the tune of just $10 per person. Nearly half of the country's residents had signed up to use the service within two years of its launch. It is now working on incorporating blockchain technology into that system to better secure the 1 million records stored there.
---
Contacts
Jenn,  Mr. H, Lorre, Dr. Jayne, Dr. Gregg
More news: HIStalk, HIStalk Connect.
Get HIStalk Practice updates.
Contact us online.
Become a sponsor.