Top News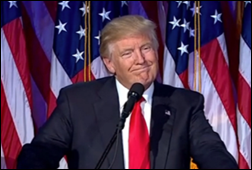 Trump's presidential win sets the nation abuzz and gets healthcare insiders busy predicting his cabinet picks. Several media outlets have tossed out Ben Carson, MD and Louisiana Governor Bobby Jindal as potential HHS Secretary appointees. Trump representatives have already said he'll have his cabinet nominated and approved within two weeks of inauguration.
In other post-election news, several medical societies weighed in on the president-elect. The AAFP sent Trump a letter highlighting health policies that need immediate attention, including the need to reduce the administrative burden of family physicians. AAFP President John Meigs, MD added that family physicians and the new administration can work together to "ensure continued progress toward healthcare for all, supported by a payment system that rewards value over volume of services, that promotes prevention and wellness, that protects patients from financial barriers to needed services, and that builds a primary care physician workforce that can meet the growing demand for care."
AMA President Andrew Gurman, MD issued this rather bland statement: "We look forward to working with President-elect Trump and a new Congress to improve the health of the nation. The AMA has a history of working with all sides as we pursue policies that improve care delivery and the outcomes for our patients. We know there are many health policy issues facing our newly elected leaders, and the AMA is ready to lend its expertise and offer guidance on these complex issues."
---
HIStalk Practice Musings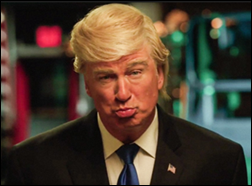 The real winner in all of this is Alec Baldwin, who will likely continue his portrayal of Trump on SNL for the next four years.
---
Webinars
None scheduled soon. Contact Lorre for webinar services. View previous webinars on our HIStalk webinars YouTube channel.
---
Acquisitions, Funding, Business, and Stock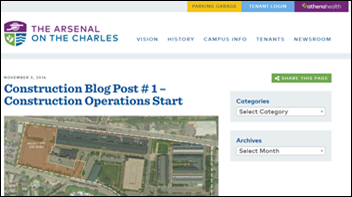 Athenahealth will convene a neighborhood meeting to address grievances from local residents relating to the company's new construction at the Arsenal on the Charles property it purchased in 2013. Complaints range from the addition of 1,000 more parking spaces than originally planned, a lack of communication about the project, overnight lighting, and enforcement of an employee parking policy. "Since purchasing the property in 2013," explains SVP & General Counsel Dan Haley, "we unveiled our plan to open up a formerly-sealed off military base, connect a beautiful historical property to the community, and create more outdoor shared space. We have collaborated with the town, and with our neighbors, at each step, and we are committed to continuing that engagement." Construction began last week and is expected to last 15 months.
---
Announcements and Implementations
BCBS of Kansas will offer value-based contracts and relevant patient data (presumably claims) to Aledade Kansas ACO members beginning January 1. The ACO started out with 13 practices – mostly rural – earlier this year, and plans to add three more in the coming months.
---
Telemedicine
Humana expands its partnership with MDLive, offering telemedicine visits to Medicare members in Georgia and South Carolina beginning next year. The payer announced a similar offering to New Mexico members last month.
---
People

Jesse Gamez (Kaiser Permanente) joins the Northwest Physicians Network as COO.
---
Government and Politics
Athenahealth CEO Jonathan Bush (who did quite the Donald Trump impersonation at HIStalkapalooza earlier this year) sits down with Fortune (pre-election results) to address the next administration's likely healthcare plans. A few snippets:
"This will be the president with the lowest mandate to do anything – in my whole life – so I think what they will tackle is not getting impeached."
"I don't expect a very activist healthcare agenda for the next four to eight years. Remember, we've had a really activist healthcare agenda for the last eight. I expect the next chapter will be a digestion of all that new policy and not a lot of change."
"I'm imagining a silencing of the federal role and an explosion of the healthcare system's role, the local health plan's role, and the employer's role. Those things will start to spike up as the roar of Washington dampens down."
---
Other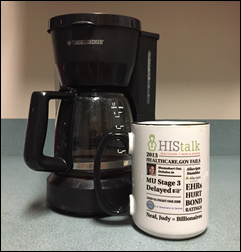 It's not the five-second rule I'm worried about: Baylor College of Medicine Professor Jeffrey Starke, MD advises those who work in office environments to forego washing their beloved coffee mugs with the communal sponge, pointing out that, "The sponge in the break room probably has the highest bacteria count of anything in the office" given that it's used to clean all manner of dirty dishes and sits damp for hours at a time. "Most people would call that gross." Also gross: The notion held by some that never cleaning your mug makes coffee taste better.
---
Sponsor Updates
Blog Posts
---
Contacts
Jenn,  Mr. H, Lorre, Dr. Jayne, Dr. Gregg
More news: HIStalk, HIStalk Connect.
Get HIStalk Practice updates.
Contact us online.
Become a sponsor.