Top News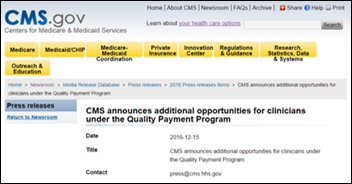 In an effort to help more physicians join Advanced Alternative Payment Models, CMS will open up new application periods for practices and payers interested in joining Comprehensive Primary Care Plus and Next Generation ACO programs. The agency expects that a quarter of providers in the Quality Payment Program will be eligible to earn incentive payments as part of these APMs by the 2018 performance period.
---
HIStalk Practice Announcements and Requests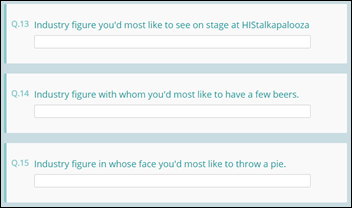 Head over to HIStalk for details on submitting HISsies nominations (please, someone nominate Siemens and its Healthineers for "Stupidest Vendor Action Taken"), New Sponsor Intro Week in mid-February, and HIStalkapalooza invites.
---
Webinars
None scheduled soon. Contact Lorre for webinar services.
---
Announcements and Implementations

Aledade will expand its ACOs in Delaware and West Virginia to include 40,000 Highmark Blue Cross Blue Shield plan members. The independent physician-led organizations include 22 and 26 primary care practices and FQHCs, respectively. This expansion marks Aledade's fifth commercial agreement following announcements earlier this year of contracts with Blue Cross Blue Shield of Kansas, Blue Cross Blue Shield of Louisiana, Florida Blue, and the West Virginia Public Employees Insurance Agency.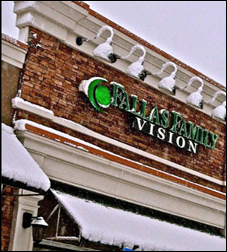 Fallas Family Vision (GA) implements RevolutionEHR. The optometry-focused EHR company acquired competitor GetWell including its Visions and Eyebase product lines in June.
The American Board of Family Medicine launches a registry focused on physician quality assessment, improvement, data-reporting requirements, and population management in an effort to promote self-governance and prevent burnout.
---
Acquisitions, Funding, Business, and Stock
The University of Kansas Hospital partners with Cerner to open an employee health center for the Unified Government of Wyandotte County and Kansas City, KS. The 5,000 square foot Road to Wellness Health Center marks the eighth such facility Cerner has opened in Kansas City and the fortieth nationwide. I interviewed Cerner VP of Population Health Services Mike Heckman (above left) earlier this year.
Global IT services company CSC will invest an undisclosed amount in Smartlink Mobile Systems and integrate its Medicare-friendly chronic care management technologies with new CSC CCM software and services.
---
Telemedicine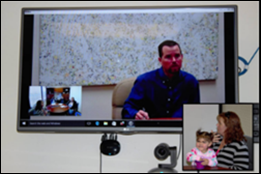 The Greenwood Genetic Center launches telemedicine capabilities between its five locations in South Carolina, thanks to financial support from the South Carolina Telehealth Alliance, the Medical University of South Carolina, the GGC Foundation, and an anonymous $150,000 grant from private donors. The nonprofit provides clinical genetic services, diagnostic testing, educational programs and resources, and conducts medical genetics research.
---
Government and Politics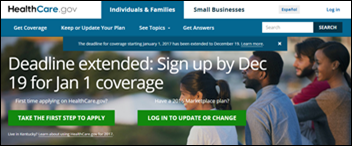 Due to consumer demand, HHS extends Healthcare.gov open enrollment though midnight tonight for coverage starting January 1. Last Thursday marked the enrollment site's busiest day ever, with 670,000 people signing up.

MGMA offers commentary on the final MACRA rule, imploring CMS to:
Allow more streamlined reporting across the four MIPS categories
Switch from a hard and fast December 31 pick-your-pace deadline to a more gradual transition period.
Shorten the mandatory quality and advancing care information reporting periods to any 90 consecutive days.
Allow participants to use 2014 or 2015 certified EHR technology until at least 2020. (The association points out that ONC lists just 27 products – 14 from the same vendor – as certified for 2015.)
CMS announces a new Medicare-Medicaid ACO model in an effort to bridge the cost gap for dual eligibles already enrolled in MSSPs. CMS will enter into participation agreements with up to six states, provided those states have enough Medicare-Medicaid patients in fee-for-service programs. The ACO's first year-long performance period is slated to start January 1, 2018.
---
Contacts
More news: HIStalk, HIStalk Connect.
Get HIStalk Practice updates.
Contact us online.
Become a sponsor.