Top News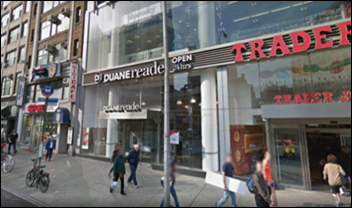 Walgreens Boots Alliance subsidiary Duane Reade closes its 11 clinics in New York City amidst "scattered closures" in other cities. While the number isn't exorbitant, it's a move that makes me wonder if the market has finally reached full walk-in clinic saturation. Walgreens already operates a national chain of 400 Healthcare Clinics within its eponymous retail pharmacies, and has made headlines recently through its clinic partnerships with local health systems. By comparison, CVS operates 800 MinuteClinics within its stores. Accenture predicts 3,000 will be in operation by the close of 2017.
---
HIStalk Practice Announcements and Requests
Thanks to the following companies that recently supported HIStalk Practice. Click a logo for more information.
---
Webinars
January 18 (Wednesday) 1:00 ET. "Modernizing Quality Improvement Through Clinical Process Measurement." Sponsored by LogicStream Health. Presenters: Peter Chang, MD, CMIO, Tampa General Hospital; Brita Hansen, MD, CHIO, Hennepin County Medical Center. The presenters will describe how they implemented successful quality governance programs, engaged with their health system stakeholders, and delivered actionable information to clinical leadership and front-line clinicians. Q&A will follow.


January 26 (Thursday) 1:00 ET. "Jump Start Your Care Coordination Program: 6 Strategies for Delivering Efficient, Effective Care." Sponsored by Healthwise. Presenters: Jim Rogers, RN, RPSGT, director of healthcare solutions, Persistent Systems; Charlotte Brien, MBA, solutions consultant, Healthwise. This webinar will explain how to implement a patient-centered care coordination program that will increase quality as well as margins. It will provide real-world examples of how organizations used care coordination to decrease readmission rates, ED visits, and costs.
---
Announcements and Implementations
Ezderm adds MIPS-qualified registry reporting resources from Healthmonix to its EHR and PM software.
---
Acquisitions, Funding, Business, and Stock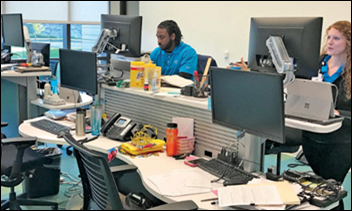 Automotive News profiles a new concept clinic built for employees of auto supplier and diesel-engine manufacturer Cummins. The LiveWell Center, which is run by healthcare management company Premise Health, offers up front pricing for traditional primary care plus chiropractic care and cooking classes. Its 46 employees – many who have come from private practice – are enjoying the move away from fee-for-service. "In private practice, it's a diagnostic approach," says Medical Director Jill Beavins, MD. "The tools we had in our toolbox were much more limited. When you're in a high-volume private practice, it's hard to do justice to some of these conversations around diet and exercise in a 10-minute conversation. At the LiveWell Center, we have a lot more time."
---
People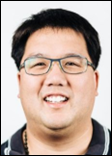 Healthcare analytics company MetiStream adds Denny Lee (Microsoft) to its advisory board.
---
Government and Politics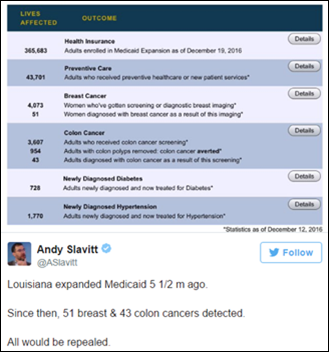 A number of states are using healthcare data in their fight to keep Medicaid expansion efforts alive ahead of potential cutbacks to the $545 billion program. Several, such as Ohio and Alaska, have created dashboards to display the positive effects of Medicaid expansion on care quality and outcomes. Avid tweeter and Acting CMS Administrator Andy Slavitt highlighted Louisiana's encouraging statistics in an effort to highlight the state's expansion success. 
NEPR looks at the impact a new law requiring Massachusetts providers to use HIE-friendly EHRs will have on private practices. The law's "fully interoperable" phrasing has left some physicians scratching their heads. Massachusetts Medical Society President James Gessner, MD admits that it's not "going to be easy at all, and it might be fairly expensive, and it might be prohibitively expensive for small practices." Valley Medical Group President Joel Feinman, who admits he wasn't even aware of the law before being contacted by the media outlet, echoes the time-honored frustrations of independent MDs everywhere: "There's a gap between what the legislature thinks needs to happen and what's actually possible in the industry in any given moment."
---
Research and Innovation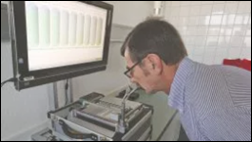 Researchers at the Israel Institute of Technology develop a breathalyzer test capable of diagnosing up to 17 diseases from a single breath. Early-stage testing of the device has led to accurate disease detection nearly nine out of 10 times.
---
Other
The Nevada Dept. of Health and Human Services confirms that an unspecified vulnerability in a website portal for residents applying to sell medical marijuana leaked the driver's license and social security numbers of 11,700 applicants. The portal has been taken offline while the department attempts to fix it.
Did you feel it?: Citizens of the Western hemisphere experienced the world's 28th leap second on New Year's Eve. (You can read about the origins of the extra second here.) Those in the Eastern Hemisphere experienced the same phenomena just after the start of 2017.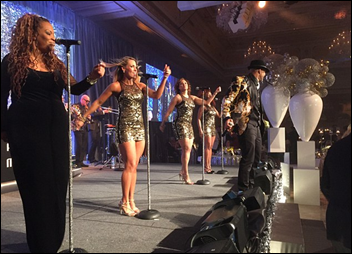 And speaking of the New Year, my ears perked up when I heard that President-elect Trump celebrated the eve at an event headlined by Party on the Moon – a HIStalkapalooza favorite for several years now. Media outlets reported that tickets to the event rang in at $500 a pop. (That's 100-percent more than what it costs for dedicated HIStalk readers to attend our HIMSS networking party thanks to Mr. H's faith in the generous support of our sponsors.)
This would never fly in the workaholic USA: France passes a law giving employees the right to ignore work emails sent outside of typical working hours. Applicable to companies with 50 or more employees, the "right to disconnect" ruling is the country's attempt to stem the tide of employee burnout and improve work-life balance. Compliance is voluntary, and no penalties have yet been associated with it.
---
Contacts
More news: HIStalk, HIStalk Connect.
Get HIStalk Practice updates.
Contact us online.
Become a sponsor.