Top News
Several trade associations quickly weigh in on the Senate's introduction of a timeline to repeal the ACA. MGMA President and CEO Halee Fisher-Wright, MD assures incoming lawmakers that the association will work with them if the resolution introduced by Senator Mike Enzi (R-WY) comes to pass. "Many elements of the ACA can be amended and improved with an infusion of new ideas," she writes in what I assume is an unsolicited statement to President-elect Trump. "As Congress considers legislation that impacts the policies or financial underpinnings of the ACA, it should – above all – minimize disruptions to the nation's healthcare delivery and payment system during any transition." Minimizing disruptions is all fine and dandy, but I believe ensuring quality (and dare I add affordable?) patient care should be a Congressional priority – above all.
Not to be left out, AMA President James Madara, MD also penned a missive to congressional leaders stressing the need to clearly outline any steps being considered as part of an ACA overhaul, especially policies related to healthcare coverage. He stresses that, "Patients and other stakeholders should be able to clearly compare current policy to new proposals so they can make informed decisions about whether it represents a step forward in the ongoing process of health reform."
---
Webinars
January 18 (Wednesday) 1:00 ET. "Modernizing Quality Improvement Through Clinical Process Measurement." Sponsored by LogicStream Health. Presenters: Peter Chang, MD, CMIO, Tampa General Hospital; Brita Hansen, MD, CHIO, Hennepin County Medical Center. The presenters will describe how they implemented successful quality governance programs, engaged with their health system stakeholders, and delivered actionable information to clinical leadership and front-line clinicians. Q&A will follow.


January 26 (Thursday) 1:00 ET. "Jump Start Your Care Coordination Program: 6 Strategies for Delivering Efficient, Effective Care." Sponsored by Healthwise. Presenters: Jim Rogers, RN, RPSGT, director of healthcare solutions, Persistent Systems; Charlotte Brien, MBA, solutions consultant, Healthwise. This webinar will explain how to implement a patient-centered care coordination program that will increase quality as well as margins. It will provide real-world examples of how organizations used care coordination to decrease readmission rates, ED visits, and costs
---
Announcements and Implementations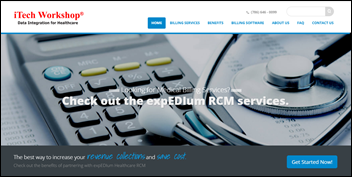 India-based RCM vendor ITech Workshop adds patient appointment scheduling capabilities to its billing and PM software.
Cytta upgrades its remote patient monitoring technology to operate on the Oracle Cloud via the company's VeriSmartPhone technology.
---
Acquisitions, Funding, Business, and Stock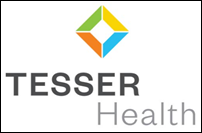 Charlotte, NC-based startup Tesser Health secures $470,000 in seed funding from a group of investors led by Cofounders Capital. The seven-employee company, which will use the cash to build out its sales team and move into new office space, has developed software that helps employee benefit companies identify cheaper prescription drug options. I'm especially interested in news related to prescription drug pricing thanks to a recent virtual consult that ended up with my MD prescribing $200-plus ear drops that had no generic version available. On the advice of my pharmacist, who also tried to help me find online manufacturer coupons for the drug, I called back to request a different, cheaper medication. The NP who facilitated the second, far less expensive prescription half-jokingly told me that doctors "sometimes have to be nudged" into prescribing generics.
---
People


Staffing company Supplemental Health Care hires Mary Lucas (Staffmark) as chief talent officer and Donna Carroll (North Highland) as chief sales officer. The Park City, UT-based firm has promoted Missy Blankenship to president of local offices; Monty Houdeshell to chief financial and administrative officer; and Chris Long and Linda McDonnell to SVP of nurse operations and travel nursing sales, respectively.
---
Telemedicine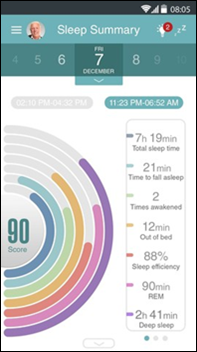 EarlySense adds American Well virtual consult access to its wireless home-monitoring technology, which includes the new Live under-the-bed sensor that monitors and analyzes heart, respiratory cycles, stress, and sleep indicators.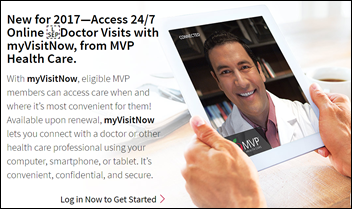 New York-based payer MVP Health Care begins offering telemedicine services (including mental health consults) from American Well to its members in New York and Vermont this week. Chief Executive Denise Gonick believes the nonprofit is the only health plan that offers virtual visits to Medicaid beneficiaries.
---
Research and Innovation
A new survey from payer-focused health data company Healthmine highlights the ongoing disconnect between the plethora of digital health tools available to consumers and their ability to incorporate them into health and wellness programs. Of the 2,500 health plan members surveyed, 75 percent are willing to share health data collected via apps but only 32 percent report this happens automatically. Though 60 percent of consumers access their EHRs to stay informed, just 22 percent use that digital data to make healthcare decisions – a stat that belies the need for more discussion between physician and patient on the role, if any, such tools can play within a particular practice. Most surprising to me is the fact that 39 percent of those surveyed – all users of digital health tools – have never heard of telemedicine. Perhaps I have lived in my health IT bubble for too long …
---
Contacts
More news: HIStalk, HIStalk Connect.
Get HIStalk Practice updates.
Contact us online.
Become a sponsor.