Top News
Teladoc shares climb nearly 14 percent on the news that the company will price nearly 9.5 million shares at $16.75 apiece. Analysts anticipate that, if fully subscribed, the move will help the company bring in $159 million for further development. The company claimed $77 million in 2015 revenue, $123 million in 2016, and expects to bring in $185 million this year. It has raised close to $173 million since launching in 2002.
---
Webinars
January 26 (Thursday) 1:00 ET. "Jump Start Your Care Coordination Program: 6 Strategies for Delivering Efficient, Effective Care." Sponsored by Healthwise. Presenters: Jim Rogers, RN, RPSGT, director of healthcare solutions, Persistent Systems; Jason Burum, chief client officer, Healthwise. This webinar will explain how to implement a patient-centered care coordination program that will increase quality as well as margins. It will provide real-world examples of how organizations used care coordination to decrease readmission rates, ED visits, and costs.
February 1 (Wednesday) 1:00 ET. "Get your data ready for MACRA: Leveraging technology to achieve PHM goals." Sponsored by Medicity. Presenters: Brian Ahier, director of standards and government affairs, Medicity; Eric Crawford, project manager, Medicity; Adam Bell, RN, senior clinical consultant, Medicity. Earning performance incentives under MACRA/MIPS requires a rich, complete data asset. Use the 2017 transition year to identify technology tools that can address gaps in care, transform data into actionable information, and support population health goals and prepare your organization for 2018 reporting requirements.
---
Telemedicine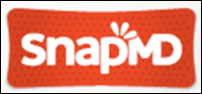 SnapMD announces another round of upgrades to its Virtual Care Management technology including configurable pricing and stand-alone documentation.
---
Announcements and Implementations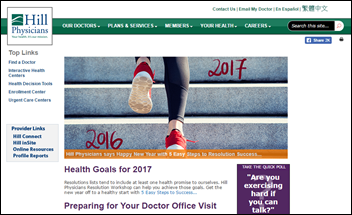 Hill Physicians Medical Group (CA), the largest IPA in the northern part of the state, enlists the services of Evolent Health as it prepares to participate in the Next Generation ACO program. The group will initially tap into Evolent's risk-adjustment services, network strategy development, and deploy its Identifi care coordination and population health management platform.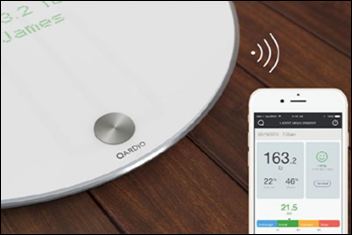 EclinicalWorks integrates Qardio's smart blood pressure monitor, and wireless scale and analyzer with its EHR and patient-facing Healow app, giving patients the ability to send physicians personal health data in between appointments. It seems like an interesting development, but I wonder how physicians plan to compensate themselves for keeping up with such a steady stream of information, and where they'll find the time to analyze and react to the data.
---
Government and Politics

On the eve of inauguration day, Athenahealth CEO Jonathan Bush points out three areas that President-elect Trump should focus on as he continues efforts to repeal and replace Obamacare: 
Let the cost and quality data of government-provided healthcare services flow so that consumers and physicians can make more informed decisions.
Encourage innovation by reducing regulatory overreach.
Get out of the business of designing healthcare technology. "[ONC] is a small agency causing tremendous ripple effects in healthcare by dictating the specific features, functionality, and design elements of electronic health records that clinicians are required to use," Bush explains. "This is akin to a government agency telling Apple exactly what the next iPhone should look like."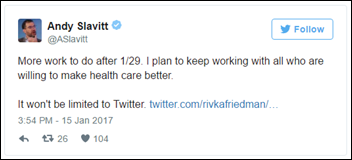 STAT offers up an analysis of everyone's favorite CMS tweeter, inadvertently presenting an interesting case study on the power of social media and the ways in which government officials can use it during times of extreme change. Slavitt, who has tweeted 3,200 times since December 6, stresses that his forthrightness shouldn't be surprising given that, "The terms I agreed to were to speak my mind and do what I think is right. I'm not going to be right every time. If people want to criticize, I'm willing to take that."
---
Research and Innovation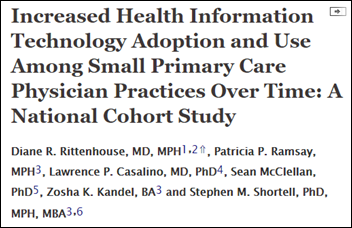 A two-part, longitudinal study of 566 primary care groups with eight or fewer physicians finds that, not surprisingly, their extent of healthcare technology adoption depended on the size of the practice, ownership, and external financial incentives. While research showed increased adoption of EHRs, e-prescribing, and patient portals across the board, it also showed that hospital-owned practices were the highest adopters, followed by practices with three to eight physicians, and then those with one or two. Higher adoption was also tied to greater participation in public reporting of quality data and in pay-for-performance programs, and a larger chunk of revenue from Medicare. Only 20 percent of all the practices had adopted use of email or online medical records as a means of patient engagement.
---
Other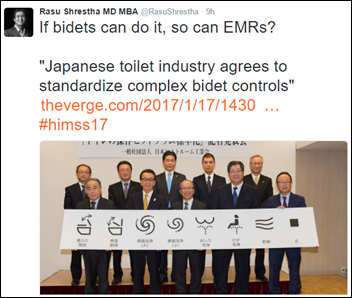 UPMC Chief Innovation Officer Rasu Shrestha, MD shares the news that members of the Japan Sanitary Equipment Industry Association have agreed to standardize the images used on Japanese toilet control panels. (Yes, you read that correctly.) The move was made in an effort to accommodate Western tourists, who have had trouble understanding the controls, which operate features like warm air drying and the bidet.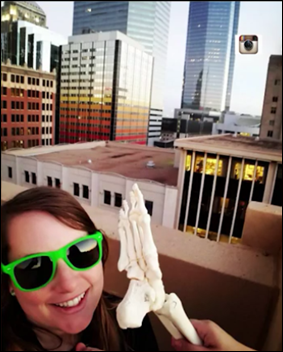 Epithelioid sarcoma patient Kirsti Loyall hasn't let losing her right foot keep her from going places. She kept the amputated foot and has begun documenting their adventures via her "onefootwander" Instagram account, which she hopes will prove to her followers that there is life after cancer.
---
Contacts
More news: HIStalk, HIStalk Connect.
Get HIStalk Practice updates.
Contact us online.
Become a sponsor.