Top News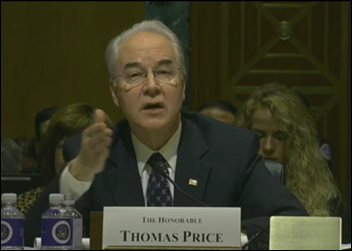 HHS Secretary nominee Rep. Tom Price, MD (R-GA) faces his second confirmation hearing. Today's four-hour grilling saw Price take questions from the Senate Finance Committee, with much of it focusing on his stock purchases, stance on Medicaid expansion, and any insight he may have regarding Trump's repeal and replacement plan for the ACA. He remained mum on the President's plans, only going so far as to say that he was committed to affordable and accessible healthcare. The  Finance Committee has the jurisdiction to vote on his nomination, after which the full Senate will vote on his confirmation. If confirmed (and media outlets report that is likely based on party-line votes), Price will become the first physician in 24 years to head the department.
---
HIStalk Practice Announcements and Requests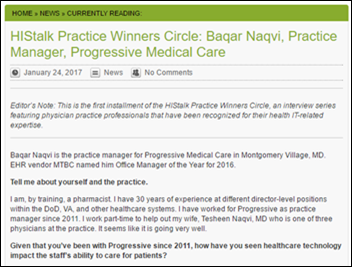 Be sure to check out the first installment of the HIStalk Practice Winners Circle, an interview series featuring physician practice professionals that have been recognized for their health IT-related expertise. If you know of someone who has received accolades for their way with health IT, let me know. I'd be happy to interview them.
---
Webinars
January 26 (Thursday) 1:00 ET. "Jump Start Your Care Coordination Program: 6 Strategies for Delivering Efficient, Effective Care." Sponsored by Healthwise. Presenters: Jim Rogers, RN, RPSGT, director of healthcare solutions, Persistent Systems; Jason Burum, chief client officer, Healthwise. This webinar will explain how to implement a patient-centered care coordination program that will increase quality as well as margins. It will provide real-world examples of how organizations used care coordination to decrease readmission rates, ED visits, and costs.
February 1 (Wednesday) 1:00 ET. "Get your data ready for MACRA: Leveraging technology to achieve PHM goals." Sponsored by Medicity. Presenters: Brian Ahier, director of standards and government affairs, Medicity; Eric Crawford, project manager, Medicity; Adam Bell, RN, senior clinical consultant, Medicity. Earning performance incentives under MACRA/MIPS requires a rich, complete data asset. Use the 2017 transition year to identify technology tools that can address gaps in care, transform data into actionable information, and support population health goals and prepare your organization for 2018 reporting requirements.
---
Announcements and Implementations

Direct messaging and addresses continue to achieve record levels, according to the latest stats from nonprofit overseer DirectTrust. Direct interoperability network participants sent 98 million messages in 2016 – 33.5 million of which were sent in the fourth quarter. Participation increased by 36 percent – from 52,000 in 2015 to 71,000 in 2016 – further proof in my mind that physicians will act on interoperability when given the chance.

Ophthalmology and optometry software and services company Eye Care Leaders integrates OptimizeRx's prescription savings service with its partner EHRs, including EyeDoc, Integrity EMR, IO Practiceware, ManagementPlus, MDoffice, and Medflow.
Physician service business Ion Solutions will offer Healthgrid's patient engagement technology to its practice-based oncology customers. The tool will enable oncologists to stay connected with patients via mobile notifications/reminders, surveys, and educational resources – all aimed at improving medication adherence.
---
People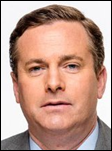 Patrick O'Keefe (Anthem|Empire BlueCross Blue Shield) joins Zelis Healthcare as chief commercial officer.
---
Research and Innovation

A MediKeeper study of 3 million employees with access to workplace wellness programs shows that corporate stress is on the decline. The study, conducted by the wellness portal developer between 2014 and 2016, found that the majority (36 percent) of respondents rated their stress level as a "2" on a scale of 1 to 5. Those who ticked "1" increased by nearly 60 percent over the three-year period. Those that reported the highest stress level – "5" – dropped by 39 percent. Though the study is a bit self-selecting, it does tangentially point to the impact access to programs via technologies like portals can have on employee health and wellness levels. It would be interesting to dig further into the data to find out just how much each employer's bottom line benefitted from less-stressed staff.
---
Other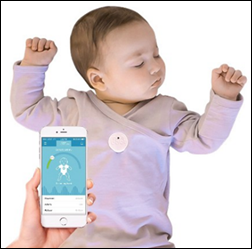 Providers take aim at the efficacy and safety of wearable baby monitors in a new JAMA editorial, calling out direct-to-consumer devices from companies like Baby Vida, MonBaby, and Owlet as being untested and inappropriate for infant monitoring. "[T]here is a serious question whether these are appropriate in monitoring healthy infants," says Christopher Bonafide, MD of Children's Healthcare of Philadelphia. "A single abnormal reading may cause overdiagnosis—an accurate detection that does not benefit a patient." His colleague, Elizabeth Foglia, MD adds that, "In the future, some physiological monitors may offer real benefits to vulnerable infants at home, but we have no evidence now that these devices are safe, accurate or effective."
---
Contacts
More news: HIStalk, HIStalk Connect.
Get HIStalk Practice updates.
Contact us online.
Become a sponsor.