Top News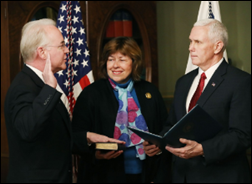 As expected, Rep. Tom Price, MD (R-GA) is confirmed as HHS Secretary. Vice President Pence, who administered the oath of office, wasted no time in highlighting what will likely be at the top of Price's to-do list: "President Trump has made it the top priority of this new Congress to repeal and replace the Affordable Care Act with healthcare reform that will lower the cost of health insurance without growing the size of government. And finding someone to lead Health and Human Services who brings a background in medicine, a background in healthcare, a background in budgetary issues in the Congress of the United States, who understands the unique challenges of state officials in programs like Medicaid was easily met when he made the decision to name Dr. Tom Price as the new Secretary of Health and Human Services."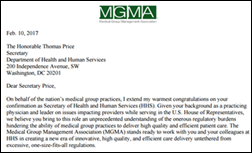 MGMA President and CEO Halee Fischer-Wright, MD pens a congratulatory note to the new secretary, asking that he be sure to work with physicians on reducing the administratively burdensome complexities surrounding HIPAA, reducing the cost and reporting burden of MIPS, developing APMs that better dovetail with the needs and abilities of physician practices, and providing greater flexibility in EHR certification standards. 
---
Webinars
None scheduled in the coming weeks. Previous webinars are on our YouTube channel. Contact Lorre for information on webinar services.
---
Announcements and Implementations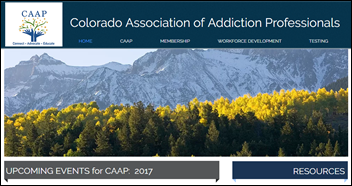 The Colorado Association of Addiction Professionals will implement EnSoftek's DrCloudEHR behavioral health software across its member agencies.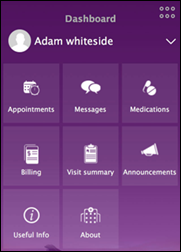 MedicalMine adds a mobile app publishing tool to its Charm EHR/PM/RCM suite of solutions, giving independent physicians the ability to customize their own branded app with features including scheduling, messaging, and bill payment; and to publish it to various app stores.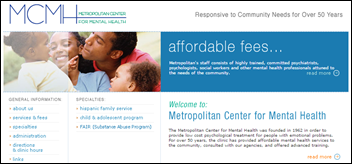 Metropolitan Center for Mental Health (NY) moves 170 end users at its three locations in Manhattan from paper documentation to TenEleven Group's Electronic Clinical Record.
The State of Oregon's Washington County Dept. of Health and Human Services selects EnSoftek's DrCloudEHR to help improve its countywide behavioral health, addictions, and developmental disabilities programs.
---
Government and Politics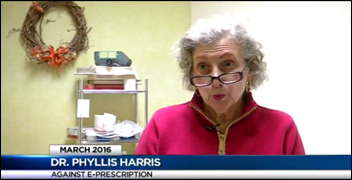 The local news takes a retrospective look at the State of New York's e-prescribing law, which went into effect last March in an attempt to help curb the state's opioid abuse rates. (It is the first state to penalize physicians who fail to e-prescribe and use the associated registry.) At first, physicians were leery of the extra work e-prescribing and checking the registry would entail, but now some seem to be softening. "The prescriptions are legible," says pediatrician Edward Lewis, MD. "You have control over it. You can follow the electronic trail log in terms of where the prescription was sent and when it was sent." Lewis and several of his colleagues believe the legislation has indeed helped keep controlled substances in hand. "Before I write a prescription for a controlled substance, like an ADHD medicine," he says, "I have to go on to the NYS registry and see when the last time the prescription was written."
---
Telemedicine
Senator Mike Shirkey (R-MI) and Rep. Eric Leutheuser (R-MI) tour the Community Health Center of Branch County's Cardinal Connect clinic to gain a better understanding of how school-based virtual clinics in three Michigan counties are helping students access primary care from CHC's Pediatric and Adolescent Center. "One of the most important aspects of our job is to get the word out about the School Tele-health program," said Program Manager Theresa Gillette during the tour. "Every day we touch the lives of students in Branch County, but we have to remember that our model has the opportunity to impact the lives of students across Michigan. We don't take that responsibility lightly." According to the American Telemedicine Association's latest stat-by-state report card, Michigan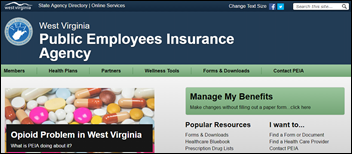 The West Virginia Public Employees Insurance Agency rolls out telemedicine services from ISelectMD to its 180,000 beneficiaries. The Hilton Head, SC-based company entered the West Virginia market four years ago when it offered similar services to Harrison County employees.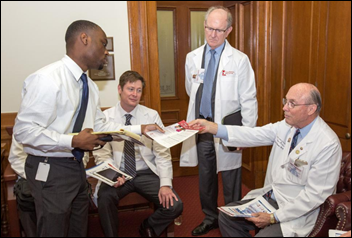 The local business paper digs a little deeper into the progress Texas stakeholders finally seem to be making in crafting telemedicine legislation that everyone can agree on. Texas Medical Association President Don Read, MD confirms the key issue of the latest proposed bill is the definition of the doctor-patient relationship. TMA members want to ensure that any legislation passed doesn't skip over this crucial element. "We think that it should meet the same standards of care as if I see somebody in my office," Read explained. "We're on board, as long as we can have that. The model that led to all this problem, they [presumably vendors like Teladoc] didn't want a doctor-patient relationship. They just wanted to say, give us a call, we'll prescribe and charge you $65, and we'll keep going."
---
Other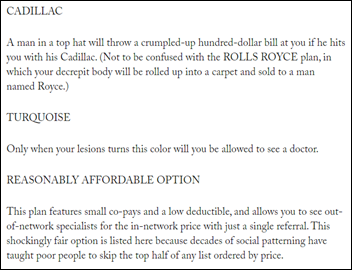 The New Yorker fantasizes about what new healthcare plans might look like under the Trump administration:
Platinum
For a monthly premium of two hundred and fifty thousand dollars, this plan gives you prime access to all health-care options—no referrals or medical ailments required! If you'd like an MRI just for the fun of it, you'll be slid into the very next available magnetic scanning tube. All prescription medication is free, plus the pharmacist has to say, "I love you; you are my moral superior," when you pick it up.

Gold
The same as the Platinum Plan, but only available to people who own a gold mine.

Silver
For the incredible price of just $49.99 a month, you'll receive a five-hundred-milliliter bottle of an unbelievable liquid miracle cure containing nanoparticle colloidal silver! Just one tablespoon daily will boost immune-system strength, make skin look decades younger, and improve your performance in the boardroom and the bedroom.

Bronze
You can see any doctor in your network for only a ten-dollar co-pay. Your deductible is forty million dollars.
---
Contacts
More news: HIStalk, HIStalk Connect.
Get HIStalk Practice updates.
Contact us online.
Become a sponsor.