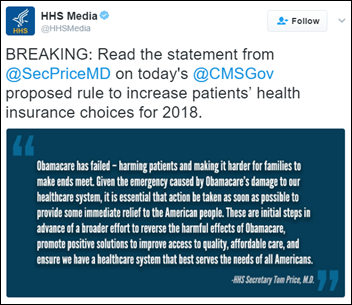 HHS Secretary Tom Price, MD wastes no time in getting the ball rolling on reforming several provisions of the Affordable Care Act. In an effort to "stabilize the Marketplace, provide more flexibility to states and insurers, and give patients access to more coverage options," CMS has issued a proposed rule that includes reducing the open enrollment period from three months to six weeks, more stringent vetting practices to ensure people who sign up outside of those six weeks do so for legitimate reasons, and giving states more responsibility to ensure their consumers have adequate network coverage options. The rule also requires people who drop coverage to pay the difference owed for the full year before they can enroll for the following year. Comments on the proposed rule are due March 7.
---
HIStalk Practice Announcements and Requests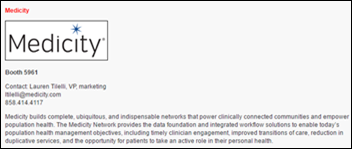 Don't miss HIStalk's Guide to HIMSS17. Over 60 companies, including several HIStalk Practice sponsors, have submitted their exhibit hall plans. It's a great resource for planning your giveaway-grabbing strategy.
---
Announcements and Implementations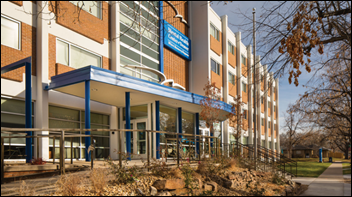 The Mental Health Center of Denver integrates RxRevu's RxCheck prescription decision support technology with its Netsmart EHR. The center will work with RxRevu to enhance the tool's cost management and pharmacogenomics capabilities.

Fourteen CommonWell members agree to develop APIs that will help drive proactive data availability notifications, provide data needed for life and disability insurance coverage, and to integrate CommonWell services into the ecosystems of providers who don't use CommonWell-enabled EHRs.
Sam's Club installs Higi health-screening kiosks at 622 pharmacy locations. The free, self-service screenings will be offered in tandem with the discount superstore's existing free screening programs.
---
Acquisitions, Funding, Business, and Stock
Diversified holding company IGambit acquires patient eligibility and chronic care management company HubCentrix as originally announced last fall. HubCentrix will operate as a subsidiary of IGambit under the new name of HealthDatix.
---
People
Healthwise Chief Science Officer Michael Barry, MD is appointed to the US Preventive Services Task Force.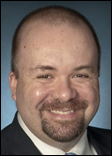 MGMA welcomes incoming board chairman Ron Holder Jr. (Baylor Scott & White Health). The association has also added five new members to its Board of Directors, including Mike Biselli (Catalyst Health-Tech Innovation), Eric Crockett (Mayo Clinic), Anne Hill (Gastroenterology Associates of the Piedmont), Richard Schlosberg, MD (ABCD Pediatrics), and Jeffrey Smith (Piedmont Healthcare). Speaking of MGMA, tomorrow is the last day to register for the association's Financial Management and Payer Contracting Conference, which will take place February 19-21 in Las Vegas. Attendees will no doubt enjoy a more low key event than those of us that are about to ourselves through yet another round of #HIMSSanity.
---
Telemedicine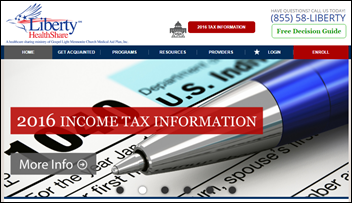 Christian health cost-sharing company Liberty HealthShare rolls out Salus Telehealth's VideoMedicine offering to its members. The nonprofit, which brings together self-pay patients who share each other's medical bills, has seen its membership soar from 16,000 to 48,000 households in the last year. Organizations like these, which are technically not health insurance companies, are seeing a surge in popularity due to far more affordable premiums and the religious exemption afforded to them from the ACA's coverage mandate.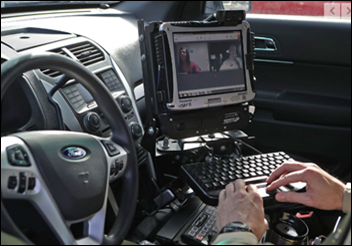 The local paper looks at the ways in which first responders in rural areas are using telemedicine to connect therapists with people in the throes of a mental health crisis. The Southwest Iowa Mental Health and Disability Services Region's Mental Health Crisis Response Team has used its new video conferencing technology to help three adults and one minor over the last several weeks. "It's a bit different," admits lead therapist Mandy Standley, "because you have to build that connection, since you're not really there. You have to build that rapport in an unusual setting. The people we did see through telehealth, none of them had to go to the hospital. We were able to de-escalate the situation and make a safety plan." Deputy Mark Freeman makes sure to point out that the video consult does not have to take place in the back of a squad car. "We can take our computer out of the car and set this on a table or something in their home, if that makes them feel more comfortable," he adds.
---
Other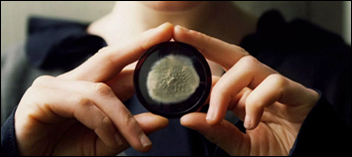 Valentine's Day may have come and gone, but it's never too late (or too soon) to think about what to get the sweetheart who has everything. Consider purchasing lot 92 at Bonhams auction house. The encased blob of mold is part of the original culture of Penicillium chrysogenum that led to Alexander Fleming's 1928 discovery of penicillin. The mold is expected to fetch around $5,000 – a lowly sum thanks to the fact that Fleming apparently gave away his mold to many for just about any and every occasion. Historian Kevin Brown says the bacteriologist grew his gift mold on absorbent paper and pressed the samples between spectacle lenses sourced from the optometry practice owned by his brother.
---
Sponsor Updates
Blog Posts
---
Contacts
More news: HIStalk, HIStalk Connect.
Get HIStalk Practice updates.
Contact us online.
Become a sponsor.