Disrupting the Traditional Physician Practice
By Waqaas Al-Siddiq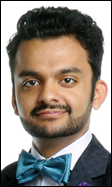 The emerging field of connected healthcare is rapidly becoming a reality and has the potential to overturn a healthcare system deeply rooted in pen, paper, and people. This leaves healthcare workers wondering what their future role will be. Big data at the individual level will introduce terabytes of biological, anatomical, physiological, and environmental information that a human will simply be unable to process. This data-deluged future will require synergy between man and machine, which will ultimately transform life science into data science. It will also markedly improve healthcare and health outcomes.
Remote patient monitoring is the use of wireless, remote technology to manage patients at a distance. This includes not only apps on smartphones and tablets, but smart sensing technologies coupled with artificial intelligence. They have low-power connectivity, streamlined user interfaces, data processing, and the capacity to store and analyze data for medical use. This, and other kinds of connected care, promises to make diagnosis, treatment, and prevention widely accessible at a fraction of current costs. Even today, wearable devices are available that can diagnose heart conditions; asthma monitoring sensors that detect poor air quality and adherence to medication; and glucose monitors that send the data of diabetics straight to their smartphones. By improving patient adherence and preventing unnecessary physician visits, connected care technologies like AI-enhanced RPM promise to reduce costs and improve lives.
A facet of healthcare that is particularly poised to benefit from AI-enhanced RPM is chronic care management. CCM is the most expensive branch of care, soaking up 86 percent of America's healthcare dollars. Typically, a physician will prescribe medicines, suggest lifestyle changes, and schedule follow-up visits, which leaves much of the ongoing "management" of the disease to the individual.
In their summer 2015 Equity Research publication entitled "The Digital Revolution comes to US Healthcare", Goldman, Sachs & Co. name two specific ways that RPM can improve chronic care management:
By digesting and presenting data in a customizable and comprehensible way, RPM applications will enable physicians to act immediately. This will also help the patient to immediately understand their health status and counter any negative progression.
By continuously monitoring a patient's vital signs, AI-enhanced RPM can catch or even predict acute care events and initiate action that will save the patient.
Currently, cardiologists use Holter monitors to capture a patient's heart's activity over a 48-hour period. The data is brought back to the physician, who then renders a report based on that past activity. Conversely, RPM would capture and relay activity in real-time to doctors, catching any immediate dangers as well as conditions that take longer periods of time to diagnose. The AI would then analyze the data for variances, comparing it to other patient data, and amalgamating a personalized data set. This will not only improve health outcomes, but more effectively leverage a physician's time by eliminating the need to compile reports and personalized treatment plans. This will free their schedule so that they can interact with more patients, and focus on the complex cases that require human intervention.
Jack Kreindler, MD founder of London's Center for Health and Human Performance, sees great potential for RPM enhanced with AI. He envisions being able to move beyond the simplistic rules of current monitoring to "use these technologies to eliminate all avoidable hospitalization and in the process, solve the trillion-dollar problem of chronic disease, which is crippling our economies."
Properly employing healthcare technology can result in better patient outcomes, improve convenience, and potentially lower healthcare costs, but there is still concern about the doctor's future active role in patient care. The shift in the healthcare reimbursement paradigm from fee-for-service to value-based care is only the first step towards the implementation of connected healthcare, which began with the desire to keep patients out of hospitals beds. Now that the motivations of both patients and physicians are aligned, technology is positioned to facilitate and empower this new collaboration. Implementing highly sophisticated tools like AI-enhanced RPM would allow physicians to engage patients and offer better treatment that is also more comprehensive.
AI-enhanced technology is poised to disrupt the current healthcare paradigm. It will support the physician's traditional role in healthcare while also empowering patients, and inviting collaboration and knowledge, which will result in a better partnership for overall health.
Waqaas Al-Siddiq is founder and CEO of Biotricity in Redwood City, CA.
---
Contacts
More news: HIStalk, HIStalk Connect.
Get HIStalk Practice updates.
Contact us online.
Become a sponsor.