Top News
GAO releases a 72-page, MACRA-mandated report on utilization of telemedicine in Medicare programs, highlighting provider-reported factors that influence its use, and nascent payment and delivery models that could affect its future. There's definitely room for increased adoption: The report notes that a small percentage of beneficiaries received care via telemedicine – "from less than 1 percent of beneficiaries in Medicare and DOD to 12 percent in VA." Top barriers include inadequate payment, coverage restrictions, and lack of infrastructure. Top benefits include convenience, coverage, and its ability to alleviate physician shortages. The report is likely not the last of its kind, given the fact that government officials are still trying to determine if telemedicine services will reduce Medicare spending if used in place of in-person visits, or increase spending if used in addition to such visits.
---
Webinars
April 26 (Wednesday) 1:00 ET. "SSM Integrated Health Technologies Clinical Data Migration: Functional and Technical Considerations." Sponsored by Galen Healthcare Solutions. Presenters: Sandy Winklemann, MHA, RHIA, project manager, SSM Integration Health Technologies; Tyler Mawyer, MHA, managing consultant, Galen Healthcare Solutions; Kavon Kaboli, MPH, senior consultant, Galen Healthcare Solutions. GE Centricity and Meditech to Epic EHR transition. Join us for a complimentary webinar as present the decisions that are important to consider when performing a clinical data migration from the point of view of  the healthcare organization program manager, the clinical analyst, and the technical implementation team. Our expert panel will survey data migration considerations, best practices, and lessons learned. The webinar will present a unique client perspective, offering insight into considerations surrounding staffing, clinical mapping, legacy application support, and validation and testing.
Previous webinars are on our YouTube channel. Contact Lorre for information on webinar services.
---
Telemedicine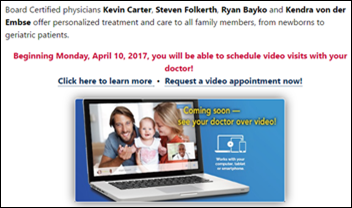 Providence Medical Group (OH) pilots telemedicine services from Chiron Health at its Beavercreek Commons Family Practice. The group intends to roll out the service across its 14 other practices in the near future.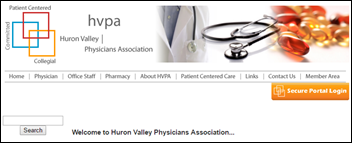 Huron Valley Physicians Association (MI) will implement telemedicine services from My EPhysicians at three of its clinics. "Our plan is to begin this all around behavioral health integration with two psychiatric offices doing collaborative care with primary care physicians," says Alicia Majcher, quality and operations director at HVPA. Should all go well, HVPA will add virtual consult capabilities at its 15 other clinics.
---
Acquisitions, Funding, Business, and Stock

Physician practice marketing firm MedLaunch Solutions opens for business in Lincoln, NE. Founder and cardiothoracic surgeon Rick Thompson, MD is no stranger to startups. He launched the app-based CCM and remote patient monitoring company Together Clinic several years ago with fellow Bryan Health physician Ryan Whitney, MD.
---
People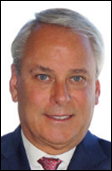 Scott Schrader joins Access Healthcare as chief commercial officer.
---
Government and Politics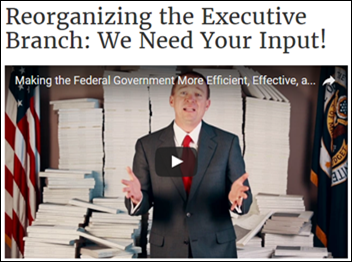 Now's your chance: Whitehouse.gov offers citizens a chance to weigh in on what agency they'd like to reform and eliminate as part of a broader effort to make the federal government more efficient and effective. Input and reform ideas are due June 12. It will be interesting to see (if it's publicized) how many health-related departments receive votes, and what ideas for reform entail. ONC, in particular, seems to be in the crosshairs of the initiative, with a continued hiring freeze and rumors of downsizing.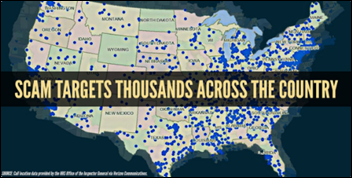 HHS reminds consumers that it never makes unsolicited phone calls after a woman in Jacksonville, FL receives one from a purported OIG fraud hotline rep asking for her name, address, and other personal information that could be used in future identity theft activities – all under the guise that she had won a $9,000 grant from the government. The caller has targeted thousands of unsuspecting people by "spoofing" the hotline number (making it appear on their caller IDs).
---
Sponsor Updates
STAT profiles GE Healthcare CEO John Flannery.
NVoq will exhibit at the TORCH Annual Conference & Tradeshow April 18-20 in Dallas.
Blog Posts
---
Contacts
More news: HIStalk, HIStalk Connect.
Get HIStalk Practice updates.
Contact us online.
Become a sponsor.