Top News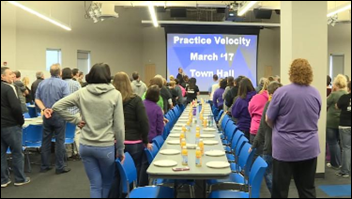 Practice Velocity CEO David Stern, MD surprises the company's 240 employees when he tells them they will become shared owners in the Rockford, IL-based company that launched in 2002. "This ownership change will enable our most valued asset – our employees – who for years have demonstrated ownership behaviors in caring for clients, to now be actual owners of the company," Stern enthused. "As owners, we realize tomorrow's success is dependent on serving our clients well, every day."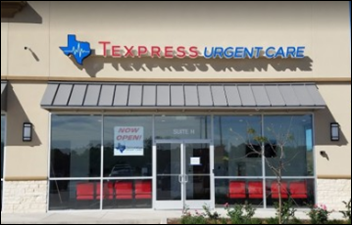 Texpress Urgent Care (TX) announced it will implement the company's VelociDoc EHR.
---
Webinars
None scheduled soon. Previous webinars are on our YouTube channel. Contact Lorre for information on webinar services.
Here's the recording from last week's HIStalk-sponsored webinar, "3 Secrets to Leadership Success for Women in Healthcare IT," presented by Nancy Ham (WebPT) and Liz Johnson (Tenet Healthcare).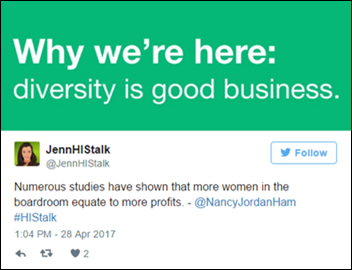 Shorter attention spans may appreciate my tweet recap of the webinar.
---
Announcements and Implementations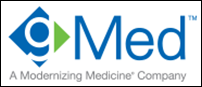 Gastroenterology EHR vendor GMed develops a data extraction tool to help physicians report OAS CAHPS results to survey vendors.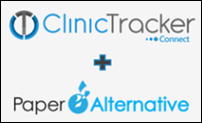 ClinicTracker offers its behavioral health EHR users document management and archiving services from Paper Alternative Solutions.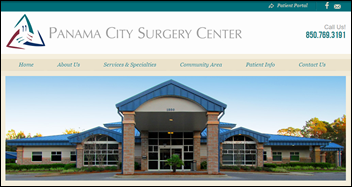 Panama City Surgery Center (FL) implements self-service check-in and real-time patient wait time and progress update technology from Jellyfish Health.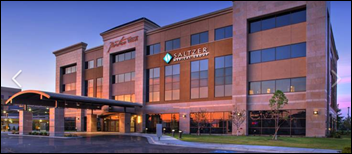 Multispecialty practice Saltzer Medical Group (ID) signs a long-term managed services agreement with Change Healthcare, which will help ease its transition away from St. Luke's Health System to becoming an independent practice.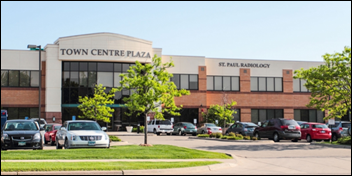 St. Paul Radiology (MN) renews its agreement with Zotec Partners for RCM technology and services.
---
People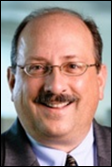 Phillip Spinelli (Visiant Health) joins Ingenious Med as SVP and chief revenue officer.



The American Telemedicine Association elects Peter Yellowlees, MD (UC Davis) president of its Board of Directors. Bart Demaerschalk, MD (Mayo Clinic) and Christopher Northam (HCA) have also joined the board.
---
Telemedicine

Doctor on Demand adds lab services, including appointment booking and follow-up guidance, from Quest Diagnostics and Lab Corp. to its virtual consult app.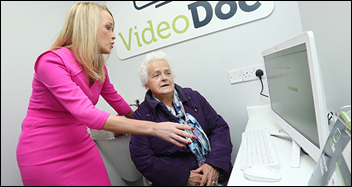 Now that's a good idea: Ireland-based VideoDoc partners with the Irish Postmasters' Union and Irish Medical Council to offer virtual consults at a post office in Kildare ahead of a potential national roll out. "Postmasters are the heart of rural communities that struggle to access vital services such as a GP consultation," says IPU General Secretary Ned O'Hara, echoing the struggles US patients in rural areas have in seeking out nearby care. "The IPU looks forward to monitoring the success of this pilot and to its expansion across the network."
---
Other

Peter Masucci, MD highlights his struggle to remain independent in the face of escalating interoperability challenges. The pediatrician, who has affiliated himself with a larger, local physician group to take advantage of economies of scale, finds himself in a position faced by many an EP – mandated conversion to an enterprise EHR. It's a situation he's none too pleased with, all the more so because it reeks of information blocking. "It's a shame that healthcare technology is being manipulated to protect and defend market share instead of being tweaked to enable connectedness across all care sites," Masucci laments. "As an industry, we need to activate our technologies to heal — not to hinder and distract providers."
---
Sponsor Updates
The Milwaukee Journal Sentinel names Nordic to its Top Workplaces for 2017.
Aprima Medical Software receives the 2017 United States Frost & Sullivan Award for Product Leadership.
---
Contacts
More news: HIStalk, HIStalk Connect.
Get HIStalk Practice updates.
Contact us online.
Become a sponsor.