Top News
STAT publishes a well-written look at former CMS Administrator Andy Slavitt's new life as a "wonk-turned-evangelist," focusing on his seemingly non-stop efforts to protect the Affordable Care Act through a series of town hall events. "It's not about a bunch of policy arguments," Slavitt emphasizes. "It's about getting out here in the real earthy world where people are going to have to place their votes, and it's one senator at a time."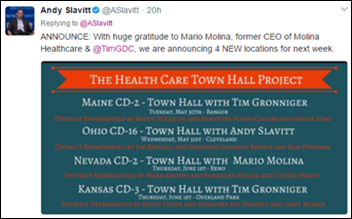 Slavitt maintains that sponsoring organizations – of which there seem to be few aside from the Save My Care coalition – are not in fact bussing people in to attend his in-person appearances, as Rupert Murdoch has recently asserted. "That's what he said," Slavitt says. "And you know, we just had 3,300 people on a call from Alaska. Where do they get bussed in from?"
---
Webinars
None scheduled in the coming weeks. Previous webinars are on our YouTube channel. Contact Lorre for information on webinar services.
---
Announcements and Implementations
Charlotte County Public Schools taps Marathon Health to take over operations of its onsite health center, upping the company's presence in Florida to 21 facilities.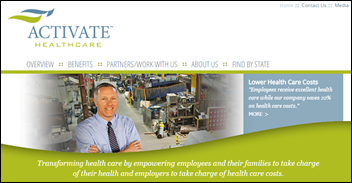 Onsite primary care clinic company Activate Healthcare will implement Twine Health's Employee Health Activation platform, which helps employers enroll and engage employees in the management of chronic conditions like hypertension and diabetes. Activate will integrate Twine technology with its NextGen EHR via Redox's interface engine.
Innovaccer offers consultation services for IPAs looking to transition to ACOs.
---
People

Allscripts adds Mara Aspinall (Health Catalysts) to its Board of Directors.
---
Telemedicine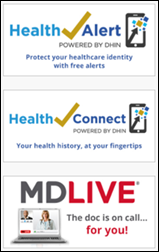 The Delaware Health Information Network offers virtual consult services courtesy of MDLive as part of a consumer engagement effort that also includes the launch of a PHR, and text-based messaging service that will alert patients when lab results from participating providers are available for viewing.
---
Research and Innovation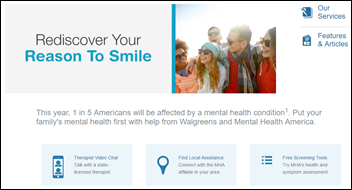 One year after debuting a mental health screening tool built in partnership with Mental Health America, Walgreens finds that 75 percent of users who complete screenings actively follow up on recommendations, particularly in the areas of treatment and resource referrals, and further screening for anxiety and PTSD. Of that group, over 30 percent enter into treatment and 24 percent discuss results with family, friends, or a provider. MHA will expand its partnership wit Walgreens this summer when it adds a pharmacy chat feature to its website.
---
Government and Politics
The local paper highlights the optimism physician practices in the Buffalo region of New York have thanks to the recently announced inclusion of the area in the second round of the Comprehensive Primary Care Plus program. Area providers believe the program will help some struggling practices stay in business, attract new providers and practices to the area, and better enable the remote monitoring of patients. Nearly 3,000 practices are participating in the first round of the program. Another thousand are expected to participate in round two, which kicks off in January 2018.
---
Other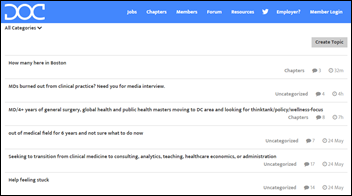 The first rule of Drop Out Club is …: Scientific American looks at the increasing popularity of online forums geared towards letting physicians air and commiserate about their burnout grievances. Drop Out Club is one such network, offering its 37,000 members an advice forum, job board, and private messaging. "Reading all these stories of people trying to leave made me realize I wasn't crazy for being unhappy in this career I had worked so hard for," says former emergency physician Maryam Shapland, MD who is now a medical director at a life insurance company. "Leaving medicine felt like giving up a big part of my identity. But I'm proud of what I do now. Most importantly, I'm happy and thriving."
---
Contacts
More news: HIStalk, HIStalk Connect.
Get HIStalk Practice updates.
Contact us online.
Become a sponsor.