Top News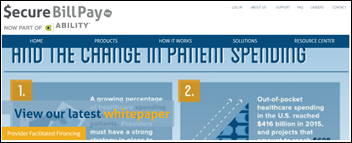 Minneapolis-based RCM vendor Ability Network acquires Eagen, MN-based Secure Bill Pay, which offers online, point of service, and back office payment applications. Ability Network will retain all of SBP's employees. Ability Network has raised nearly $600 million since launching as VisionShare in 2009. SBP is its sixth acquisition. It acquired ShiftHound in April, and EHealth Data Solutions and G4 Health Systems last year.
---
HIStalk Practice Announcements and Requests


Don't miss last week's interviews with:
Ashley Moss, MD founder of a new house call-based pediatric practice in Maryland. I enjoyed talking with her about the ways she's using technology to care for her patients.
Geeta Nayyar, MD chief healthcare and innovation officer at Femwell Group Health. She offered a compelling take on the ways in which new patient engagement technologies are helping Femwell physicians improve care plan adherence.
---
Webinars
None scheduled soon. Previous webinars are on our YouTube channel. Contact Lorre for information on webinar services.
---
Announcements and Implementations

Community Health Partnership – a group of 25 provider organizations that provide care to Medicaid patients via the Community Care of Central Colorado program – selects ClientTrack care coordination technology from Eccovia Solutions.
Betances Health Center (NY) will pilot smart messaging technology from Klara Technologies thanks to grant funding provided by Health 2.0 and New York City Economic Development Corp. Goals for the pilot include reducing time needed to handle patient requests, as well as unnecessary callbacks and voicemails.

Cow Creek Health & Wellness Center, a 10-physician clinic within the Oregon Indian Health Service, will replace its government-provided Resource and Patient Management System with Intergy software from Greenway Health.
MTBC guarantees that new PracticePro customers will not face the upcoming 4-percent Medicare reimbursement penalty predicted for small practices that don't comply with MACRA in 2017.
---
People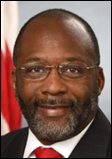 Former National Coordinator Vindell Washington, MD joins Blue Cross and Blue Shield of Louisiana as CMO. Before his time in government, Washington was president of the Franciscan Missionaries of Our Lady Health System's medical group in Baton Rouge.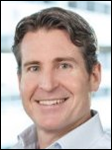 Sylvan Waller, MD (MDLive) joins Miami-based telemedicine startup EpicMD as CMO.
---
Acquisitions, Funding, Business, and Stock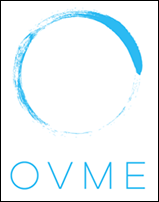 Physician turned entrepreneur Mark McKenna, MD outlines his plans to launch a retail medical aesthetics business that will provide, among other services, Botox injections via app-powered house calls. Virtual consults are also in the works. The company has raised $38 million so far, and plans to open its first clinics in Atlanta and Nashville.
Med Tech Solutions acquires the health IT business of holding company Constellation for an undisclosed sum. MTS, which supports EHR software from NextGen, EClinicalWorks, and Practice Fusion, among others, will retain most of Constellation's employees. 
---
Government and Politics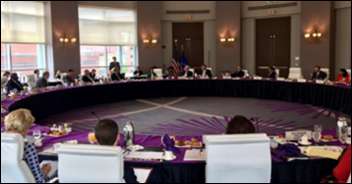 HHS Secretary Tom Price, MD and CMS Administrator Seema Verma address the federal government's efforts to combat opioid abuse during their time at the National Governors Association Meeting in Rhode Island. Price specifically mentioned the need to bolster timely public health data and reporting, presumably via PDMPs.

Also at the meeting, CVS Health and Rhode Island Governor Gina Raimondo announced plans to open an Opioid Center of Excellence focused on expanding medication-assisted treatment for opioid-addicted patients. CVS, which is headquartered in Rhode Island, will invest $250,000 in the facility.
---
Research and Innovation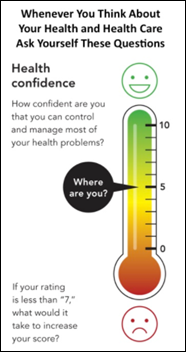 Solo family physicians Lynn Ho, MD and Jean Antonucci, MD advocate for the use of patient-generated data culled from free online tools like How's Your Health? as a means to increase the health confidence of patients and, in turn, improve quality and outcomes. "Unfortunately," they add, "despite the advantages and ease of use of this combined approach to measurement and improvement, we have encountered resistance from regional payers and quality organizations when suggesting the use of patient-entered data for quality measurement. Primary care physicians are forced to spend too much time gathering and reporting quality data when tools like How's Your Health? are available."
---
Telemedicine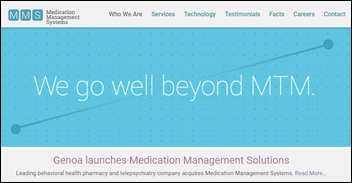 Telepsychiatry and behavioral health pharmacy company Genoa acquires Minneapolis-based Medication Management Systems for an undisclosed amount, and rebrands it to Genoa Medication Management Solutions. Tukwila, WA-based Genoa operates 370 pharmacies within community mental health centers across the country.

Telemedicine backpack developer SwyMed will make its virtual consult capabilities available via Google Glass, which is being re-introduced as a tool for enterprise environments.
---
Contacts
More news: HIStalk, HIStalk Connect.
Get HIStalk Practice updates.
Contact us online.
Become a sponsor.