Understand Communication Preferences to Improve Patient Retention
By Jim Higgins
Patients want convenience. They expect your practice to deliver the same kind of "me-focused" healthcare experience they receive from other consumer-oriented businesses. If they don't get it, they're likely to switch to another provider. We're not just talking about patients in the Millennial generation, either. Although this age group may top the list of doctor-hoppers, this Patient-Provider Relationship Study shows that one in five baby boomers (adults ages 52 to 70) is also likely to switch doctors in next few years.
Fortunately, providers have technology on their side. Mobile technology adoption is peaking for patients in every generation demographic. That means providers have a host of largely untapped communications tools at their fingertips, which can dramatically impact patient satisfaction, loyalty, and retention. Tools centered on improving patient relationship management can help providers give patients the personalized healthcare experience they seek.
Inside the Data
As the aforementioned study attests, patients often feel more like a number than a person to their physician practices. This is important to realize because patients who feel detached from their providers are at higher risk to leave and switch to a competing practice.
Based on phone surveys with more than 2,100 US consumers ages 21 to 70, the study reveals some interesting trends when it comes to patient loyalty. In addition to 20 percent of baby boomers who anticipate they'll soon switch practices:
Twenty-four percent of boomers said they'd already changed practices in the past year.
Switching PCPs is more than twice as common among Gen Xers (individuals 35 to 51 years of age); 44 percent said they're likely to change doctors in the next few years.
Millennials (21- to 34-year-olds) switch with even greater frequency; 54 percent already have made a recent change, and 43 percent will likely do so soon. 
Such practice-hopping isn't good for practices or for patients. In addition to impacting a practice financially, this trend can also negatively affect patient outcomes. It doesn't take a major practice overhaul, though, to make patients feel their individual needs are being met. In fact, the study also found that among patients in every generation, the same three things topped their "ideal doctor" wish lists – greater connectivity, convenience via text and online tools, and more time with their physicians.
Engage Patients with Smarter Communications
Making practice communication more personalized to each patient can be as easy as adding to or replacing traditional phone calls with text or email messages. According to the study, 73 percent of all patients desire the ability to text their doctor's office, while 79 percent would like to receive text messages from their physicians. (It's worth noting that a growing number of patients also say they would contact their doctors more often if they could text or email them.)
These data points make sense, considering smartphone adoption is at 77 percent, and patients are expecting more personalized technology experiences. Consumers of all ages use their smartphones to do everything from book flights to buy groceries. By providing personalized communications such as appointment reminders and practice updates — for example, a text that tells when the clinic plans to offer seasonal flu shots — practices have the ability to cement their places in the lives of their patients.
In fact, practices that adapt to the modern-day communication preferences of patients could easily set themselves apart from competing practices. Many medical practices still rely on older communication tools and marketing strategies, such as mailing postcard reminders for annual wellness visits. PRM tools could pave the way to better patient satisfaction — especially for patients looking for leading-edge doctor's offices. PRM solutions are much like a Swiss army knife, offering numerous capabilities for communicating information and accommodating patient preferences to encourage engagement.
Let's say, for instance, that a practice wants a more effective way to reach Millennial patients with information about wellness services like dietary counseling. A PRM tool could be used to create personalized e-newsletters, as well as filter the recipients so that the newsletters only reach the desired patient demographic (e.g., patients under 35 who are at risk for developing diabetes). The PRM solution's analytics function could then measure the e-newsletter's open rate, which would give the practice valuable data for designing future outreach strategies.
Another PRM solution that earns strong positive feedback from patients is online scheduling. These applications allow patients to set up their own appointments from their devices of choice. Online scheduling gives patients the power to actively select the appointment times that best fit their schedules.
Build Long-Term Relationships
Practices can set the bar higher with PRM technology that offers multiple applications for communicating timely information to patients, in formats that match their preferences. While communication isn't the only factor in determining whether a patient will remain loyal, it's one variable practices can control and improve over time. PRM technology is simply one way to deliver the personalized experience patients crave, so they are less likely to wonder if the grass is greener at another clinic.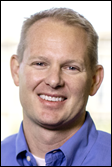 Jim Higgins is the CEO and founder of Solutionreach in Lehi, UT.
---
Contacts
More news: HIStalk, HIStalk Connect.
Get HIStalk Practice updates.
Contact us online.
Become a sponsor.