Top News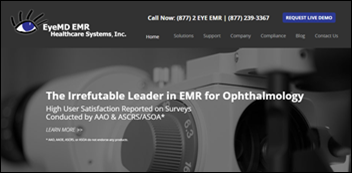 EyeMD EMR Healthcare Systems acquires ophthalmology-specific software for ASCs from competitor Health Care Intranet Technologies. CEO Abdiel Marin believes the new software will ease data transfer between its EHR customers and ASCs, and help the company gain more ASC market share.
---
HIStalk Practice Announcements and Requests
I neglected to mention earlier this week that Lorre is running her year-end special for new HIStalk (and HIStalk Practice) sponsors – avoid the pre-HIMSS rush, sign up now, and get the rest of this year free. She'll also offer a deal to wayward former sponsors who want to return to the fold.
---
Webinars

November 15 (Wednesday) 1:00 ET. "How Hospitals and Practices Can Respond to Consumerism by Better Engaging Patients Through Price Transparency and Payment Options." Sponsored by: Change Healthcare. Presenters: Kathy Moore, president, Moore Martini Medical; Linda Glidewell, VP of business development, consumer payment solutions, Change Healthcare. Healthcare consumerism and high-deductible health plans require providers to offer upfront estimates and payment options throughout all points of service. In his webinar, we'll discuss consumerism as a critical area of opportunity in revenue cycle management and review numerous areas across the revenue cycle where your staff interacts with patients and leaves lasting impressions. From your first interaction with patients on the phone to discuss financial responsibility; to collecting payments at all points of service; to offering payment plans and various payment options — these are all areas that can be game-changing. With the right approach to consumerism, you can improve patient collections and optimize revenue from the start while also improving the overall patient experience.
Previous webinars are on our YouTube channel. Contact Lorre for information.
---
Announcements and Implementations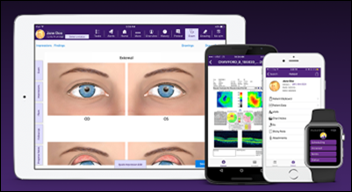 Modernizing Medicine adds new image management features, including improved centralized access and device integration, to its Modmed Ophthalmology EHR.
---
Acquisitions, Funding, Business, and Stock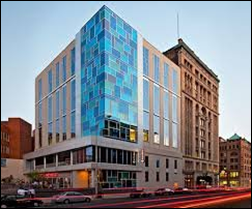 EHR, PM, and RCM vendor ISalus Healthcare relocates to larger office space in downtown Indianapolis. Fun fact: "Salus" is the ancient Roman Goddess of health, prosperity, and public welfare. Company founders tweaked the name to indicate their desire to positively impact healthcare with Internet-driven technologies. 
---
People

FastMed Urgent Care names Webster Golinkin CEO. Golinkin founded RediClinic in 2005 and stayed on with the company after it was acquired by RiteAid in 2014. He went on to become a member of RiteAid's senior management and CEO of its population health management-focused Health Dialog business.

Tom Visotsky (HCS) joins Kno2 as VP of vertical market sales.
---
Telemedicine
Blue Cross and Blue Shield of North Carolina begins offering employer-sponsored plan members virtual consults from MDLive.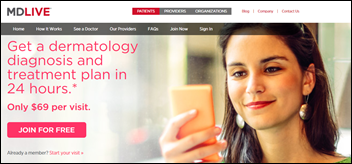 MDLive partners with online dermatology provider Iagnosis Healthcare to launch teledermatology consultations for consumers. It will offer the service to employers and payers on January 1, 2018.
---
Government and Politics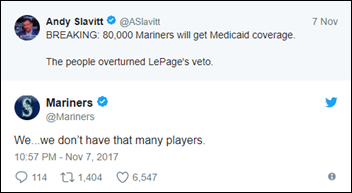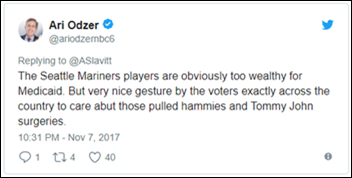 Seattle Mariners fans poke fun at Andy Slavitt's mis-tweet after Tuesday's contested vote in Maine over Medicaid expansion.
---
Other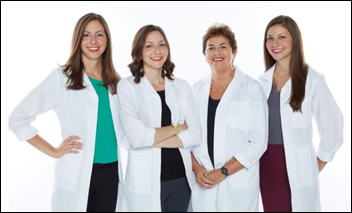 Bring Your Daughter to Work Day takes on a whole new meaning: Identical triplets Vicky, Sarah, and Joanna Bedell – all OB/GYNs who attended school at Brandeis University in Boston – join their mother Janet Gersten, MD at her recently renamed New Age Women's Health practice in Miami. As she contemplates retirement, Gersten sees a bright future ahead for her daughters. "The idea is to have a group practice with the three of them and have other doctors join them," she says. "We invested in a building; it's been customized to fit our needs for the practice and research business, and there's room to grow there for other practitioners."
---
Contacts
More news: HIStalk, HIStalk Connect.
Get HIStalk Practice updates.
Contact us online.
Become a sponsor.