Top News
Taking advantage of Twitter's new 280 character limit, President Trump announces that he will nominate Alex Azar for HHS Secretary, quickly followed by a tweet calling for an end to Obamacare's "unfair & highly unpopular" individual mandate.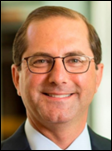 Azar served as HHS general counsel from 2001 to 2005, and then as deputy secretary until 2007, when he joined pharmaceutical giant Eli Lilly. He resigned as president of Eli Lilly affiliate Lilly USA in January.
---
Webinars

November 15 (Wednesday) 1:00 ET. "How Hospitals and Practices Can Respond to Consumerism by Better Engaging Patients Through Price Transparency and Payment Options." Sponsored by: Change Healthcare. Presenters: Kathy Moore, president, Moore Martini Medical; Linda Glidewell, VP of business development, consumer payment solutions, Change Healthcare. Healthcare consumerism and high-deductible health plans require providers to offer upfront estimates and payment options throughout all points of service. In his webinar, we'll discuss consumerism as a critical area of opportunity in revenue cycle management and review numerous areas across the revenue cycle where your staff interacts with patients and leaves lasting impressions. From your first interaction with patients on the phone to discuss financial responsibility; to collecting payments at all points of service; to offering payment plans and various payment options — these are all areas that can be game-changing. With the right approach to consumerism, you can improve patient collections and optimize revenue from the start while also improving the overall patient experience.


November 30 (Thursday) 1:00 ET. "Making Clinical Communications Work in Your Complex Environment." Sponsored by: PatientSafe Solutions. Presenters: Steve Shirley, VP/CIO, Parkview Medical Center; Richard Cruthirds, CIO, Peterson Health. Selecting, implementing, and managing a mobile clinical communications platform is a complex and sometimes painful undertaking. With multiple technologies, stakeholders, and disciplines involved, a comprehensive approach is required to ensure success. Hear two hospital CIOs share their first-hand experience, lessons learned, and demonstrated results from deploying an enterprise-wide mobile clinical communications solution.
December 5 (Tuesday) 2:00 ET. "Cornerstones of Order Set Optimization: Trusted Evidence." Sponsored by: Wolters Kluwer. Updating order sets with new medical evidence is crucial to improving outcomes, but coordinating maintenance for hundreds of order sets with dozens of stakeholders is a huge logistical challenge. For most hospitals, managing order set content is labor intensive and the internal processes supporting it are far too inefficient. Evidence-based order sets are only as good as their content, which is why regular review and updates are essential. This webinar explores the relationship between clinical content and patient care with an eye toward building trust among the clinical staff. Plus, we will demonstrate a new evidence alignment tool that can easily incorporate the most current medical content into your order sets, regardless of format, including Cerner Power Plans and Epic SmartSets.
Previous webinars are on our YouTube channel. Contact Lorre for information.
---
Announcements and Implementations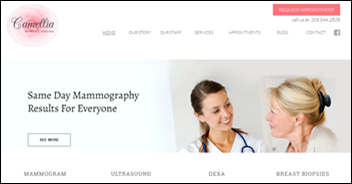 Camellia Women's Imaging (AL) selects mammography tracking, physician portal, PACS, RIS, and speech-recognition technology from eRad.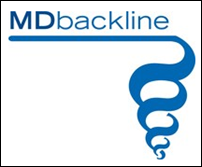 Laguna Beach, CA-based patient engagement company MDBackline develops software that automates the patient intake process and shares relevant health data with a practice's EHR.
---
Acquisitions, Funding, Business, and Stock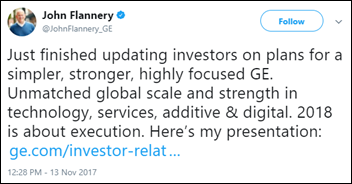 GE CEO John Flannery claims 2018 will be a "reset year" for the company during a presentation to investors. Flannery stressed that the company will remain committed to its health care, aviation, and energy businesses. It will undergo a broader restructuring that will include laying off 25 percent of staff at its home office in Boston, downsizing its board, eliminating certain employee bonuses, and reducing its quarterly dividend. GE stock suffered a eight-year low on the news.
---
People

Former National Coordinator Karen DeSalvo, MD joins Humana's Board of Directors.
Medical Technology Partners VP Nancy Young takes on the additional role of president of the Medical Association of Billers, which she acquired for an undisclosed sum last week.
---
Government and Politics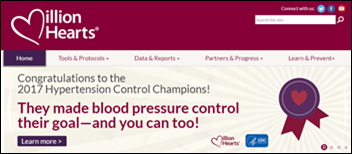 The CDC names 24 winners (primarily family medicine practices and FQHCs) of its annual Million Hearts Hypertension Control Challenge. The contest recognizes healthcare organizations that have developed proven strategies to help patients achieve blood pressure control rates at or above the 70-percent target.
---
Telemedicine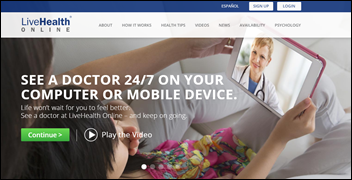 Amerigroup will offer Medicare Advantage members access to LiveHealth Online virtual consults beginning in 2018. The organizations partnered earlier this year to bring free virtual consults to victims of Hurricane Harvey via Amerigroup mobile health clinics.
---
Research and Innovation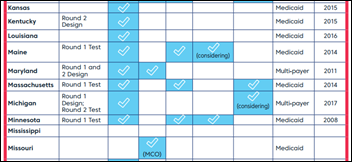 New Change Healthcare research finds that 40 states are pursuing value-based payment models, 23 have mandated value-based goals involving providers and payers, 17 have or are developing ACOs, and 12 are making similar moves towards episode-of-care programs.
---
Other

Cigna partners with the US Women's Health Alliance to introduce a maternity episode-of-care program to its value-based Cigna Collaborative Care initiative. The new program will incentivize 28 USWHA-member OB/GYN practices to improve quality, outcomes, and affordability. The alliance developed a custom analytics-based measurement system to track physician performance. The program seems especially apropos given headline-grabbing statistics released earlier this year exposing escalating maternal death rates in the US.
---
Contacts
More news: HIStalk, HIStalk Connect.
Get HIStalk Practice updates.
Contact us online.
Become a sponsor.