Top News
Reuters reports that DaVita is considering selling its physician network business, DaVita Medical Group, in light of sluggish Medicare Advantage payments, high healthcare costs, and a recent $5 million operating loss that likely contributed to the elimination of 350 non-clinical positions. DMG is reportedly worth $4 billion.
---
HIStalk Practice Musings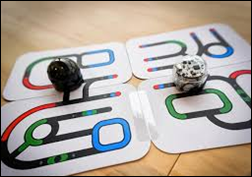 The holiday shopping season is upon us once again, with Cyber Monday forecast to be the biggest online shopping day in US history. Adobe Analytics expects today's Web-based shopping to total close to $6 billion, (versus Black Friday's $5 billion). Unlike years past, I got out and about on Friday for several in-store purchases, but did the majority of my shopping online. My sole tech purchase (from Amazon) was an Ozobots coding starter pack, which I'm fairly certain family members of all ages will enjoy. I've seen them in action at several community STEM events and no one seemed able to resist taking a crack at their colorful coding. If you're in need of STEM-related toys and activities, check out interim CIO and consultant Sue Schade's list of "STEM Gift Ideas for 2017."
---
Webinars


November 30 (Thursday) 1:00 ET. "Making Clinical Communications Work in Your Complex Environment." Sponsored by: PatientSafe Solutions. Presenters: Steve Shirley, VP/CIO, Parkview Medical Center; Richard Cruthirds, CIO, Peterson Health. Selecting, implementing, and managing a mobile clinical communications platform is a complex and sometimes painful undertaking. With multiple technologies, stakeholders, and disciplines involved, a comprehensive approach is required to ensure success. Hear two hospital CIOs share their first-hand experience, lessons learned, and demonstrated results from deploying an enterprise-wide mobile clinical communications solution.
December 5 (Tuesday) 2:00 ET. "Cornerstones of Order Set Optimization: Trusted Evidence." Sponsored by: Wolters Kluwer. Updating order sets with new medical evidence is crucial to improving outcomes, but coordinating maintenance for hundreds of order sets with dozens of stakeholders is a huge logistical challenge. For most hospitals, managing order set content is labor intensive and the internal processes supporting it are far too inefficient. Evidence-based order sets are only as good as their content, which is why regular review and updates are essential. This webinar explores the relationship between clinical content and patient care with an eye toward building trust among the clinical staff. Plus, we will demonstrate a new evidence alignment tool that can easily incorporate the most current medical content into your order sets, regardless of format, including Cerner Power Plans and Epic SmartSets.
Previous webinars are on our YouTube channel. Contact Lorre for information.
---
Announcements and Implementations
MyMipsScore makes HIPAA Secure Now!'s security risk analysis available as part of its app that helps physicians participating in MIPS aggregate, calculate, and analyze quality data across 271 measures.
---
People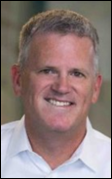 Marc Levine (JDA Software Group) will join Athenahealth as EVP, CFO, and treasurer.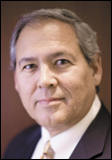 Radiology provider ONRAD hires David Engert (Nighthawk Radiology) as president and CEO.
---
Telemedicine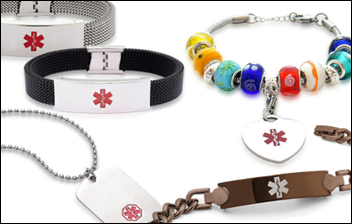 StickyJ Medical ID will provide TelaCare customers with medical ID jewelry that includes the telemedicine company's ViewMyID website address and patient serial number for easy health-data lookup by first responders.
NPR looks at the role telemedicine plays in opioid addiction treatment, highlighting the challenges well-meaning physicians face when attempting to incorporate virtual visits into treatment plans that include many unbillable hours for counseling sessions and briefer check-ins. Jay Joshi, MD of Prestige Clinics (IN) occasionally uses telemedicine to prescribe addiction medication, but prioritizes face-to-face visits. "You're not going to get a good system of healthcare for primary care in these high-risk areas unless you invest time and energy into these patients," he explains.
---
Research and Innovation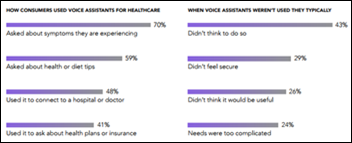 This study reveals that consumers are increasingly turning to voice assistants like Alexa and Google Home for healthcare information and advice. Nearly 50 percent of the 1,000 respondents have used such technology to ask about symptoms (70 percent of users), wellness tips (59 percent), or to connect to a healthcare provider (48 percent).
University of South Carolina researchers find that a 2014 statewide mandate requiring all physicians to check the state's PDMP before prescribing opioids to Medicaid patients has resulted in a 29-percent drop in such prescriptions. The mandate was expanded to include all patients earlier this year – a smart move given that CDC stats show that physicians in South Carolina write more opioid prescriptions annually than there are residents in the state.
---
Other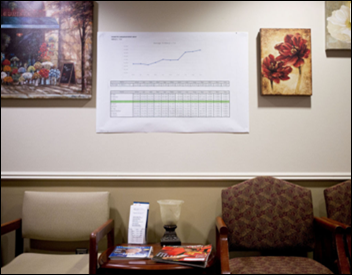 The local paper looks at the unique things Midwest Regional Health Services (NE) is doing to retain its patient-centered medical home status and quality certifications. Efforts include posting physician quality measures on waiting room walls, organizing 12 week-long healthy living groups, and offering a ladies' day that includes routine screenings, manicures, and make-and-go foot scrubs. The independent primary care practice has created consulting company Celtic Healthcare Solutions to help other practices transition to the PCMH model.

More Cyber Monday tidings: McAfee releases its list of most hackable gifts, with laptops, tablets, and smartphones taking top honors. Drones, digital assistants, and connected toys and appliances also make an appearance. The company has created a pretty cute campaign aimed at educating consumers about securing their digital gifts.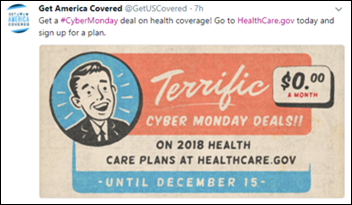 Folks have 18 days left to sign up for coverage at Healthcare.gov. Enrollment for this year is predicted (optimistically, some contend, due to the halved sign-up period) to top out at just under 10 million. If you really want to get into the weeds of ACA sign-up analysis, check out Chris Conover's mind-bending arithmetic, which has lead him to conclude that, "Obamacare Exchange enrollments continue to perform well below expectations" (despite headlines that say otherwise).
---
Contacts
More news: HIStalk, HIStalk Connect.
Get HIStalk Practice updates.
Contact us online.
Become a sponsor.